Philadelphia Phillies: A Winning Camaraderie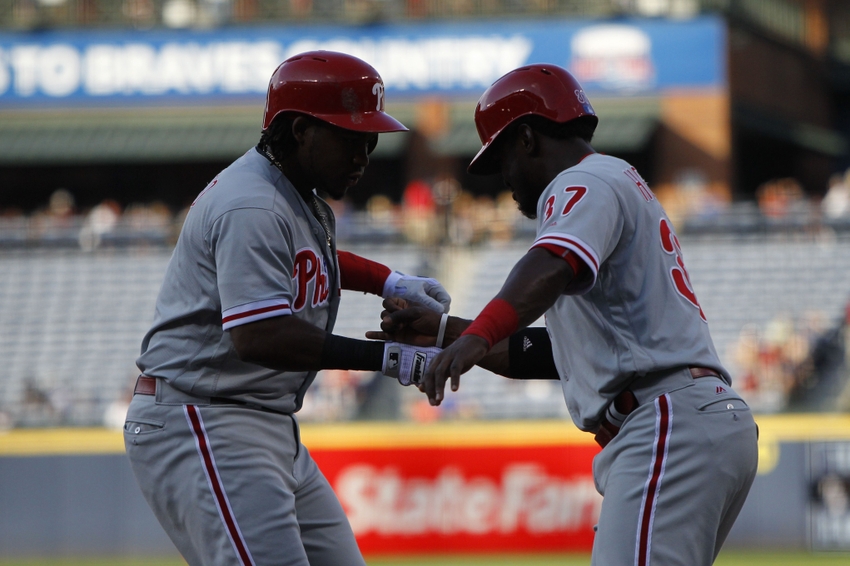 From the opposition's dugout last summer, they saw a determined gang of Philadelphia Phillies; in other words, they saw a no-quit team willing to hang tough for 27 outs.
No Interpreter Required:  
If the stars in a craft provide their maximum effort, everyone else will bring their best as well.
In the days of center fielder Richie Ashburn, hitters and pitchers hated each other and never befriended one another. The starters complained about run support, and the regulars replied to throw a shutout and belt a home run. In fact, the only enemies they had in common were other clubs, and everybody griped about the umps. That stated, if management swapped either of them, a batter might have to face one of these moundsmen.
Distanced from those times long past, MLB now looks completely different in some respects. For instance, Cliff Lee and Jayson Werth were friends when they accepted free agent offers to be divisional rivals. But they both relished the head-to-head challenge of each pitch during Werth's long at-bats.
On the field and in the dugout, you can see the difference between friends and coworkers. Hector Neris and Maikel Franco exited the diamond together, and the third baseman patted his glove on the reliever's head after a scoreless frame. Then, they talked baseball on the bench. Does their friendship have any relation to their home country? The Dominican Republic. Well, number 7 proudly lists himself on his Twitter page as 100 percent Dominicano! (Franco's exclamation point, not mine.)
As everyone has probably heard, Freddy Galvis and Cesar Hernandez were a double-play combo in Venezuela long before playing professionally, and they have occasionally reminisced about their past. They know each other's abilities. Meanwhile, Odubel Herrera and Vince Velasquez are friendly because they're both max-effort guys. Herrera has helped Velasquez regarding tipped pitches, and the flamethrower has passed on small details he's noticed about the opposition's battery.
In today's contract-driven baseball, more emphasis is on the individual and statistics. However, Latinos on the red and white are more old school.
Watching the players interact during a weekend contest, Mike Schmidt remarked about their approach to the game: The 2016 Philadelphia Phillies reminded him of baseball in his day. And manager Pete Mackanin clarified their unexpected success: They played as a team. Therefore, while other organizations had more talent on paper, the Phils had the advantage of performing as one.
IN OTHER WORDS:

"The difference between the impossible and the possible lies in a man's determination." –Tommy Lasorda
Mackanin – who can speak and joke in Spanish – has filled out his starting lineup by giving every man an opportunity to shine. On the other hand, Andres Blanco, who is now a free agent, was basically the veteran presence for Franco, Hernandez, Galvis and Herrera; and he'll probably return with a decent raise. Yet, while Blanco has frequently provided instant offense off the bench and filled in for recuperating infielders, the reserve has also been like a big brother when Franco and Hernandez have made crucial fielding errors. Don't hang your head in the fifth inning. Redeem yourself!
Besides the two-handed pointing, the bull horns and the heavenly thanks for continued success at the plate, these players also have no shortage of energy or encouragement for their teammates. And this passion is contagious because Cameron Rupp, Tommy Joseph and Cody Asche flashed their own celebratory sign in September when they smashed a double.
Don't think for a second the red pinstripes went unnoticed after their 25-19 start last year: Other clubs had paid the price for underestimating them. And making a name for themselves has not been an accident. What are they earning from other National League players? Respect!
The Numerical Bible:
This review is not a sabermetrics article, which means no heavy statistical analysis. But because some readers rely on stats, this is only a reference: no reason to articulate the importance of these numbers.
These numbers do not include any postseason activity.
Hitting:
Hernandez, 26.5: 155 Gms., 622 PA, a .294 Avg., a .371 OBP, a .393 SLG, a .099 ISO, a .363 BABIP, 6 HR, 39 RBI, a .764 OPS, a 4.4 WAR, 17 SB, 13 CS and a 5.7 Spd.
Galvis, almost 27: 158 Gms., 624 PA, a .241 Avg., a .274 OBP, a .399 SLG, a .158 ISO, a .280 BABIP, 20 HR, 67 RBI, a .673 OPS and a 2.4 WAR.
Franco, 24: 152 Gms., 630 PA, a .255 Avg., a .306 OBP, a .427 SLG, a .172 ISO, a .271 BABIP, 25 HR, 88 RBI, a .733 OPS and a 1.4 WAR.
Herrera, almost 25: 159 Gms., 656 PA, a .286 Avg., a .361 OBP, a .420 SLG, a .134 ISO, a .349 BABIP, 15 HR, 49 RBI, a .781 OPS, a 4.0 WAR, 25 SB, 7 CS and a 6.3 Spd.
Blanco, 32.5: 90 Gms., 209 PA, a .253 Avg., a .316 OBP, a .405 SLG, a .153 ISO, a .301 BABIP, 4 HR, 21 RBI, a .721 OPS and a 0.1 WAR.
More from Call to the Pen
This article originally appeared on