Petriello: Big Mike Could Be Dominant in the Bullpen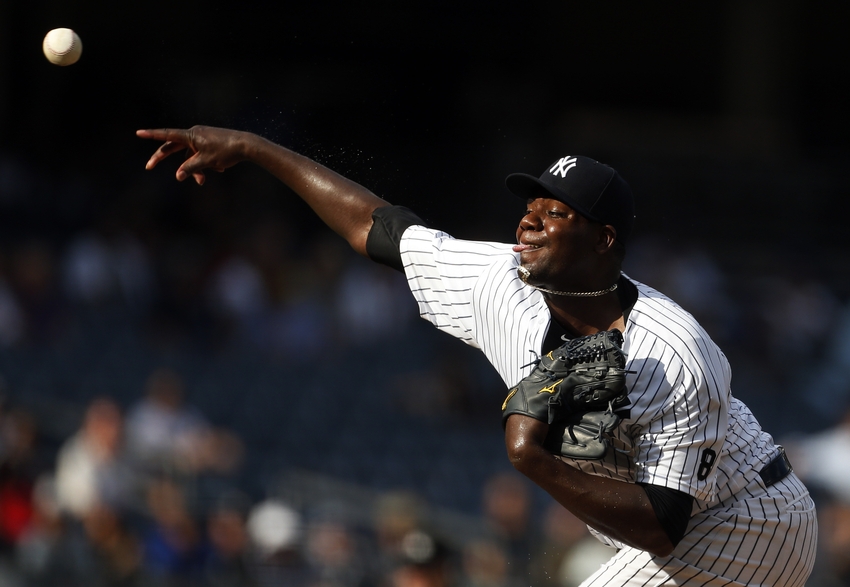 Michael Pineda of the New York Yankees is one of three struggling starting pitchers that Mike Petriello of MLB.com suggests should be converted to relief aces.
The incredible success of former starting pitcher Andrew Miller as a fireman reliever in October for the Cleveland Indians has many clubs and analysts looking for other struggling starters with the talent to transition to that role. In a recent article, Mike Petriello of MLB.com names Michael Pineda of the Yankees as a prime candidate to make the switch to the bullpen.
Petriello uses three criteria to identify the guys who fit the Miller profile. First, a hard-thrower who could see his velocity further increase in short relief. Second, they have mediocre secondary pitches that can be dropped from their repertoire. And finally, they have struggled with durability issues that could be lessened by a move to the bullpen.
On paper, this makes a certain amount of sense. According to Pitchf/x Pitch Values, his slider was easily his best pitch at 15.7 runs above average. The rest of his offerings ranked as roughly average or well below according to that metric. The slider is a true swing-and-miss weapon that is very similar to Miller's.
Pineda already throws gas as a starter, averaging 94.6 mph with his fastball in 2016, so it would be interesting to see what he could do if he was allowed to really air it out. Not everyone's velocity ticks up when pitching in short bursts, but it seems like the majority of pitchers see some kind of increase. If Big Mike was working 97-98 instead of 94-95, he could be a truly elite arm with that wipeout slider also in the mix.
It's also important to remember that Pineda has managed just three full seasons since breaking into the big leagues back in 2011. He missed most of 2012 and 2013 with a shoulder injury and a strained back muscle cost him half of the 2014 season as well. He's been pretty healthy the last two years, but durability does seem like a concern given his history.
Despite strong peripherals, Pineda posted an ugly 4.82 ERA in 32 starts this year. Petriello posits that a very straight fastball and ineffective secondary pitches (aside from the slider) are to blame. The argument is a convincing one, but given the Yankees desperate need for starting pitching, it would be completely insane for them to move Pineda to the bullpen this year or in the future.
Pineda is set to hit free agency after the 2017 season, and there is no question that he can make more money as a starter than a dominant reliever. A just-OK starter like Jeff Samardzija coming off of the worst season of his career was able to land a five-year $90 million contract last winter, which amazingly, it what the best relief pitcher on the planet, Aroldis Chapman, is predicted to take home in the coming months.
More from Yanks Go Yard
This article originally appeared on