A's pitcher becomes first starter to bat cleanup since Babe Ruth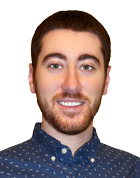 The Oakland Athletics play in the American League, which means their pitchers only have to hit when playing in a National League ballpark … until Wednesday night. A weird baseball rule led to A's pitcher Kendall Graveman joining the company of Babe Ruth.
Here's how it happened. Danny Valencia left the game with a hamstring injury, which forced Chris Coghlan to move to third base. In turn, designated hitter Jed Lowrie had to play defense and take over at second.
Because a designated hitter became a defensive player, the A's were forced to go without one for the remainder of the game. Enter Kendall Graveman.
He became the first starting pitcher to bat cleanup since Ruth did it in 1920, which was a regularity for him during his playing days.
His only at-bat — the first of his career — came in the fifth inning, which resulted in a strikeout. And as if this occurrence wasn't strange enough, he was also the first starter to bat in the new Yankee Stadium.
Kendall Graveman is the first starting pitcher to bat at the current Yankee Stadium.

— Oakland Athletics (@Athletics) April 21, 2016
Baseball's rules are odd sometimes, and this is just the latest example.