Oakland Athletics: Getting Back into Contention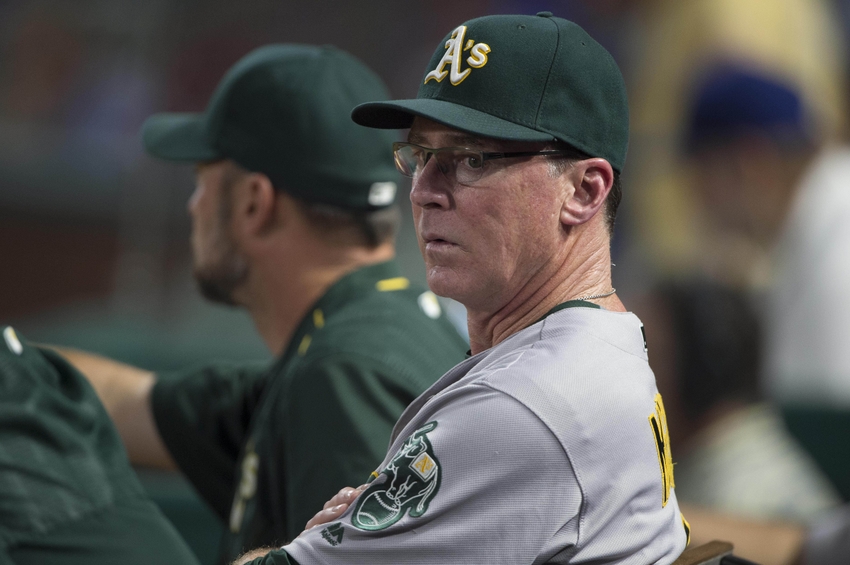 The Oakland Athletics have fallen to the bottom of the American League West and look to get back to regular contending status.
In 2016 the Oakland Athletics finished 69-93 and in last place in the American League West Division, 26 games out of first place and 20 behind an AL Wild Card playoff spot.
This was a second consecutive last place finish for the A's after three consecutive appearances in the MLB postseason.
The Athletics won the division in both 2012 and 2013, losing both years in a tough LDS, each going the distance. Then in 2014 they lost the AL Wild Card to the Kansas City Royals by surrendering two runs in the bottom of the 12th inning.
The A's had traded away the big outfield bat of Yoenis Cespedes at the 2014 trade deadline to the Boston Red Sox for Jon Lester, and then lost Lester that offseason to free agency.
Then the club dealt away another big bat in Josh Donaldson to the Toronto Blue Jays in the offseason as well. Donaldson was due to begin seeing big contract increases which the small market Oakland Athletics were not in a position to support.
The franchise has not carried a top-20 payroll since the 2007 season, so any improvement is almost certainly going to have to come from within, and from smart, lesser free agent signings.
There is plenty of money to spend. Coming off a season in which the payroll exceeded $80 million, they have less than a $30 million obligation entering the offseason.
The club could free up another $7 million or so if they choose to deal away Ryan Madson, their highest-paid player and a luxury as a reliever. If former closer Sean Doolittle proves healthy, this might be a legitimate consideration.
This should allow the A's to easily meet whatever increase should come in arbitration, or via a contract agreement, with slugging center fielder Khris Davis. Davis banged 42 homers and drove in 102 runs this past season in his first year after coming in a trade from the Milwaukee Brewers. He turns 29 years old next month.
The only other "first division" caliber player in the current starting lineup might be shortstop Marcus Semien, who in his second full season slammed 27 home runs and produced 75 RBI.
For a team that needs to play youngsters, they have some starters approaching baseball old age, which these days starts at around the 30-year-old mark.
Catcher Stephen Vogt just turned 32 years old, first baseman Yonder Alonso will turn 30 at the start of the 2017 season, and second baseman Jed Lowrie will turn 33 years old a week later.
There are a pair of talented young pitchers on the roster in Sonny Gray (27) and Sean Manaea (25), and with a pair of smart yet economical free agent signings, the A's could put a contending-level rotation together for the 2017 season.
The club could look at arms such as Jeremy Hellickson, Doug Fister, R.A. Dickey, and Andrew Cashner, hoping to find a couple of bargains, even on one-year deals.
More from Call to the Pen
The only losses to free agency will come in pitcher Ross Detwiler and outfielder Sam Fuld, neither a major loss as far as pushing competitiveness forward.
The club's top prospect is shortstop Franklin Barreto, who came in the Donaldson deal. Barreto will turn 21 years old as Spring Training opens.
The youngster could well push for a starting spot at either second or third base right now. If the club insists on keeping him at shortstop, he is likely going to need another full year in the minors to work on his defense.
The real possible future at shortstop may be Yairo Munoz, who also turns 21 years old in early 2017. However, Munoz is just coming off his first year of full-season ball.
Lefty A.J. Puk, the club's first round pick in the 2016 MLB Amateur Draft, and righty Grant Holmes who came from the Los Angeles Dodgers in the 2016 trade deadline deal that sent Josh Reddick and Rich Hill to L.A., are the team's top two pitching prospects. Neither is likely to be ready in 2017.
The bottom line is that there does not appear to be much help coming from the minor league system in the short-term.
The only way that the Athletics can return to contending sooner rather than later is by opening up their wallets, something that the franchise has rarely done, especially in recent years.
Aside from the arms mentioned earlier, bringing in two to three veterans like Jose Bautista, Justin Turner, and Rajai Davis would significantly increase the production. A veteran such as Chase Utley could really help the development of the younger players, as well as help in the locker room.
There is probably going to be at least $30-40 million available this offseason to spend on free agents, if the club wishes to go in that direction. Doing it will be the only way to that short-term contention.
This article originally appeared on