Oakland Athletics Could Receive "Significantly Less" in Revenue Sharing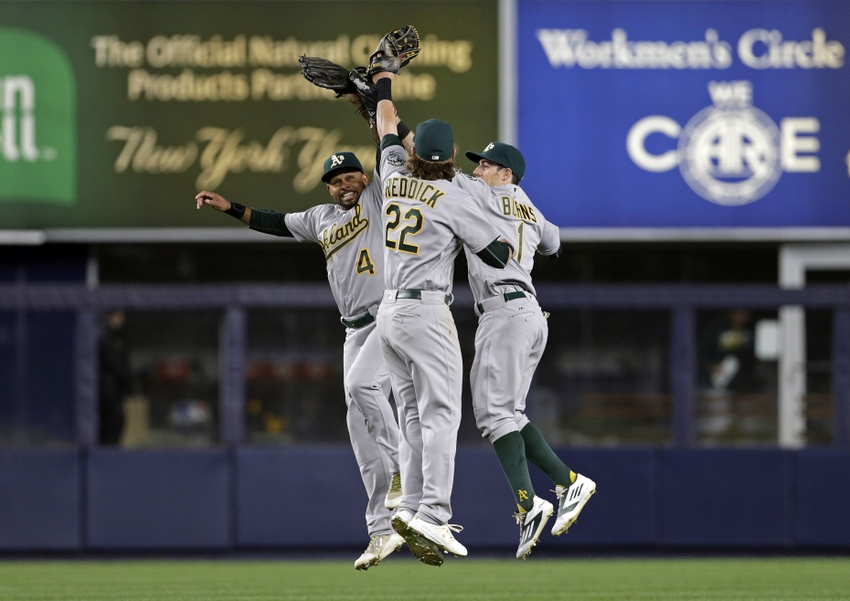 Fans of the Oakland Athletics have always wished that the team would spend more on the club to field a more competitive team and perhaps sign some of their favorite players to stick around for a while. Apparently other feel the same way.
Susan Slusser of the San Francisco Chronicle reported that while the talks with the Player's Union have been smooth on getting a new deal done, some believe that the new agreement could hurt the Oakland Athletics revenue checks. "The A's are in danger of losing some or even all of their substantial annual check from baseball's revenue sharing system, which redistributes income from richer teams to poorer teams to maintain competitive balance."
Because of their dilapidated dual purpose stadium, the A's received $34 million in revenue sharing last season according to Slusser.
One point of contention is that a number of former Athletics that became "too costly" for the A's are members of the World Series, including Addison Russell, Ben Zobrist, Dan Otero and Coco Crisp, while Josh Reddick and Josh Donaldson made it far with other clubs. Russell is a Cub because the A's went for it in 2014, trading him away for Jeff Samardzija.
If the A's hadn't fallen apart down the stretch and were competing past the Wild Card game, it's likely Samardzija would have stuck around another year, too. Zobrist wasn't going to sign with the A's in free agency. The wealthy Giants made a play and he didn't sign there either. Otero…ok that one makes sense. The Donaldson trade was a gamble that completely didn't pay off. No matter how good Franklin Barreto turns out to be, the Blue Jays will have won that trade. That said, Donaldson was not yet established as a perennial MVP candidate and was approaching 30 at the time. If he had fallen off, the A's would have been left with a less productive version of the player they traded away. I can see the logic.
Reddick is a fine player that will make a bunch of money this winter. I even like the guy. But the three pitching prospects that Oakland received for two months of Reddick and Rich Hill could be building blocks for their next run. Jharel Cotton already looks like a member of the 2017 rotation, Frankie Montas, if he can stay healthy, adds a hard-throwing bullpen arm. Grant Holmes is in the lower levels of the minors but could see time with Oakland in September.
Spending money doesn't guarantee anything. The Los Angeles Dodgers have spent almost a billion–with a b–dollars the past four years and haven't even made the World Series. The Seattle Mariners, who signed Robinson Cano to a lucrative deal and have outspent the Oakland Athletics in each year since at least 1998 (keep in mind the Expos were still a team and Derek Jeter was a bright eyed youngster) and haven't made the playoffs since 2001.
The Mariners have also traded franchise players in their past, but have none of the success that the A's have enjoyed. Ken Griffey Junior was traded in 2000 for Mike Cameron, Brett Tomko, Antonio Perez and Jake Meyer. Cameron was a good player, but not a franchise-altering one. Randy Johnson was also traded in 1998. Not to mention they let Alex Rodriguez walk. You know what the Mariners did after trading away two Hall of Fame players and letting arguably the best player in baseball walk? They won 116 games and made their last playoff appearance in 2001.
More from Call to the Pen
If I'm not mistaken, these are the transactions that the Oakland Athletics are being demonized for. The A's do what they do and make the playoffs every few years. Also, Coco Crisp and Josh Reddick aren't quite of the caliber of Griffey, and Rich Hill is no Randy Johnson.
They traded away Coco Crisp, who had played in just 44 games in 2015 and never more than 136 in his time in Oakland. Crisp has been injury prone, was complaining about playing time hurting his vesting option for next year, and is going to be in his age 37 season after batting .231 with a .302 OBP this year. He'd also be due $13M, or roughly 16% of the team's opening day payroll in 2016. Some of the bigger clubs can afford to have an albatross on their roster, like the A's neighbors in San Francisco (Matt Cain, Tim Lincecum, Barry Zito, Jake Peavy), but $13 million is a lot to the A's. Whenever they have attempted to lock up the right player, granted it hasn't happened often, the deal hasn't worked out for the club.
Eric Chavez spent more time on the disabled list than on the field and Crisp had a flair for the dramatic at the plate but was far from a lockdown defender in the field with no arm to speak of. Trading Crisp made sense. So did trading Reddick and Hill.
When the A's go for it, like they did in 2014, there were caveats involved. Adding a big name pitcher means giving up talent. That talent package was headlined by Addison Russell, who was seen as a big part of the team's future. The A's, unlike some of the richer teams that can outspend the field in free agency, can't have their cake and eat it too. The A's can either have a farm system or a solid big league team. They've been building up the farm system yet again and have a number of players that could play big roles in turning around the club's fortunes before long.
In the meantime, you won't see the team tanking (Astros, Cubs, Braves) or spending a pittance (Tampa, Miami, Houston) while they do so.
The one way that I agree with the Player's Union here is if this is a big play to get ownership to seriously consider selling the team to a group that will invest in the club and look for a new ballpark location. For over a decade there have been talks about where the A's new stadium could be (Fremont, downtown, current site) and none of those proposals have gained any traction, at least partially due to ownership's stubbornness.
Billy Beane and Doug Forst are not the problem here. I honestly believe they do the best with what they are given, which isn't a whole lot, and sometimes they strike out. The Red Sox, who have a great farm system and can outspend teams in free agency, miss the playoffs now and again, typically finishing in last while they do so. It happens. The Sox have more resources than the A's, however. They have more of an allure. They also were "packaging" top international talent to make sure they got more players to sign with them. You know, super legal stuff. The Cardinals hacked into the Astros computers. Teams are doing way worse than the A's, in my opinion, but because they have more stature they aren't spit upon in the national news. "Looks like the Coliseum has sprung a leak…again."
The Union has to be up to more than just asking the Oakland Athletics to spend more on payroll. In a day and age in which analytics rule everything around us, how much a team spends just doesn't seem to quite fit. But if that's all they're after, maybe they should take another look at the Marlins, like they did back in 2010. The Marlins have a new ballpark and still spent $15M less than the A's this season. They also finished with a much better record.
The A's have their problems. Any rational fan can agree to that. Do we wish that they'd hold onto a player now and again? Sure! Having a collection of jerseys/shirts with the names of players no longer on the team is a bit strange when going to games, but it has also become a badge of honor of sorts. Not many people are still rocking their Ryan Sweeney shirt jerseys.
On the list of things that fans would want from the A's, my guess is that roster decisions aren't at the top spot. Updating some of the amenities at the Coliseum would be a nice start, which they have started in recent years (hey we have a color scoreboard now!), but also a better food selection (more than hot dogs, beer/soda, burgers) and maybe some extra room in the seats. The closer you are to the field, the closer you are to the person in front of you. Being over six feet tall, my knees do not agree.
Finally, if the Union wants to make the A's spend money this offseason in order to continue to receive their revenue sharing checks, signing someone from this free agent class would hurt the club more than help them. A team that they're scolding for not spending enough, forced to spend on an aging bat or a number three starter that'll get paid a hundred million? Yeah, no thanks.
This article originally appeared on