Wilmer Flores sheds tears thinking he's traded, Mets keep him in game
They say if you can make it in New York, you can make it anywhere.
Take that to heart, Wilmer Flores.
The young shortstop shed tears during Wednesday's game when reports that he'd been traded began circulating. Flores reportedly had been sent to Milwaukee in a deal for outfielder Carlos Gomez.
The news hit Flores hard, as he appeared emotional during the game. Fans gave Flores a standing ovation when he came to bat in the seventh inning, and he wiped away tears when he warmed up at short before the eighth.
And yet despite the reports he no longer was a Met, Flores remained on the field until he was pulled for a pinch hitter in the ninth. Some felt the Mets were unfeeling to leave the emotional youngster out there so long.
Wilmer Flores is tearing up at shortstop. This is surreal. Take the kid out of the game.

— Anthony DiComo (@AnthonyDiComo) July 30, 2015
The whole #WilmerFlores situation is an embarrassment! Spare a thought for Flores who experienced an unnecessary roller-coaster of emotions.

— Dan Clark (@OriolesDC) July 30, 2015
I've seen the #Mets do many strange & stupid things over the years, but never anything this classless http://t.co/6KWDbyr43e

— Chris Selland (@cselland) July 30, 2015
Wilmer Flores signed with the Mets a day after his 16th birthday. He's 23 now, in a different continent from home. You'd cry, too.

— Jesse Spector (@jessespector) July 30, 2015
Surreal scene. Mets trade Wilmer Flores but leave him in game. Flores then cries on field while playing. pic.twitter.com/0CDpjGpwpS

— Jimmy Traina (@JimmyTraina) July 30, 2015
Never seen anything like this. #Mets SS Wilmer Flores is shown on TV, on the field, crying during play at being traded. Yet still playing.

— Ian Rapoport (@RapSheet) July 30, 2015
A section of Citi Field is chanting "Car-los Gom-ez" while Wilmer Flores is still manning shortstop for the Mets.

— Kieran Darcy (@KieranDarcy) July 30, 2015
*Buys Wilmer Flores jersey*

— Pablo S. Torre (@PabloTorre) July 30, 2015
Mets GM Sandy Alderson later announced "there is no trade" for Gomez and that a deal "will not transpire."
"During the game I heard there was a trade and I got emotional," Flores told The Associated Press. "I heard from the fans. When I came up to hit I heard everybody cheering. … It was difficult."
Flores said he believed he'd "be a Met for life" after signing with the team at age 16. Asked if he still believed he'd been traded, Flores said he'd been told there was no deal. Alderson also apologized.
Addressed about the uproar, manager Terry Collins said, "I'm sorry he's upset," but made it clear both he and Flores had a job to do.
"Until someone tells me he has been traded, he's got to bat," an exasperated Collins said in his postgame interview. Watch it in the video below.
Flores wasn't the only one caught in the lurch. Gomez took a Twitter pic with teammates who wished him goodbye …
On the fly saying bye to a friend the Latin combo @C_Gomez27@WilyPeralta38 @88_gparra
— Martin Maldonado (@Machete1224) July 30, 2015
… then were glad he wasn't going after all.
Gomez still a Brewers nice, good friend and teammate @C_Gomez27 @88_gparra @WilyPeralta38 #GoGo4life pic.twitter.com/GZFU3sQEB4

— Martin Maldonado (@Machete1224) July 30, 2015
The Brewers' website might've been the last to know. As of 11:21 p.m. ET, a story reporting the trade still was posted.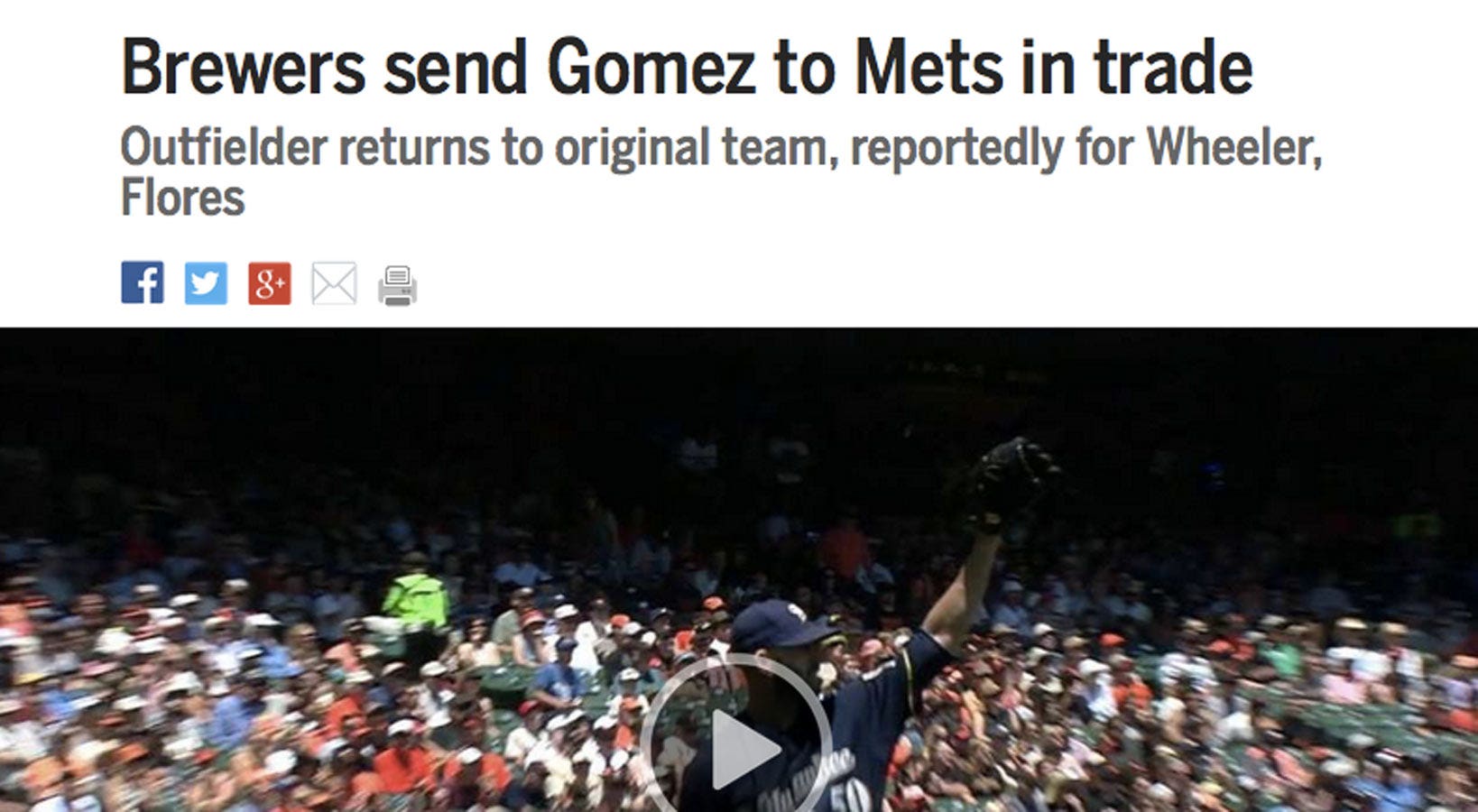 People still were trying to figure out what went wrong late Wednesday night. MLB on FOX insider Ken Rosenthal reported that the deal had been agreed upon.
Most logical explanation is that #Brewers were uncomfortable with Wheeler's medical coming off Tommy John. Players were agreed upon.

— Ken Rosenthal (@Ken_Rosenthal) July 30, 2015
Sources: #Mets backed out of trade due to concern over hip issue with #Brewers' Gomez.

— Ken Rosenthal (@Ken_Rosenthal) July 30, 2015
Gomez was on the DL in late April-early May with a right hamstring strain and missed time in June with a right hip ailment.

— Ken Rosenthal (@Ken_Rosenthal) July 30, 2015
Agent Scott Boras says Gomez is "injury-free. He's playing every day. I have our players examined rigorously. He has no problem whatsoever.

— Ken Rosenthal (@Ken_Rosenthal) July 30, 2015
#Brewers GM Melvin: "We're disappointed the deal did not get done. We felt very confident it would get done. We weren't fearful of it not.

— Ken Rosenthal (@Ken_Rosenthal) July 30, 2015
"We're happy to have Carlos Gomez. We like him a lot. We thought it was a win-win for both teams. It wasn't one team outsmarting the other."

— Ken Rosenthal (@Ken_Rosenthal) July 30, 2015
Melvin would not comment specifically on any player's health, citing HIPAA laws.

— Ken Rosenthal (@Ken_Rosenthal) July 30, 2015
Alderson blamed modern technology for making the whole thing a mess.
"There is no trade," Alderson said. "Unfortunately social media, etc., got ahead of the facts and it may have had an adverse effect on one of the players rumored to be involved. It was an unfortunate situation."
— The Associated Press contributed to this report.