Notes: Market for Cuban free agent Yulieski Gurriel is heating up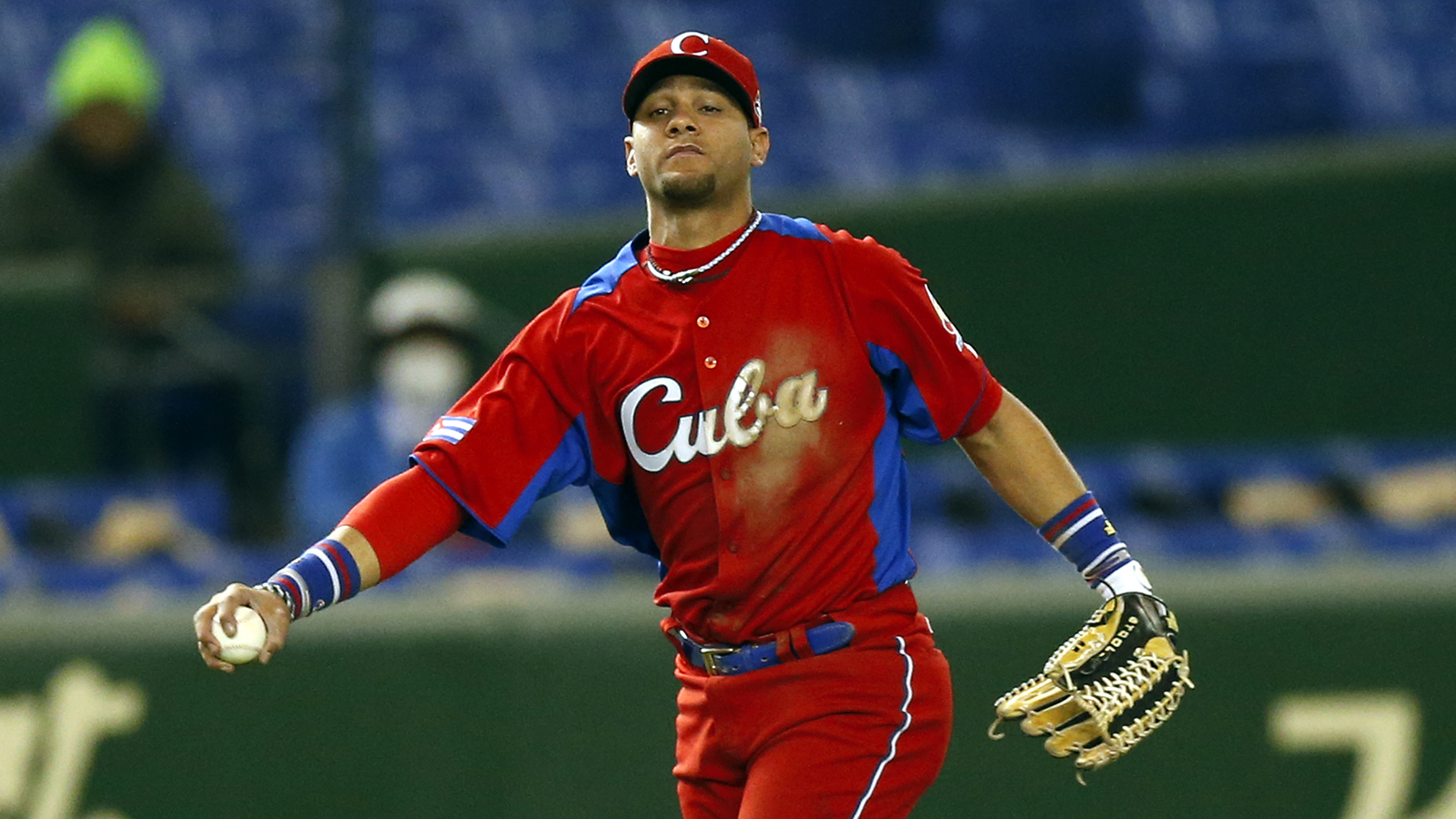 No team is openly going to trumpet its pursuit of Cuban free agent Yulieski Gurriel, but judging from the infielder's Instagram account, it's fairly clear that he is drawing significant interest.
Gurriel, 32, posted a photo of himself wearing Astros gear on Wednesday, indicating that he worked out for the club. He previously showed on Instagram that he worked out for the Dodgers and Mets, and he probably is not finished auditioning yet.
The Yankees and Giants also have shown interest in Gurriel, as first reported by ESPN's Jim Bowden, though it is not confirmed whether those clubs have scheduled private workouts.
The Astros are an intriguing entry into the Gurriel sweepstakes, assuming that his workout was a reflection of their genuine interest. The 'Stros' OPS at third base ranks 25th in the majors (the Yankees are last) but the team also has three potential third basemen in the minors — Alex Bregman, Colin Moran and J.D. Davis.
Gurriel also can play second, but obviously he is not going to unseat Jose Altuve. Perhaps the Astros could sign Gurriel, use him at third base and designated hitter later in the summer, then move him to left next season.
Another possibility — with both left fielder Colby Rasmus and center fielder Carlos Gomez potential free agents — would be to move Bregman to the outfield next season, even though the Astros drafted him as a shortstop with the second pick in the 2015 draft.
The fit for Gurriel with the Giants is less obvious. Third baseman Matt Duffy is out with a strained left Achilles and second baseman Joe Panik with concussion issues, but both eventually will reclaim their positions. Left field could be vacant next season if Angel Pagan departs as a free agent, but Gurriel is mostly unknown at that position.
"We definitely want to be as thorough as we can when it comes to international talent," Giants general manager Bobby Evans said. "We're always trying to make sure we attend workouts and evaluate the relative options that are out there. It's no secret that we have a third baseman. But when it comes to these types of players, I just believe in being thorough."
The Giants might not want to make a significant investment in Gurriel given their other commitments – their greater need at the moment is a utility player with both Ehire Adrianza and Kelby Tomlinson also on the disabled list.
The most logical suitor for Gurriel remains the Mets. He could play third in the absence of David Wright, then move to second next season if Neil Walker departs as a free agent. Gurriel also could move to second if Wright returns in 2017, or remain at third if the Mets prefer to go with second-base prospect Dilson Herrera.
The Dodgers started Nick Tepesch (who?) on Friday night. They will start Brock Stewart (what?) on Wednesday. Whatever the status of left-hander Clayton Kershaw, they want to find a more established stopgap until starting pitchers such as Brandon McCarthy, Hyun-Jin Ryu and Alex Wood come off the disabled list.
To that end, they are talking to the Rays about Erasmo Ramirez, according to major-league sources.
Ramirez's only start this season was April 16, but he has a resilient arm and the Dodgers believe that he could pitch four innings and possibly five immediately, sources say. The Nationals' Yusmeiro Petit, a similar type, emerged from the bullpen to throw 94 pitches in six innings against the Dodgers on June 20.
The Dodgers are comfortable keeping rookie lefty Julio Urias in the rotation, but know that it would reduce his potential to contribute later in the season. As for Kershaw, more will be known on the condition of his back after he visits Dr. Robert Watkins in Los Angeles, but he is still listed to make his scheduled start Friday.
Kershaw was not scheduled to pitch during the current series in Milwaukee, so he flew back to L.A. on Wednesday. If he had flown with the team on Thursday, he could not have been examined until Friday, the day he was listed to start.
Diamondbacks general manager Dave Stewart said Tuesday that potential free-agent relievers Daniel Hudson and Brad Ziegler not only are drawing trade interest, but that some teams also are expressing interest in acquiring both pitchers.
Yet not even the D-backs — who are 36-44, 6 ½ games back in the race for the second NL wild card — are ready to concede with the Aug. 1 non-waiver deadline more than a month away.
Stewart reiterated that the team will attempt to sign both Hudson and Ziegler to extensions before the deadline, explaining, "As we've said from the beginning, it's not a one-year plan for us. Our team is much better with those guys than without them."
And then there are the standings.
The D-backs were on a 10-3 roll through last Friday night, pulling within five games in the race of the second wild card. They then lost four straight, but are just one more hot stretch away from becoming more of a contender.
"The team is playing better as of late. We'll wait and see where this is going to end up," Stewart said. "We can't determine it right now. We might not make a decision for at least a couple of weeks about which direction we're going to go.
"First we're going to test the waters with Ziegler and Hudson as far as them staying. If there's nothing we can do (regarding extensions), we'll see how we're going to play and make a decision once that is revealed."
The D-backs have yet to initiate talks with Hudson and Ziegler, sources say.
Royals third baseman Cheslor Cuthbert does not bring the same emotion or energy as the injured player he replaced, Mike Moustakas. Still, Cuthbert is an excellent defender, and he recently hit five home runs in 14-game span. His .743 OPS in 174 plate appearances is not dramatically off the major-league average for a third baseman, which is .780.
Whit Merrifield, meanwhile, is stabilizing second base, and Paulo Orlando is producing offensively in right field. A prolonged absence for center fielder Lorenzo Cain, who suffered a strained left hamstring on Tuesday night and was placed on the DL on Wednesday, could alter the team's deadline plans. But considering that the Royals are next-to-last in the AL in rotation ERA, their biggest need is starting pitching.
The Royals, at the least, could end up pursuing another veteran right-handed hitter to fill the role that Josh Willingham played in 2014 and Jonny Gomes filled last season. But GM Dayton Moore, speaking about third base and right field, said, "We're not overly concerned about those spots. If we had to make a decision today, we'd probably go with what we've got."
The rotation is another story.
Triple-A right-handers Alec Mills and Miguel Almonte and Double-A lefty Matt Strahm are among the internal options, but at the least the Royals could use more depth. At the moment they are leaning heavily on righty Yordano Ventura and lefty Danny Duffy, two gifted arms who have yet to establish consistent track records.
Upgrading, Moore said, would be a "challenge."
"Last year, it was (Cole) Hamels, (Johnny) Cueto, (David) Price," Moore said, referring to the three top starters who were traded at the deadline. "There's not that type of guy out there."
The Indians, meanwhile, lead the AL with a 3.59 rotation ERA, with the White Sox at 4.35, the Tigers at 4.72, the Royals at 5.07.
"That's what makes Cleveland so good right now — every fifth day they're running a pretty good guy out there," Moore said. "They're all a little different, but equally effective. They've got power, curveballs, sliders, command.
"We'll just have to wait and see."
Recently I asked an Indians official about the emergence of right-hander Trevor Bauer, and the official said, "I think for whatever reason (Chris) Gimenez has helped him."
The numbers certainly indicate as such — Bauer has a 2.76 ERA in 11 starts since the Indians acquired Gimenez from the Rangers on May 4 and began using the two together regularly.
So, I asked Gimenez how he connected with Bauer.
"I identified early what type of pitcher he is," said Gimenez, who had caught Bauer in the bullpen during a previous stint with the team in 2014, but not in games. "He's obviously very intelligent, the way he thinks about pitching. He's very numbers-oriented. My biggest thing with him is that I never want to take who he is away from him.
"People in the past have tried to make him a different pitcher than he really is. He's the type of guy who will throw all of his pitches, try to strike everyone out, which is fine. But he's a guy who lives at the top of the zone. People in the past have told him to throw fastballs down in the zone, breaking stuff down in the zone. Instead of making him a different pitcher, why not take what he does best and use his stuff at the top of the zone?"
Bauer also is throwing more changeups, Gimenez said –€" 13.5 percent according to Fangraphs, which would represent a career-high.
"I've tried so hard to fluff him up on that," Gimenez said. "It's a pretty good pitch for him, especially to right-handed hitters. I don't think he realized that before. It took him throwing it and having success with it to gain trust in it. Now he'll throw it at any time."
Gimenez caught Yu Darvish with the Rangers. And he described Bauer's approach as similar.
"I understand him," Gimenez said. "He's misunderstood when it comes to pitching. He's very smart, very competitive. Sometimes, people take that as he's stubborn. He's not. You just have to understand him.
"Not that Darvish was stubborn but he's very similar to Bauer. I felt it was an easy transition."
Adrian Gonzalez lamented to Dodgers beat writers Sunday that he has tried 800 approaches this season — 400 to pull, 400 to go the other way. He said much the same thing in an interview Friday with FOX Sports, explaining, "It gets to the point where you're searching so much that you don't even know what you're searching for anymore."
Gonzalez returned to the Dodgers' lineup Tuesday night after a two-game hiatus, going 3-for-3 and reaching base five times against the Brewers. Still, his .730 OPS is 125 points below his career mark, and Gonzalez effectively benched himself on Sunday, telling manager Dave Roberts that he needed two days to clear his head rather than one.
Gonzalez said that a pinched nerve in his lower back no longer is an issue, that since receiving an epidural his body has felt "really good" for about a month. His biggest problems, he conceded, are mental, but he added that defensive shifts also are hindering him.
"Shifts for slow, left-handed hitters like me €– they're terrible," Gonzalez said. "You can't hit the ball on the ground. They put a guy in right field, a guy up the middle, a guy somewhere on the left side deep. If you hit the ball hard anywhere on the ground, it's an out. And if you slap the ball other way, you're not a power hitter.
"At least if you're fast, they can't play you so deep, and you can hit them by 'em easier. Whoever said they should eliminate shifts … they should if they want slow left-handed-hitting power hitters in the league. Unless they're OK with us being .250 hitters."
Gonzalez, 34, fared reasonably well against the shift the past three seasons, batting .311, .286 and .288, according to STATS LLC. This season he is on pace to face the most shifts of his career, and through Sunday was batting only .228.
The leading left-handed hitters against the shift at that point, minimum 50 shifts, were Eric Hosmer (.457), Kole Calhoun (.355), Carlos Gonzalez (.354), Matt Carpenter (.349) and David Ortiz (.342).
The Braves got into a messy situation with their 16th-round selection, junior college All-American Josh Anthony, who is headed to Auburn after the team backed out of a proposed deal.
Anthony told the Montgomery Advertiser that the Braves informed him Friday that they could not honor their offer, explaining to his father that the negotiated amount would put them over the bonus-pool limit and lead to penalties.
"I was ready to sign and they revoked the offer," Anthony said.
The problem, according to major-league sources, was that the Braves got ahead of themselves, thinking they had money to spare while discussing the possibility of voiding the contract of another pick.
That pick received one of the team's highest signing bonuses, but had a pre-existing medical condition that he did not disclose to team officials, sources said. The Braves did not initially realize that if they voided the contract, the money still would count against their bonus pool, because the player already was signed. Thus, they could not go ahead and sign Anthony, too.
"I'm disappointed but I hold no hard feelings toward the Braves," Anthony said. "I'm focused on being at Auburn next year."
The Marlins have now gone 27 games without an error by an infielder, the longest such streak by any team since at least 1913, according to STATS LLC.
Yes, errors are only one defensive measure, and often not the most accurate. But the Marlins' streak — without Gold Glove second baseman Dee Gordon, is still rather impressive.
True to his humble nature, Marlins longtime infield coach Perry Hill all but declined comment when I asked him about the streak, citing, "Good players who work extremely hard every day."
Gordon, who signed a five-year, $50 million extension last January, will be out until after the All-Star break while serving an 80-game suspension for PEDs.
His replacement, Derek Dietrich, is batting .305 with an .841 OPS, but is a slightly below-average defender according to the advanced metrics, which weigh a variety of factors.
* Outfielder Michael Taylor is one Nationals player who could be dangled as the team pursues a high-impact reliever.
Taylor, 25, still could be the Nats' center fielder of the future, but Ben Revere is under club control through next season. Revere, earning $6.25 million, is eligible for arbitration one more time.
The Nats previously have discussed trades involving Taylor, who is batting .235 with a .657 OPS and 62 strikeouts in 183 at-bats.
* Good thing the Cardinals' rotation has mostly stabilized — Triple-A right-hander Alex Reyes, one of the game's top pitching prospects, has a 4.93 ERA since serving a 50-game suspension for marijuana, and has completed more than five innings only once in eight starts.
The Cardinals want Reyes to become more pitch efficient and they do not want to use him to supplement their bullpen, further cutting into his innings this season.
* Speaking of the Cardinals, it would appear that they could dangle players such as Randal Grichuk and Kolten Wong, considering their relative surplus of position players.
Keep in mind, though, that first baseman/outfielder Brandon Moss is a potential free agent, and the Cardinals will need to decide whether to exercise left fielder Matt Holliday's $17 million option for next season.
Moss and Holliday are the Cardinals' two leading home-run hitters. At this point, Holliday's return would appear to be a good bet — he has 15 homers and an .820 OPS at age 36.
* It's unlikely that Corey and Kyle Seager will face each other in the All-Star Game — Corey should make the NL team as a reserve, but Kyle is a long shot with Manny Machado and Josh Donaldson certain selections for the AL at third base and several others worthy.
Only four sets of brothers have faced each other in the All-Star Game — Gaylord and Jim Perry in 1970, Lee and Carlos May in 1971, Robbie and Sandy Alomar in 1990 and Bret and Aaron Boone in 2003.
Corey, 22, said he never beat Kyle, 28, much in sports growing up. Maybe he can do it for the first time in a future All-Star Game.
* How thin is the pitching market? One scout describes right-hander Kyle Lohse as the "last out-clause starter."
Lohse, 37, can opt out on July 1, but will anyone want him? He has a 5.23 ERA in nine starts in the hitter-friendly Pacific Coast League, and the Rangers promoted righty Chi-Chi Gonzalez over him this week.
Gonzalez, 24, had a 5.04 ERA in 14 Triple-A starts.
*Don't rule out infielder Raul A. Mondesi as a potential factor for the Royals in the second half.
Mondesi, who turns 21 on July 27, is serving a 50-game suspension for violating baseball's drug program, but his ban was reduced after he demonstrated that his positive test resulted from taking an over-the-counter cold medication.
He recently began a rehabilitation assignment at Class-A Wilmington, and is eligible to rejoin the Royals next month.