NLCS Game 3: Five takeaways from a crucial win for Los Angeles against Chicago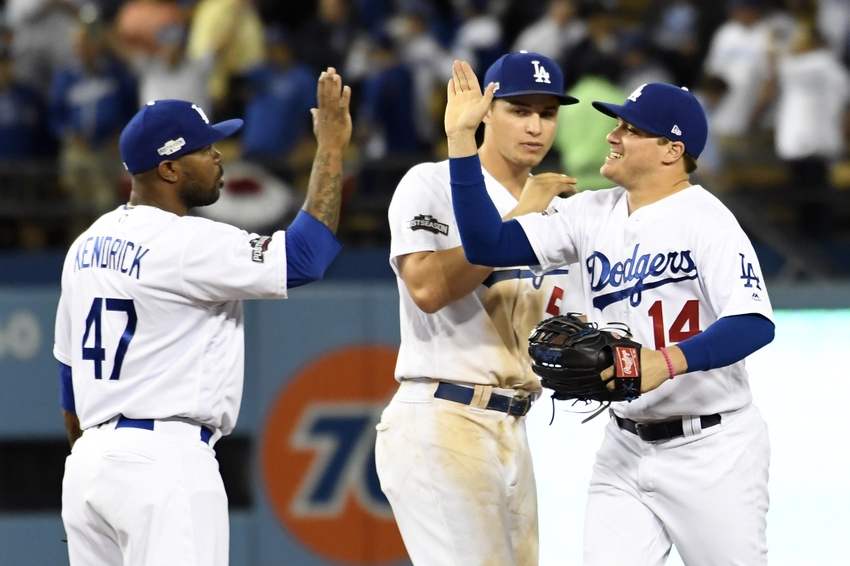 6

0
NLCS Game 3 is in the books, and it ended with the Dodgers winning in dominant fashion.
You would think that after the way Game 1 went in Chicago, the Dodgers would be in trouble in NLCS Game 3.
It appears that it's actually the other way around.
Following a phenomenal regular season and NLDS team performance, the surging Cubs are at a crossroads.
Chicago had a pinch hit grand slam off the bat of Miguel Montero to thank for their Game 1 win, but after that they've been shut out.
Outside of the grand slam, the Cubs scored once more but not since then.
Clayton Kershaw manufactured a shutout in Game 2 and Rich Hill delivered a 6-0 gem on Tuesday.
Additionally, the Dodgers have two more games at home in the series. Game 4 will feature Julio Urias as the starter, with Game 5 still to be determined.
Los Angeles is in good hands, as Dave Roberts has continued to show composure in the playoffs. Instead of cracking, Roberts continues to show the maturity that the Dodgers need in the clubhouse.
With Game 4 in sight, here's five takeaways from a series changing Game 3.
The L.A. offense is alive and well
While defense has driven Los Angeles to two straight shutouts of the best team in baseball, it takes offense to win games in the playoffs.
No exceptions.
A timely home run was the downfall of the Dodgers in Game 1, but it was the exact opposite in their NLCS homecoming.
Homers from Yasmani Grandal and Justin Turner propelled the offense to keep pouring it on against Chicago and not let off the gas.
It worked to perfection.
Youngsters Corey Seager and Joc Pederson were also part of run production for L.A.
Considering the way that Chicago has hit — or lack thereof — in back-to-back games, it's telling when Kris Bryant has half of his team's hits in a playoff game.
Let alone the NLCS.
Los Angeles out-hit Chicago by the same number of runs they won by — six. The Dodgers connected for ten hits in the game contrasting just four from the Cubs.
Outside of Bryant, only Anthony Rizzo and Dexter Fowler got on base from a hit.
Chicago's pitching has become their kryptonite
Wasn't Jake Arrieta supposed to be a strong arm for the Cubs?
Instead of letting the hype get to them, Los Angeles showed Arrieta the run around.
The Dodgers managed to score four runs and get six hits off of someone that was looked at to be a major pitcher for the Cubs.
Now that the Cubs failed to get anything good out of Arrieta, it's hard to imagine that the team's trust in him is going to be the same.
At least for the remainder of their postseason journey — however much longer that might be.
Arrieta also allowed two home runs, making Chicago make plenty of moves at the mound to try and get out of constant jams.
Kyle Hendricks was given the chance in Game 2 to try and diminish the work of Clayton Kershaw, but that didn't work either.
Now that Los Angeles has appeared to crack Chicago's code, the momentum swing in favor of the Dodgers has become a reality.
Los Angeles has regained their chemistry
Having to send their once pride and joy slugger to the minors?
Not having one of the best arms in baseball available for a good chunk of the regular season?
Depending on a rookie manager after winning three straight division titles?
All of those questions sounds like they'd be posed to a team that wouldn't have a shot at the playoffs, but instead we're talking about the Los Angeles Dodgers.
While Clayton Kershaw has done plenty to throw out the idea that he isn't clutch in the playoffs, Yasiel Puig has redeemed himself in some ways as well.
Joc Pederson slices a double down the left field line, and Yasiel Puig scores from first for a 5-0 Dodgers lead!

— SI MLB (@si_mlb) October 19, 2016
Game 3 allowed us to see what Puig can really do for the team, especially as a pinch hitter.
Coming to the plate for outfielder Josh Reddick, Puig reached in the sixth inning thanks to an infield single.
Overall, Puig got a hit in both of his plate appearances and was one of the Dodgers to cross home plate to add to the scoreboard.
If the Dodgers keep up this kind of flow and chemistry, they can easily be the most dangerous team left in October.
Rich Hill proved why Dodgers must trust their rotation
How do you one up a 1-0 shutout from the best pitcher on your team?
You shutout the same team at home to take control of the NLCS and do your job.
Without letting the pressure get to him, Rich Hill threw an absolute masterpiece on Tuesday.
Remarkably, Hill was able to throw 30 pitches in just the second inning but didn't concede a single run.
That is impressive, to say the least.
Also, Joe Blanton is clearly a man on a mission. Despite allowing the grand slam that sealed Game 1, he came in and backed up Hill's performance with one of his own.
Grant Dayton and Kenley Jansen executed the rest of the game, keeping Chicago off the scoreboard.
Julio Urias is on deck in an attempt to extend their series lead to 3-1. If the rookie delivers, Los Angeles has all the more reason to trust their pitching as their postseason takes the next turn.
Dave Roberts has shown he belongs
Gutsy calls are proving to be the new norm in Los Angeles under Dave Roberts.
Bringing back Clayton Kershaw on short rest against Washington, then again in an elimination game to get the last two outs.
And now the Dodgers are two wins away from a trip to the World Series.
Responsibly, Los Angeles cannot celebrate too much just yet — there is still plenty of baseball left to play.
But up 2-1 after a shaky start isn't a bad place to be, right?
Realistically speaking, Dave Roberts needs to pat himself on the back.
Bringing the Dodgers as far as he has deserves more credit than we have given him up to this point.
Taking down the Cubs is a whole different story.
Finally, it appears as though the Dodgers have found a long-term solution at manager.
Where Don Mattingly failed, Dave Roberts is flourishing.
Closing Thoughts
Admirably, rookie pitcher Julio Urias will be given the keys to the hopes and dreams of the Dodgers' faithful.
Should he deliver in a crucial Game 4 at home, Urias will once again prove doubters wrong.
Isn't that what Los Angeles has been good at lately?
Thankfully, if Urias is anything like he was against Washington, the Dodgers are in good hands.
Delivery is a must moving forward for L.A., and that means depending on their young players more.
Corey Seager and Joc Pederson have done enough thus far, but that can't stop.
Also, defense play cannot be neglected at home.
Given the way that home teams have played, generally speaking of course, the postseason hasn't been all too nice to them.
Accordingly, Los Angeles is not looking to be one of those teams.
Game 4 is Wednesday at 5pm.
This article originally appeared on