New York Yankees: What Should They Do With CC Sabathia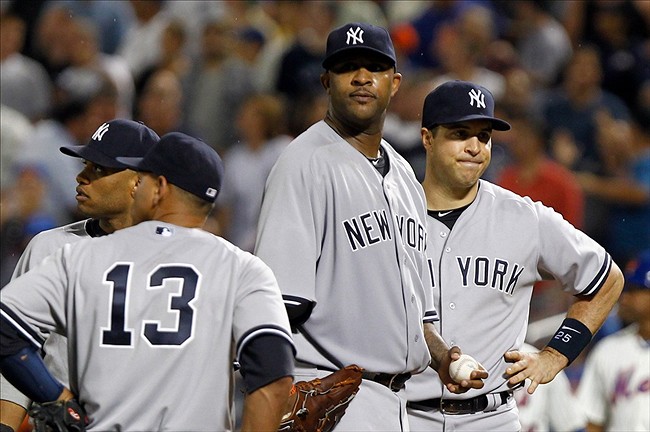 It's a given that the New York Yankees would have been hard pressed to win their last championship in 2009 without the work of CC Sabathia. But that was then and this now. 
The New York Yankees need to overhaul their starting pitching for next year. That should be a given. As of now, CC Sabathia is a member in good standing for their starting rotation. Despite faltering in a game the Yankees desperately needed in Boston over the weekend, he's had a better than expected season.
But (there's always a but, right?), here are the only relevant facts about Sabathia that should matter to the Yankees when they begin to prepare for next season. Number one, CC will be 37-years-old by the middle of next season. He'll also still weigh 300 lbs delivering pitches that continue to torment and threaten the health of his fragile knees.
Number two, he is due to earn $25 million that is guaranteed to fulfill the final year of his contract. The contract, according to Spotrac, contains a vesting option that Sabathia will easily fulfill. The question for the Yankees then becomes is he worth that much money and if he isn't, what can they do about it?
Finally, the Yankees must be aware of the overall numbers attached to Sabathia's stellar career in terms of stress on his arm and body. Sabathia has averaged 30 starts and 200 innings over a sixteen year career. How much does he have left in the tank?
With Sabathia, it becomes not only a fair question but an important part of the answer the Yankees arrive at in deciding what to do with him. Bluntly put, he has not aged well. If the article that appeared back in May stating that he would like to pitch for "four or five more years" is true, then CC himself is in a state of denial about his current ability. (New York Post)
When you browse the free agent market for starting pitching, it quickly becomes apparent that the pickings are slim for this year. Because of his age and salary, a trade is unlikely. That leaves the Yankees only two choices and they are identical to the choices they had with Alex Rodriguez. You can pitch him until he fizzles out or self destructs as A-Rod eventually did, and then gently but firmly release him, honor him with a ceremony, and kick him upstairs to insure he earns his money.
More from Empire Writes Back
Or, you can work something out with him over the winter that accomplishes the same thing but does not include him pitching for the Yankees ever again. He still gets his ceremony and he still gets paid though and the Yankees all but eat his salary for the year. And by the way, has anyone seen a report on Credit Karma that the Yankees rating is not 800+ anymore since they ate A-Rod's money?
If the Yankees in fact do release him, the next question then becomes who do you replace him with? But, that's Brian Cashman's job and he has to come up with the answer. Sabathia is coupled with Eovaldi and Pineda as well in terms of completely overhauling the staff. Those two can be traded but they would also need to be replaced by Cashman if the Yankees are going to continue with their "new look" next season.
In business, and make no mistake baseball is a business, sometimes you add by subtracting. The $25 million owed to Sabathia could go a long way in securing a couple of experienced and durable pitchers. Their names won't necessarily make back page headlines. But they'll get the job done in support of a Yankees lineup that should score a ton of runs next year.
Sabathia is part of the Yankees family and that was proven by the way he was supported when he left them just prior to the playoffs as he left the team to enter rehab for alcoholism. But there comes a time when the interests of anyone's family supersedes those of any individual family member. That time is now for the Yankees family and Sabathia.
This article originally appeared on