New York Yankees: The Hall of Fame Case for Jorge Posada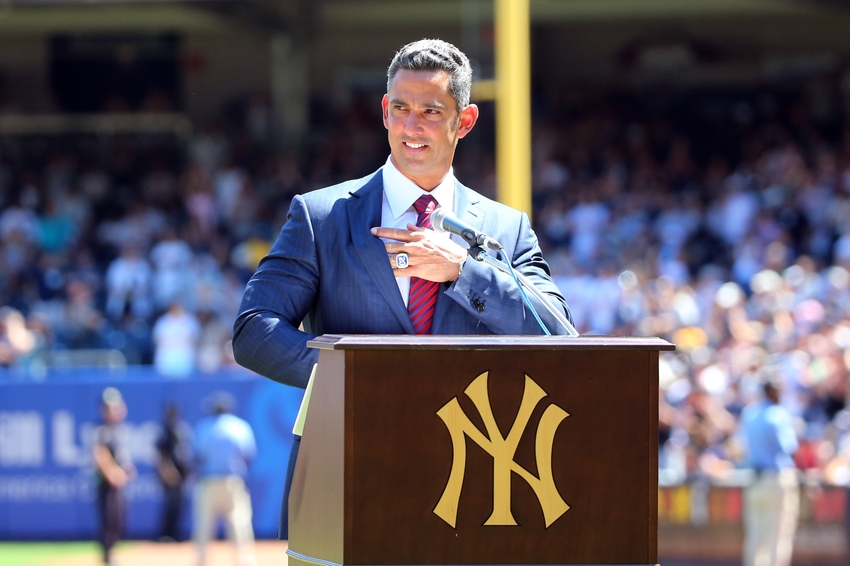 This marks the first year that former New York Yankees catcher Jorge Posada is on the Hall of Fame Ballot. Here is why he should get in.
With the off-season basically on pause due to the labor agreement not being done quite yet, the Hall of Fame ballot may get a little more attention at this time than in recent years. One player that I think should get more of a look is New York Yankees catcher Jorge Posada.
Do I think Posada is a first ballot Hall of Famer like his core four teammate Derek Jeter? No. However, I do feel like there is a case to be made for him to get in.
Posada played in 17 seasons for the Yankees. He was a five time All-Star and Silver Slugger winner and finished top 10 in AL MVP voting twice. From 1998 to 2011, he failed to play in over 100 games just one time. He hit over 20 homers in a season seven times and drove in over 90 runs five times. Pretty impressive for an every day catcher.
More from Call to the Pen
Let's take a look at WAR. The average bWAR of Hall of Fame catchers is 52.7. Posada is a full 10 wins below that, however, his WAR is higher than Roy Campanella, Roger Bresnahan, and Rick Ferrell. The average WAR7 which is the total of a players best seven years, or you could say their peak, at catcher is 34.2. Posada's is close at 32.7 which is higher than five Hall of Fame catchers including Ernie Lombardi.
Posada is eighth in homers as a catcher. The only two catchers above him who aren't in are Ivan Rodriguez, who may get in this year, and Lance Parrish. His .848 OPS is the highest of any catcher who is not in the Hall of Fame. Posada has more doubles than Hall of Famers Gary Carter and Mike Piazza. He is one of just 12 catchers all-time that have over 1,000 RBI in their career.
Would he have been better off hanging around another two years and being a DH for someone other than the Yankees? Maybe. Would it have turned into Carlton Fisk's last two years when he played 87 games and hit .220? Or Gary Carter's when hit under .250 in both years?
The whole point of baseball is winning rings and Posada won four of those and six pennants throughout his career (he played in eight games in 1996 I'm not counting that for this exercise).
In the postseason, Posada has played in the second-most games. He has the eighth-most runs scored, is fourth in hits, sixth in total bases and ninth in RBI. Granted, he came into play in the division series era, but guess what, once you get to the postseason, you have to produce and that's exactly what Posada did.
Posada's teammate Bernie Williams didn't make it past his first year on the ballot. Posada may find himself getting the same fate, however, when you break it down, Posada having a plaque in Cooperstown isn't so far-fetched.
This article originally appeared on