New York Yankees: The Case For Replacing Joe Girardi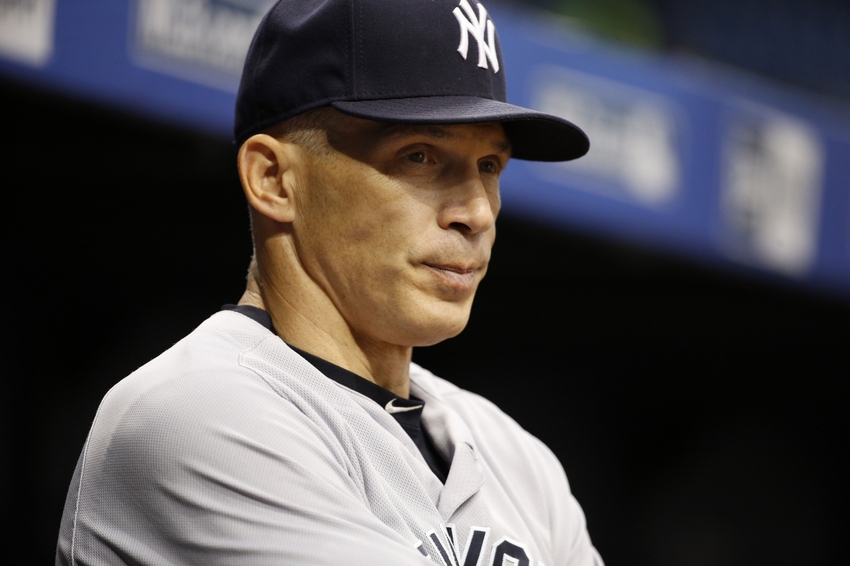 Notice I said replace. Because Joe Girardi does not deserve to be fired, he just needs to move aside while the New York Yankees are transforming themselves into a brand new team. Let the Yankees find a nice cushy job for him, or maybe take his wares to another team where he'd be a better fit. But one way of another, Girardi needs to be replaced.
Let's open with this. Joe Girardi still wears a crew cut. And really, that's about all you need to know about Joe Girardi. Okay, he's a throwback. Is that a nicer way of saying that he is as bland as Microsoft. Or that he'd look better sitting in a rocking chair puffing on a pipe reading Moby Dick from cover to cover than he does wearing a baseball uniform.
What Andrew Miller Was Really Trying To Say
Okay, maybe that's a little harsh. But if you think about it, maybe that's what Andrew Miller was trying to say the other day when he called out Girardi's use of the bullpen. And maybe what he was trying to say is that the guy is aloof and stoic in his ways.
And if asked, he might say, "The guy is strange. Never once did he take a stroll into the outfield during batting practice asking me, "Hey how's it going out there with you and the rest of the guys? Anything we need to talk about?" Because that's what Joe Maddon would do. And that's also what Terry Francona would do and apparently has done with his team to bring them to within a game of clinching the World Series.
To be sure, these guys are professional ball players and they shouldn't need to be hand held. But it's not about that anyway. It's about the ability to communicate and, even more importantly, to listen. Some managers have it and some like Girardi simply don't have it and never will.
The Nw York Yankees once had a manager like Joe Girardi. They called him "The Major",  because in fact he was one. His name was Ralph Houk and he managed the Yankees 1961 lineup to a World Championship. His team, much like Girardi's team of recent years, was composed mainly of veterans who took care of business themselves. All they required was to see their name in the lineup every day. Well, maybe except MIckey and Whitey who came stumbling in for work on occasion. But mainly, Houk only had to worry about in-game managing.
With the Yankees are in flux now, the team is getting younger by the day. And they already have the first crop of new talent on board right now in players like Greg Bird who's getting a tune up in the Arizona Fall League as he recovers from a season-ending injury. And then there's Aaron Judge, who started off brilliantly but then disappeared into never never land. And no one, certainly not Girardi, could snap him out of it. And then of course there's 26 year old Didi Gregorius who had a monster year in only his second season with the Yankees.
The Kids Are Coming, Ready Or Not
On the way, you have a second follow up crop of talent, some of whom who could be joining the big league team as soon as the end of the summer, or even sooner if they continue to advance at the rate they have been.
Leading this group of young talent is Glyber Torres who Brian Cashman insisted on being included in the deal with the Cubs before he would sign off on it for Aroldis Chapman. Beyond that, there's Clint Frazier, 22, and the first round pick and fifth overall of the Cleveland Indians. And once again, it was Cashman telling the Indians, " Fine, you want Andrew Miller no problem. But Clint Frazier has to be part of the deal or there is no deal."
These guys are all going to need nurturing, which is not the same as hand holding. They're going to need someone who is able to simply "keep in touch." A simple, "Hey, I heard your older brother is coming for a visit. That's wonderful and let me know if you guys need anything while he's here" can go a long long ways.
But it has to be in your blood composition to do that. It can't be seen as "phony". Perhaps, the Yankees, and in particular Brian Cashman is already working on a plan to make the change.  And hopefully, beyond that he has someone in mind to replace Girardi, because I sure don't.
But the first step to solving any problem is to recognize that you have one. The Yankees have one in the manager they are tasking with the responsibility of bringing these young kids into fruition as full fledged big league ball players. Let's see if they do anything about it.
More from Call to the Pen
This article originally appeared on