Yankees sign inspiring 10-year-old boy with no lower legs or hands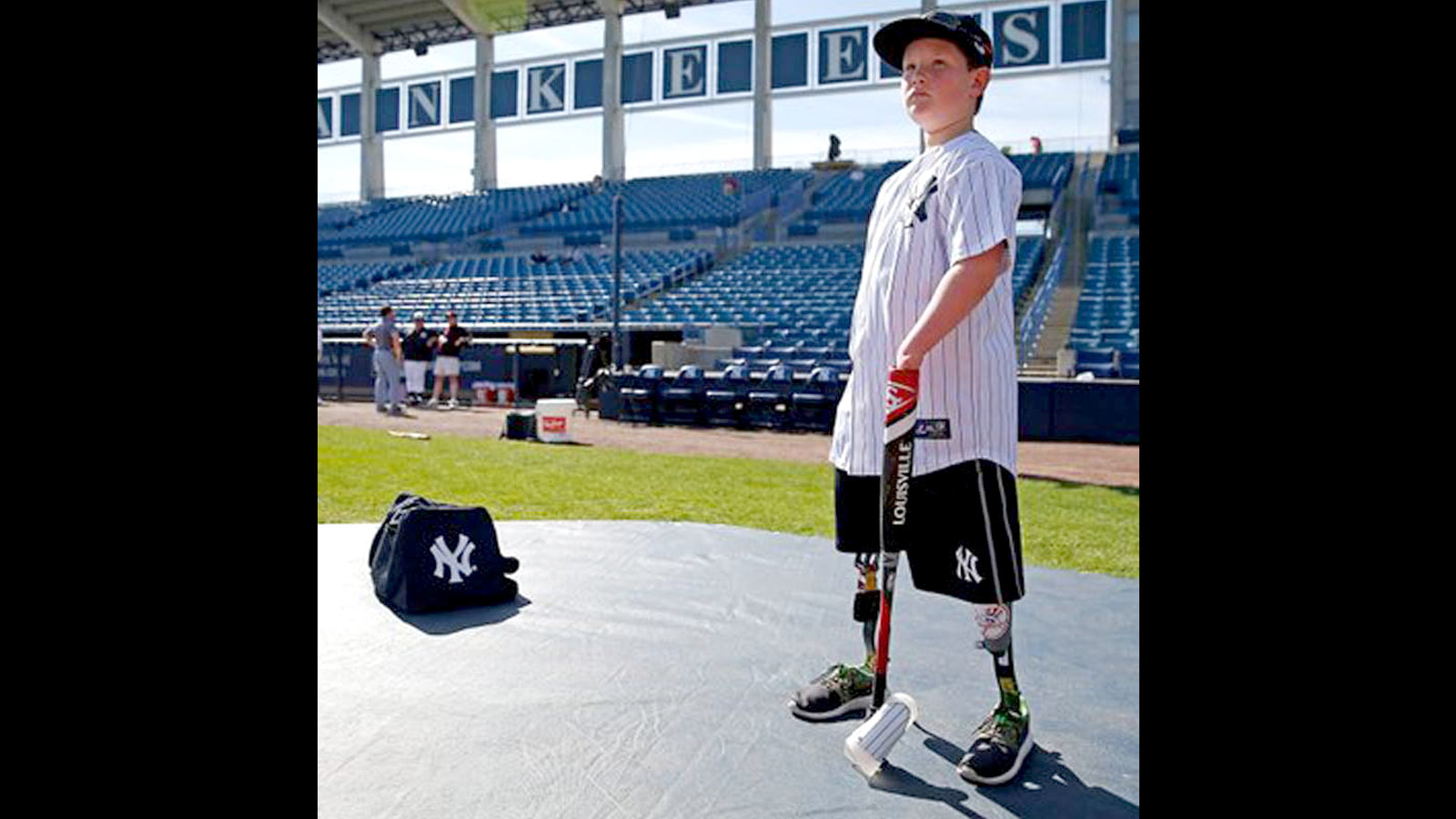 The New York Yankees welcomed a new player to spring training on Monday, and they did so with open arms and a great deal of inspiration. Landis Sims, a 10-year-old boy from Elizabeth, Ind., took batting practice with the team, fulfilling a dream that every youngster would love to experience.
He's not just any 10-year-old kid, though. Landis has no lower legs or hands, a condition he was born with. Despite that, he's overcome adversity to continue to play baseball.
He met with the team two years ago and was able to hang out with his idol, Derek Jeter. This week, he returned to camp in Florida, this time with more on the line. Landis signed a one-day contract with the team Monday, with CC Sabathia serving as his agent.
"People can overcome extraordinary circumstances," manager Joe Girardi told ESPN. "It's amazing what the mind can do."
Landis Sims also signed a one-day contract w/ the @yankees and hung out along with his family in the clubhouse. pic.twitter.com/IXb9epHc88

— Yankees PR Dept. (@YankeesPR) March 7, 2016
Given his circumstances, Landis has to use modified equipment on the field. In addition to wearing Jeter-themed prosthetic legs, he uses a soccer shinguard in his baseball glove to play defense — second base, to be more specific. He also throws two handed, using his glove as a catapult.
"He was afraid he couldn't throw, because he throws two-handed," his mom, Amanda, told Ryan Hatch of NJ.com. "So we tried a couple things — he played soccer a little bit, and hated it — so I'm like, we have these old soccer shin guards, and that will give you support. We went through a few of these and this is the system we've come up with … this way he can fling (the ball)."
During his stint with the Yankees on Monday, Landis took part in batting practice alongside Alex Rodriguez and Mark Texeira. He even gave A-Rod a few tips at the plate, and received advice, too.
"We're giving each other hitting lessons, trying to help each other out," Rodriguez said.
Landis belted hits up the middle with ease, according to Hatch. And based on this photo, that appears to be true.
Landis sounds like he's a huge inspiration for the Yankees, and how could he not be. His story is motivational for everyone to come across it.