New York Yankees Should Pull the Trigger and Trade for Chris Sale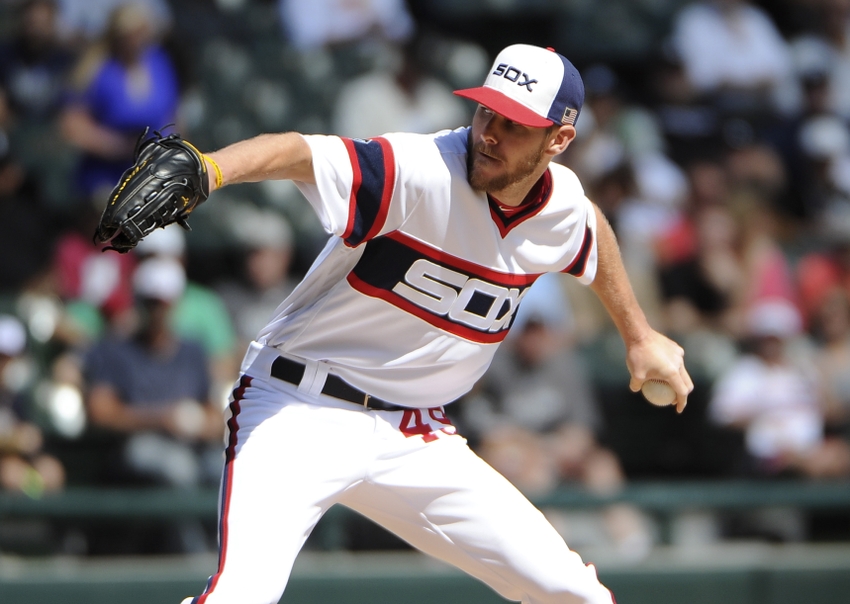 The Hot Stove season is officially underway in the Bronx, and while all the rumors seem to be surrounding a trade involving veteran backstop Brian McCann, the New York Yankees should prioritize a trade for Chris Sale instead.
Last winter, Brian Cashman and the New York Yankees brass sat through free agency in unfamiliar territory. Keeping their hands in their pockets and checkbooks closed as they watched teams all around them add to their payroll and bring in significant assets, including the AL East rival Boston Red Sox, who agreed to terms with David Price on a historic $217 million contract.
Then they did something even more bizarre, something Yankees fans of this generation had yet to see – a fire sale, dishing off some of the most established major leaguers on their roster, including Andrew Miller, Aroldis Chapman and Carlos Beltran to bring in a king's ransom of prospects.
It would be wise for the Yankees to again stand pat when it comes to free agency this winter, at least when it comes to starting pitching. After all, the best pitcher on the market is 37-year-old and former Yankees cast-off Rich Hill. Beyond that, you have a plethora of unreliable starting pitchers, including Jeremy Hellickson, Ivan Nova and Andrew Cashner.
All decent pitchers, but none of which will fit the current Yankees mold of getting younger and building toward the future.
Brian Cashman, for the second offseason in a row, will look to acquire the young and controllable starting pitcher his club so desperately needs, and the only way to do so might be by flipping the house and using some of his top prospects to trade for 27-year-old southpaw Chris Sale.
Not only is the rumored trade chip Chris Sale one of the best pitchers in baseball, but he's currently signed through 2019 and comes at a bargain, just a $12 million annual cap hit through the end of his deal.
Sure, Brian Cashman admitted earlier that trading some of his blue chip prospects for a pitcher like Chris Sale is a "dangerous approach," but let's be honest, the Yankees are a disaster in the starting pitching department.
More from Call to the Pen
With a pending opt-out clause following next season, who knows if Yankees ace Masahiro Tanaka will remain in pinstripes past the 2017 season. Luis Severino looks to be another curious case of a starting pitcher who didn't quite pan out but can be a dominant bullpen asset like Dellin Betances. Michael Pineda will never be more than a solid number three pitcher at best. Nathan Eovaldi's career is in limbo following his second major arm injury and there are already a number of questions surrounding the health and durability of some of their young pitching prospects like James Kaprielian, Luis Cessa and Ian Clarkin.
Acquiring Sale will not only immediately upgrade their starting pitching, but he can be the guy the Yankees peg as their ace and build their rotation around moving forward as they look to create the next core of playoff contenders in the Bronx.
In my opinion, the Yankees can piece together a strong package of top prospects Jorge Mateo and Aaron Judge along with veteran Brett Gardner to at least get the tires spinning on a potential trade.
Yankees get
LHP Chris Sale


White Sox get
SS, Jorge Mateo, OF, Aaron Judge, OF, Brett Gardner.
It definitely seems like a steep price to pay, but the Yankees will still have newly acquired top shortstop prospect Gleyber Torres and top outfield prospect Clint Frazier in the fold along with other young stars-in-the-making like Gary Sanchez, Greg Bird and Tyler Austin, all while finally acquiring the young and controllable ace they so desperately covet.
What do you think, Yankees fans? Let us know in the comments below.
This article originally appeared on