New York Yankees Should Keep Selling and Rebuilding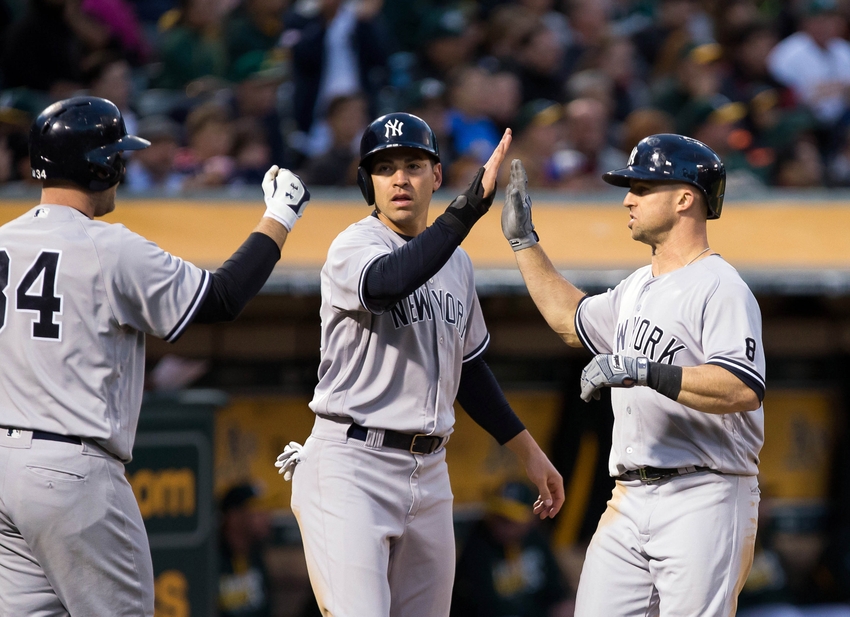 The New York Yankees sold off a bit in the 2016 season, and continuing to move veteran players will pay off for the organization over the long haul.
In the run-up to the 2016 Major League Baseball non-waiver trade deadline the New York Yankees dealt away a pair of premier relief pitchers to help replenish their minor league system.
On July 25, New York dealt Aroldis Chapman to the Chicago Cubs for a four-player package that included shortstop prospect Gleyber Torres. Then on July 31, the Yanks dealt away Andrew Miller to the Cleveland Indians in exchange for a four-player package that included prospect pitcher Justus Sheffield and outfielder Clint Frazier.
New York then kept wheeling and dealing. They sent away veterans Carlos Beltran and Ivan Nova to the Texas Rangers and Pittsburgh Pirates in August. Toward the end of September, lefty reliever Phil Coke was dealt away to the Pirates.
On August 7, former All-Star third baseman Alex Rodriguez announced that he was retiring, and played his final game less than a week later.
More from Call to the Pen
Also retiring was first baseman Mark Teixeira. 'Tex' walked away at age 36 after spending the last eight years of his 14-year career in the Bronx.
The Yankees would finish in fourth place in the AL East Division, nine games behind their arch-rivals, the Boston Red Sox. They were also five games behind the division rival Toronto Blue Jays and Baltimore Orioles for an AL Wild Card berth.
The Yanks are trying to get younger while still contending, always a tough task. But they are doing the right thing, and still have a handful of players who the club would be smart to try to trade while they still have real value.
Catcher Brian McCann will turn 33 years old as Spring Training gets underway. Coming off his ninth consecutive season with 20 or more home runs, McCann remains one of the most productive backstops in the game.
McCann is owed $34 million over the next two years, with a club option at $15 million for 2019. That option automatically vests with normal plate appearance and catching levels over these next two seasons.
At 32 years of age, third baseman Chase Headley is proving to be a below average run producer. With $26 million still owed to him over the next two years, he may be tough to move.
Left fielder Brett Gardner turned 33 years old in August. He just won his first career Gold Glove Award, and is owed $24 million over the next two seasons. There is a club option at $12.5 million for 2019 with a $2 million buyout.
In center field, Jacoby Ellsbury turned 33 years old in September. He hit for just a .263/.330/.374 slash line. His 20 stolen bases were the lowest total in a full season in his big league career. Ellsbury is not likely going anywhere thanks to his relatively low production and incredibly high-priced contract. He is still owed almost $85 million through 2020, with a 2021 buyout of $5 million.
On the mound, veteran lefty CC Sabathia had knee surgery and is hoping to be fully ready for Spring Training. At 36 years old, Sabathia's contract vested for a final season return at $25 million.
Together these players, all solidly north of 30 years of age, are owed almost $90 million by the club for the 2017 season. All of that salary is likely to be paid out for nowhere near the production level you would expect at those prices.
Yankees general manager Brian Cashman would be smart to keep working the phones, trying to dump as many of these players as possible. If he can move even one or two of them for a decent prospect package, he is doing wonders to move the organization forward.
This article originally appeared on