New York Yankees: Right Move to be out on Yoenis Cespedes?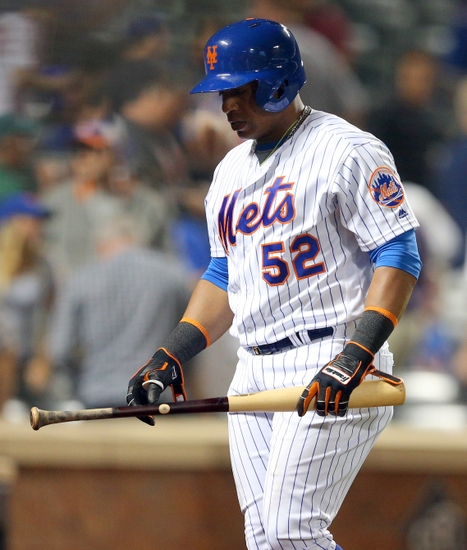 The New York Yankees appear to be major players in the free agent market this off-season. However, one free agent they appear to be out on is Yoenis Cespedes
The New York Yankees are slashing payroll faster than Wal-Mart slashes prices on Black Friday. They dealt Brian McCann already and have Alex Rodriguez and CC Sabathia's contracts ending after next season. With a large crop of prospects up already with more on the way, they are looking to supplement that with free agent signings.
One free agent they appear to be out on is outfielder Yoenis Cespedes.
The Daily News has learned that Cespedes — who earlier this month opted out of his three-year, $75 million deal with the Mets — is not part of the Yankees' winter spending plans despite speculation that the Bombers could make a run for the 31-year-old outfielder. The main three priorities for the Yankees, according to sources, are bringing back Cuban lefty reliever Aroldis Chapman, acquiring a starting pitcher and signing a designated hitter. Cespedes is reportedly looking for a five-year deal in the $125-135 million range.

"Tis the season to engage and find out," Cashman said last week at the Covenant House in Manhattan during a charity sleep-out event, referring to scouring the free-agent and trade markets. It makes sense that Cespedes is not on the Yankees' radar since the team continues to build upon its youth movement, the pinstriped outfield is already filled at every position, and Cespedes would be a costly DH-only addition if he were acquired for that role.
More from Call to the Pen
Well, here's the thing, Cespedes wouldn't be a DH only if Brett Gardner, who may be on the trade block already, is dealt.
Cespedes just turned 31 so he has some prime years left. Bats who hit .280 with 30 bombs every year don't grow on trees. The Yankees can keep Cespedes fresher by giving him some DH time and letting Aaron Hicks play left at times. They have guys like Aaron Judge, Hicks, Tyler Austin and Rob Refsnyder to play right.
Signing Cespedes can take some of the pressure off Gary Sanchez, Judge and Greg Bird in the Yankee lineup.
An encouraging sign out of Cespedes is that he was much more selective last year. His walk rate went up to 9.4% from just 4.9% in 2015. Meanwhile, his slugging only went down 12 points to a .530 rate last season. Plus, Cespedes has already performed in New York, something that some players just don't do.
On the negative side, the Yankees may not be too thrilled with Cespedes love for golfing, especially after he did while on the DL with a leg issue last season. Will Cespedes be the same motivated and productive player after getting his money?
If I am the Yankees, I don't let Cespedes sign anywhere else until they figure out their plans. Does the Luxury Tax threshold go up? Do they trade Gardner for more pitching help? Cespedes would be the best right-handed stick they've had since A-Rod's early tenure with the Yankees.
They may say they are out, but until he actually signs somewhere else, I wouldn't totally believe it. If I am Brian Cashman, I stay in and probably push my chips on the table for him.
This article originally appeared on