New York Yankees: Masahiro Tanaka Named Team MVP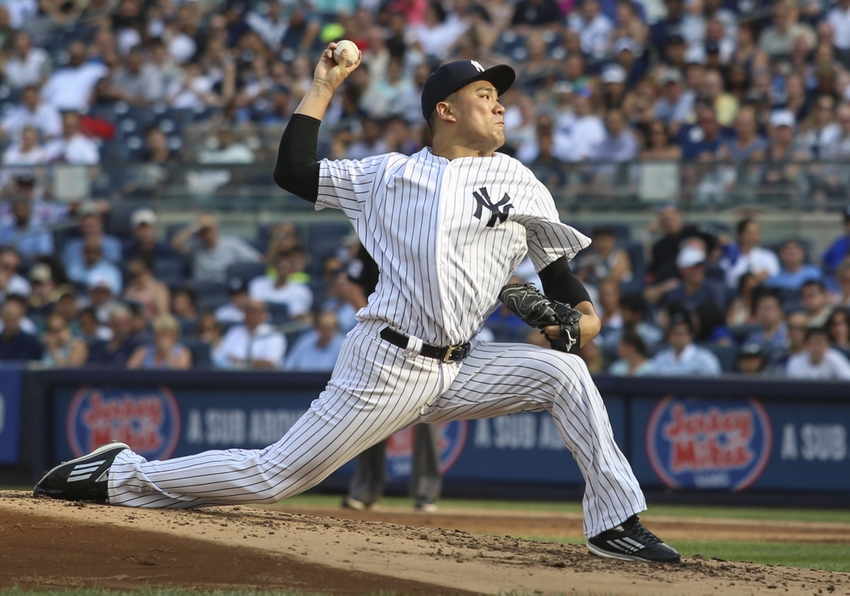 The New York Yankees were able to make a late push for the postseason in 2016 despite being sellers. Who was their MVP this season according to Bleacher Report?
It was a strange season for the New York Yankees in 2016. After a slow start to the season, the Yankees were forced to be sellers at the trade deadline. Despite parting ways with their talented veterans, the Yankees made a serious push for a playoff spot.
Due to the addition of some young players, the Yankees were able to have a really strong second half of the season. Young players mixed in well with some remaining veterans to make the Yankees a fun team to watch.
One of the reasons that the Yankees' quest for the postseason came up short was their starting rotation. Throughout the season, finding consistent starting pitching was a challenging thing for the Yankees. Manager Joe Girardi relied heavily on his bullpen to make up for the poor rotation, but he did have one star.
Masahiro Tanaka has been without a doubt the ace of the rotation and the most consistent pitcher all season for the Yankees. This season, Tanaka totaled a 14-4 record and 3.07 ERA. In Bleacher Report's article Tanaka was their choice for the MVP of the Yankees.
It is hard to argue with the decision to name Tanaka the MVP of the 2016 Yankees. Despite concerns about his elbow coming into the season, Tanaka was able to pitch just under 200 innings for the Yankees this season.
While his teammates in the rotation besides CC Sabathia struggled mostly this season, Tanaka gave the Yankees a lot of quality starts. If not for Tanaka, the Yankees would have had a hard time finishing the season over .500.
Some consideration does, of course, go to catcher Gary Sanchez. However, the season-long steady performance by Tanaka gave him the nod. Furthermore, having Tanaka healthy at the top of the rotation will be crucial for the Yankees in the years to come. While there is a lot of talent on the way, finding a pitcher like Tanaka is hard to do.
More from Empire Writes Back
This article originally appeared on