New York Yankees: Luis Severino May Have a New Role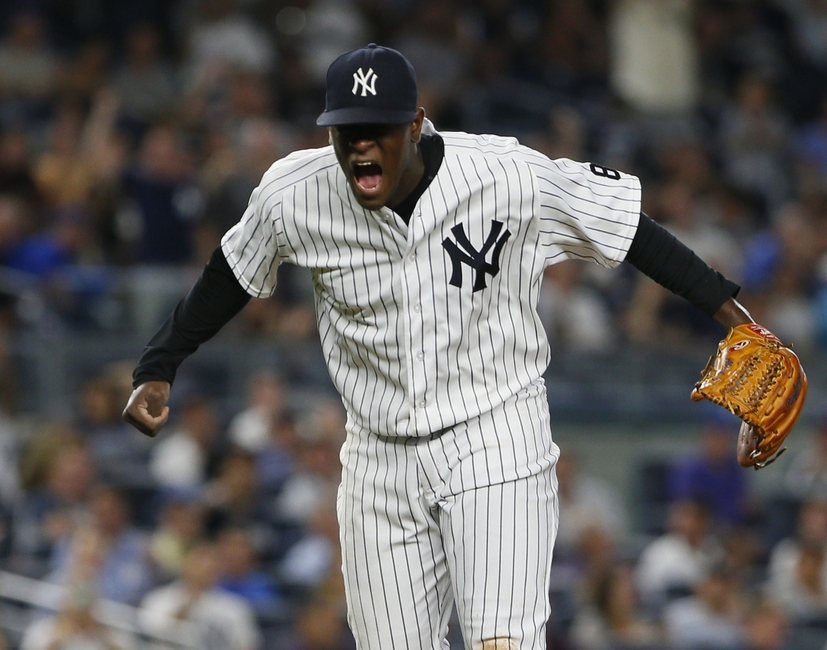 Luis Severino is a future starter in his eyes and the New York Yankees', but for now, he is a valuable asset out of the bullpen.
Luis Severino has found himself in an interesting situation. Last season he was 5-3 with a 2.89 ERA through 11 starts. He made the New York Yankees' Opening Day rotation this season but was abysmal. He had zero wins and eight losses with an 8.58 ERA in nine starts. However, Severino has transformed from a batting practice pitcher as a starter to a "lights out" reliever this season.
On Wednesday, the New York Yankees beat the Toronto Blue Jays 2-0. Luis Severino made his sixth relief appearance in which he pitched three scoreless innings. In 14.1 innings out of the bullpen, Severino has a 0.00 ERA with 16 strikeouts. After Wednesday night's game against the Blue Jays, a number of Yankees players spoke to the New York Post about Severino.
"He's just electric," catcher Austin Romine said. "There's no fear behind any pitches he throws. It doesn't matter who's hitting. He blew a couple of really good hitters [away] with heaters… That was the best I've seen him."
"He's got more of an edge out of the bullpen," first baseman Mark Teixeira said. "Whatever it is, I like it."
More from Call to the Pen
And according to an interview with MLB.com, catcher Brian McCann believes Luis Severino is a starter. "His mentality is a little bit different," he said. "He attacks a little bit more, and obviously with the velocity sitting there at 98, 99 [mph]. He's a starter, though. He's got the mentality of a starter, he's got the stuff of a starter and he just needs more reps."
Earlier this season he was sent down to Triple-A to get those reps and he found success.  In 13 games (12 starts), Severino went 8-1 with a 3.49 ERA. He worked on the command of his fastball and change-up, while his slider improved to have more of a bite.
Although Luis Severino seems more comfortable as a reliever in MLB, it is too early for the Yankees to abandon the idea that he is a starter. After all, Severino is only 22 years old. He had success last season as a 21-year-old and is now experiencing the trials and errors of being a big leaguer.
While a reliever, Severino is more confident, his stuff more dangerous and his control better. As a starter, he's more hesitant and unsure of himself. But that seems to be a confidence issue. He clearly has the stuff to be a great MLB pitcher, but Severino and the Yankees need to find out whether he wants to be a great starter or a great reliever.
This article originally appeared on