New York Yankees: Is Gary Sanchez a Legit AL RoY Candidate?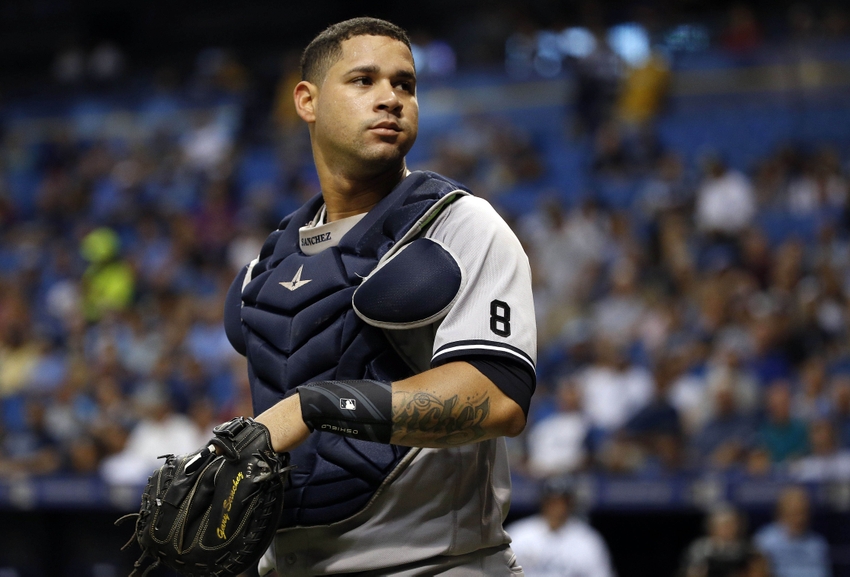 In only 45 games this season, New York Yankees catcher Gary Sanchez has worked wonders. But is it all enough to be considered on a RoY award ballot?
The short answer is yes, Sanchez deserves serious consideration. But let us take a look at how we get to that conclusion.
Gary Sanchez had a very brief stint with the New York Yankees in 2015. He registered only two plate appearances, striking out once. Upon returning to the minors, he hit .295 with six home runs and 26 RBI in Triple-A over the course of 35 games.
Sanchez was behind Brian McCann and Austin Romine on the depth chart out of spring training this year, so Joe Girardi optioned him back to the RailRiders to hone his skills. While there and before his now historic call-up, Sanchez hit a stable .282 with 10 homers and 50 RBI in 71 contests.
None of that matters now, because the sizzling hot 23-year-old backstop has destroyed big league pitching for most of August and September. Sanchez, currently hitting .333/.411/.738 as of September 23, recently became the fastest major league player to 19 career home runs in the modern era.
Twice Sanchez was named the AL Player of the Week in August and on September 3, was named AL Player of the Month and Rookie of the Month for the month previous.
It's clear he has been one of baseball's best overall hitters in the second half, but will it be enough to get Gary Sanchez some serious consideration from the BBWAA when it comes to voting for a 2016 AL Rookie of the Year?
His Yankees teammates would hardly put up an argument against crowning him RoY. Sanchez is probably the largest reason why New York finds itself in the AL wild card race at the moment. Sanchez has compiled a WAR of 3.2 since re-joining the Yankees this year. And that's only over 44 games so far, everyone.
To put that in perspective, it's about 1/3 of perennial MVP candidate Mike Trout's total WAR output of 10.0 in 150 games played, which also leads MLB. McCann, that other Yankees catcher, has a WAR of 1.0 in 121 games played.
How about we look at some other pretty respectable players at Sanchez's position within the division as well, to help size things up:
Yeah… It's safe to say Sanchez is doing something really special. Leon has been great for Boston this season, yet in even less games, Sanchez has still managed to be more productive for his boys in pinstripes.
The American League's past five RoY winners numbers and the team they were with when they won look like this:
2015 Carlos Correa/HOU – 4.1 WAR, .279 AVG, 22 HR, 68 RBI in 99 GP
2014 Jose Abreu/CWS – 5.5 WAR, .317-36-107 in 145 GP
2013 Wil Myers/TBR – 1.9 WAR, .293-13-53 in 88 GP
2012 Mike Trout/LAA – 10.8 WAR, .326-30-83 in 139 GP
2011 Jeremy Hellickson/TBR – 3.8 WAR, 13 W, 2.95 ERA, 117 K in 29 GP
A few takeaways from this; for starters, Abreu, Trout and Hellickson were the only ones with sample sizes big enough to give them credit for almost a full season of production or service. But Hellickson is a pitcher, so he becomes irrelevant by comparison. Sanchez has hit half the number of home runs to Abreu's 26 in 1/3 the of games.
More from Call to the Pen
Trout's rookie campaign was one for the ages, so there is no comparison there either, in my opinion. But by 2013's standards and the rather weak class, Sanchez's case looks promising when making an argument in 2016. Myers' 1.9 WAR pales in comparison. And when we look at Correa's campaign last season, it's pretty easy to forecast that if MLB's regular season ended after October, Sanchez would likely have him beat in a number of statistical categories.
So, the last thing to look at now, is the rest of the field. Over in the NL, Dodgers rookie shortstop Corey Seager is almost guaranteed to win the RoY honors. But back in the AL, it's looking kind of like a three horse race race between Rangers OF Nomar Mazara, Tigers SP Michael Fulmer and Sanchez.
Fulmer has been critical to Detroit's success this season, especially because Jordan Zimmermann has started only 17 games to date in 2016 for the Tigers. Through 24 starts, Fulmer is 10-7 with a 3.03 ERA and 120 punch outs in 148.2 IP. His WAR number stands at a stout 4.7.
Mazara, on the other hand, has a WAR of only 0.6 in three times more games than Sanchez has suited up for. He's hitting .277 with 20 taters and 64 RBI in 139 GP to date. So in effect, it's between Sanchez and Fulmer this time around.
The BBWAA will need to overlook service/playing time to create a distinction. If they are capable of thinking a little more liberally and not erring on the conservative side of things, it could bode well.
The ideal result would be that the New York Yankees should find the man people call 'The Kraken' as being the franchises first RoY recipient since some dude named Derek Jeter took home the hardware two decades ago back in 1996.
This article originally appeared on