New York Yankees: Gleyber Torres Wins AFL MVP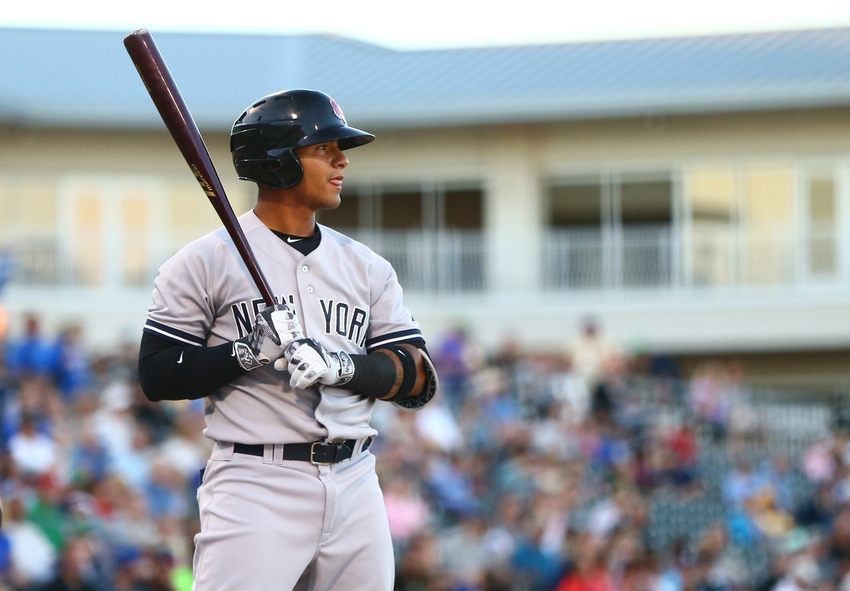 One of the New York Yankees recently acquired prospects, Gleyber Torres, was wholly impressive during the Arizona Fall League.
Every year teams send some of their best prospects to the Arizona Fall League. In these mixed teams full of good prospects, we get to see a glimpse of how a player may perform when they reach the highest levels. It's not perfect, certainly, because players of all ages, talent levels, and competition levels come together to play in the same league. Another weakness is among players who were drafted out of college during the same season. Their season began in early March, or even earlier in warmer climates, and will stretch nearly into December. That level of fatigue certainly comes into play.
However, the AFL is still a very good way to become familiar with prospects from all around the league. It is a service to fans, who may not be able to watch minor league baseball hardly at all during the regular season. It is also a service to the young players themselves, providing even more playing time against competition on par with, if not better than, the competition they faced all summer long.
This dual purpose of the AFL was especially obvious in the case of Gleyber Torres. His name was likely seldom known before this July, when he was the headline name in the Chicago Cubs trade for Aroldis Chapman. The Yankees, of course, were overjoyed at the addition of Torres. It was likely bittersweet to lose one of the most dominant relievers in baseball, but the Yankees appear to be beginning a youth movement. Gleyber Torres is a huge part of that youth movement.
While Torres's name became more prevalent thanks to being part of an important trade deadline acquisition, the Arizona Fall League allowed for even further spread of his identity. He was hot for the entire AFL season, which meant that outlets like MLB.com highlighted him throughout the fall. For those fans that turned their attention to the AFL once their team was eliminated from the playoffs, or once the playoffs ended completely, Gleyber Torres quickly became a "household" name.
More importantly than the increased popularity of Gleyber Torres was his increased baseball performance. In the AFL Torres hit .403/.513/.645, which was easily the best slash line in the league. Torres also walked nearly twice for every time he struck out (1.75 BB/K). The league is short, only allowing Torres to have 76 plate appearances, so drawing huge conclusions from AFL statistics isn't reliable. However, from the general consensus among scouts and writers present at the AFL, Torres hit the ball hard all fall.
Because of his impressive showing with the Scottsdale Scorpions, he was named the Arizona Fall League MVP. At just 19 years old, Torres became the youngest player to ever win the award. His age and baseball prowess should be incredibly encouraging to fans of the New York Yankees.
Whether Torres is allowed to continue his development with the New York Yankees organization or will be used as a trade chip, it seems certain that he has a large amount of value. Torres has not yet reached a level above either of the A leagues, but that is most likely soon to change in 2017. At his age with his already developed talent, the future seems incredibly bright.
More from Call to the Pen
This article originally appeared on