New York Yankees: Eric Young Jr Will Help Bring Versatility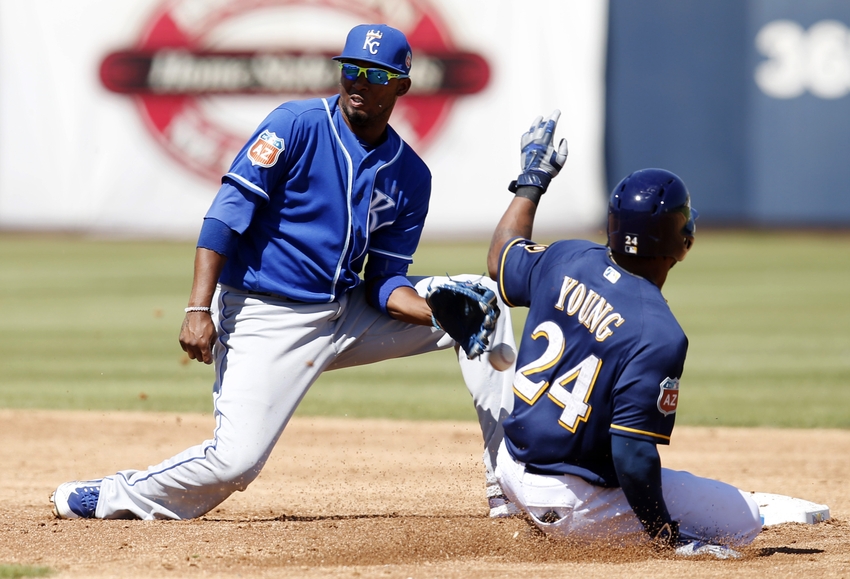 The New York Yankees have recently acquired outfielder Eric Young Jr. from the Milwaukee Brewers. What will he bring to the table for the Yankees?
As the New York Yankees continue to scratch and claw for a Wild Card spot, they will be seeing some fresh bodies being called up. The recent trade with the Milwaukee Brewers will bring the Yankees some speed to their bench.
Outfielder Eric Young Jr. has made a career for himself by being able to steal bases and steal them efficiently. In seven seasons, Young has totaled 144 stolen bases and has only been caught 35 times.
Despite having Brett Gardner and Jacoby Ellsbury at the top of the lineup, the Yankees have struggled to steal bases this season. Gardner and Ellsbury have been disappointments on the base paths. This season, the two have combined to steal just 31 bases.
Adding Young will give manager Joe Girardi some next flexibility on his bench. With some very slow players on the Yankees, Young will be used very often in late-game situations. Young hasn't played in the majors this season, but that will change once the Yankees announce their September call-ups.
The #Brewers have traded OF Eric Young Jr. to the Yankees in exchange for cash.

— Milwaukee Brewers (@Brewers) August 31, 2016
In Triple-A this season, Young has totaled 23 stolen bases with 30 RBIs. The addition of Young might not be a huge deal for the Yankees, but he certainly has value. Being able to plug in Young in a base-stealing situation could end up stealing the Yankees a game at some point in September.
Young is no stranger to the bright lights of New York from his time with the Mets. The speedy outfielder will now be trying to help the Yankees steal a spot in the playoffs.
More from Empire Writes Back
This article originally appeared on