New York Yankees: Dellin Betances to Pitch for Dominican Republic in WBC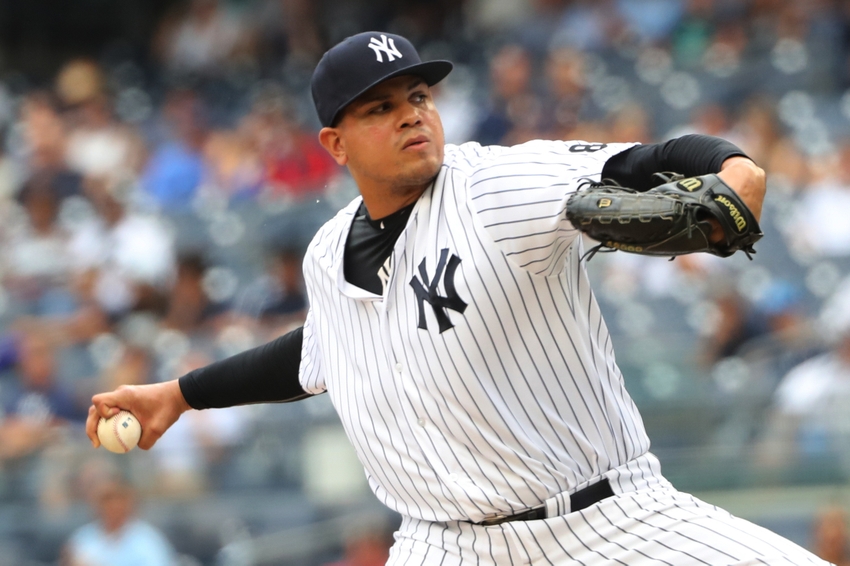 Dellin Betances will pitch for the Dominican Republic rather than the U.S. during the World Baseball Classic, though the New York Yankees might prefer if he didn't go at all.
Before he once again dons the familiar New York Yankees pinstripes, Dellin Betances will wear another uniform while participating in next spring's World Baseball Classic. It won't be for the United States. Instead, the 28-year-old relief pitcher will represent the Dominican Republic in the international tournament.
Betances was born in Washington Heights in New York City and grew up a Yankees fan. He was even in attendance when David Wells pitched his perfect game in 1998. When it comes to the Yanks, he's very much a native son. However, his parents hail from the Dominican Republic, giving him the right to play for them in the WBC. It's a right he wants to exercise to honor his heritage, as he explained to the New York Post.
"Both teams want me to play [for them], but I made a commitment to the DR," he said. "That is where my family is from, and I want to make them proud."
It's certainly not unprecedented for players to buck the country of their birth in previous Classics. In fact, another Yankee faced a similar dilemma with these same two countries. Alex Rodriguez played for the U.S. in the inaugural World Baseball Classic in 2006, but suited up for the Dominican Republic three years later. Let it never be said that A-Rod didn't do his best to please everyone.
Some American fans might grumble about the decision. After all, Betances would be a great weapon to have in the U.S. bullpen. But it's hard to fault his reasoning, and in the grand scheme of things, no one's losing sleep over the WBC. (Well, except maybe major league front offices.) Despite Major League Baseball's best efforts, it hasn't exactly become a World Cup level event yet.
If anything, the Yankees and their fans are probably wishing Betances wasn't going to appear in the tournament at all. The big right-hander has been used a lot over the past three years. Seriously, a lot. He has tossed 247 innings since the start of 2014, more than any other reliever over that span. The Mets' Jeurys Familia comes in second with 233.
Overall, Betances has performed exceedingly well despite the heavy workload. He leads all relief pitchers with 8.5 WAR since 2014, is fifth with a 1.93 ERA, and third with a 14.28 K/9. Only former bullpen mates Aroldis Chapman and Andrew Miller have struck out more per nine. He has flourished as both a setup man and a closer, becoming one of the most important assets on the Yankees roster.
More from Call to the Pen
However, fatigue has been a noticeable factor for Betances late in the last two seasons. In September/October of 2015, he walked 12 batters in 16.2 frames (6.48 BB/9). Up to that point, he had managed a 3.74 BB/9. This year the disparity was even more pronounced. From April through August, Betances posted a 2.12 ERA and 2.83 BB/9. From September onward? A 9.64 ERA and 7.71 BB/9.
It's clear that all those innings take their toll on Betances in the final stretch of the campaign. Unsurprisingly, the Yankees aim to bolster their bullpen once again this offseason, perhaps by reuniting with the aforementioned Chapman. They need to limit Betances' innings, but that's hard to do when the reliable options in the bullpen dwindle and Joe Girardi leans on him to win ballgames.
Naturally, the Yanks won't be thrilled that he'll be pitching before the start of the season away from their watchful eyes. There are rules regulating the usage of pitchers in the WBC, but that likely won't do much to alleviate their concerns. And as the reigning champs, the Dominican team expects to advance far in the tournament once again, meaning more potential opportunities for Betances.
The Yankees will have to cross their fingers that everything goes off without a hitch, though to be fair, Girardi was going to need to do a more efficient job of managing Betances' appearances next season regardless of whether he played in the World Baseball Classic. As for Betances himself, he'll try to do some justice to his Dominican roots on the international stage.
All statistics courtesy of Fangraphs.
This article originally appeared on