New York Mets: Tim Tebow Injured in Arizona Fall League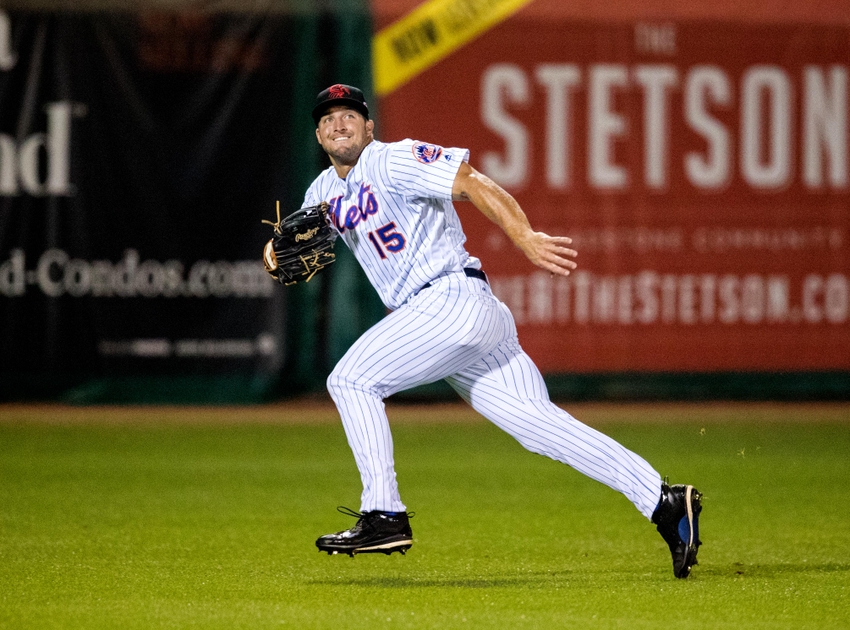 Tim Tebow somehow found his way onto the New York Mets portion of the Scottsdale Scorpions roster in the Arizona Fall League, and yesterday he suffered an injury attempting to steal second.
In the bottom of the fourth inning, Tim Tebow found himself on first and decided to make a run for it. When he arrived at second, he was both out and apparently injured.
According to Jonathan Mayo of MLB.com, Tebow left Monday's game in the fourth inning with an injury to his right leg after sliding awkwardly. Baltimore Orioles' 25-year-old catcher Austin Wynns was credited with the throw. To Tebow's credit, Wynns threw out 45 percent of potential base stealers (29 of 64) during the regular season between Hi-A and Triple-A.
Through ten Fall League games, Tebow is batting .147 (5-for-34), with all five hits coming in his last six games (5-for-22, .227). In those 34 at-bats the former quarterback has struck out 12 times, which is a higher strikeout percentage than some of the biggest boppers in baseball, with none of the bop.
While ridiculing a 29-year-old former NFL player may be easy, if he is there for the right reasons, his efforts are commendable. My mind has not been made up on whether he is back in baseball after a decade for the right reasons, but I'm willing to give him the benefit of the doubt. Also, he doesn't have the worst batting average in the Fall League. Nope. He's sixth from the bottom. His OPS doesn't rank quite as high, ranking only third from last at .371.
Whether or not Tebow returns this season remains to be seen, but the Fall League season is short so if the injury would have been enough to land him on the disabled list, then he is done. The Fall Stars game is set for this Saturday, but after the game there will only be two weeks of baseball left before the Championship Game. At  6-12, the Scorpions would have to go on a tear to catch first place Salt River (4.5 back) and earn a spot in that game.
If the injury is enough to keep Tebow down for a short time, but not the rest of the season, it's likely that the New York Mets will keep him on the roster to get every at-bat he can before figuring out what to do with him in the spring. If they want to be aggressive with him due to his age and lack of a window to make the big leagues, the Mets could start him off in Columbia (A Ball) and promote him at will. A short season club wouldn't do him any favors given the timetable, but Columbia may be a big challenge.
More from Call to the Pen
This article originally appeared on