New York Mets: The 2016 Season in Review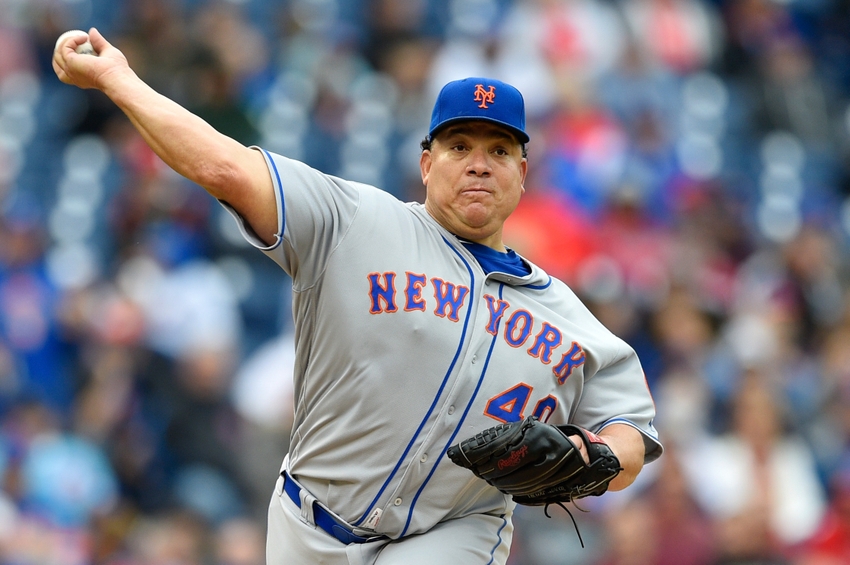 A year after making the World Series, the New York Mets expected to ride their young pitching staff and a rebuilt lineup back to the postseason. They managed to return, but not in the way they expected.
This was to be the New York Mets year. After a relatively surprising run to the World Series in 2015, the Mets had a young core with the added experience of what it takes to go deep into the postseason. After watching the Kansas City Royals celebrate on their home field, one had to imagine that the Mets had a chip on their shoulder.
However, those dreams of returning to the World Series, and taking home the title themselves, did not materialize. The pitching staff was ravaged by injuries and ineffectiveness, as twelve different pitchers started a game for the Mets. Bartolo Colon led the team in starts, and Noah Syndergaard was the only other pitcher to start 30 games.
The injuries and ineffectiveness also manifested on the offensive side. Lucas Duda and David Wright were lost to injury. Michael Conforto, expected to be a key part of the Mets lineup, was sent to the minors. Players like Jose Reyes and James Loney had to be brought in from the scrap heap, in hopes that they could give the Mets something resembling solid production.
And yet, throughout the difficulties, the New York Mets captured one of the Wild Cards. True, they lost to the San Francisco Giants in what was one of the greatest games in recent postseason history, but the fact that they got that far was somewhat surprising.
Let's take a look back at the Mets 2016 campaign, and see what went right, and what went wrong.
The Legend of Bartolo
Bartolo Colon is the gift that keeps on giving in the world of baseball. The Round Mound on the Mound, Colon is essentially a human gif waiting to happen, someone that can cause a great deal of amusement at a moment's notice.
Yet, the Round Mound from the Mound continued to exceed expectations. Originally expected to be the New York Mets fifth starter, Colon ended up making the most starts and pitching the most innings of anyone on the staff.
Along the way, Colon made the All Star Game for the first time since 2013, and the fourth time overall. He posted a team leading 15 wins, to go along with a 3.43 ERA and a 1.210 WHiP. His command continued to be excellent, as his 1.5 walks per nine innings was the lowest amongst qualifying pitchers in the National League.
Colon was more than a threat on the mound this year. Known for his comically bad plate apperances, Colon connected for his first career home run. That home run, and the over 30 second jog around the bases, were replayed over and over on the highlight shows. It is also possible that the stigma of surrendering a home run to Colon ruined James Shields, but let's focus on everyone's favorite baseball jollux.
Alas, we have yet to see Bartolo Colon take off on a stolen base attempt, but maybe that will be his next trick. The 43 year old had a lot more left in the tank than many would have expected, and proved to be a savior for the Mets pitching staff.
The prodigal son returns
The 2016 season started off as a disaster for Jose Reyes. He had been suspended due to his domestic violence arrest on Halloween 2015, and after playing in the minors for the Colorado Rockies, he was released. With his vocal discontent in Colorado, the baggage surrounding his arrest, and his declining production, no one was interested in the veteran infielder.
Meanwhile, the New York Mets were having their own issues. David Wright, who the Mets were, for some reason, counting on to handle third, was injured yet again. Eric Campbell became a fan favorite, but produced virtually nothing. The Mets needed someone to step in and be, at the very least, somewhat useful on the field.
And so, for the league minimum, they turned to Reyes. Back in New York, he found his ability to produce once again, as he ended the season as the Mets primary third baseman. While he still made the occasional appearance at short, Reyes was entrenched in his new position.
He also produced at his accustomed level in New York. Reyes hit at a .267/.326/.443 clip, hitting eight home runs and four triples. While the speed from his past may not be there, he still tallied nine stolen bases. It is not a surprise that the Mets picked up his option, and will keep him in Queens for another season.
Jose Reyes may not have even been an option for the Mets for most of the season, but circumstances forced their hand. He rewarded that faith with a solid effort, and may be getting back to form.
Matt Harvey's struggles and injury issues
Matt Harvey was expected to team up with Noah Syndergaard to give the New York Mets one of the better duos atop any rotation in baseball. While Syndergaard did his part, Harvey struggled when he made it to the mound.
One could see early on that there was something wrong. He did not have his typical velocity and movement, leading to his worst strikeout rate of his career. The command was off, as he would either miss the plate, or be eminently hittable. Yes, Harvey had his moments, but they were few and far between.
Eventually, Harvey was shut down after posting a 4-10 record with a 4.86 ERA and a 1.468 WHiP. Harvey was diagnosed with thoracic outlet syndrome, leading to his being shut down for the rest of the year. This comes after he missed the entire 2014 campaign due to Tommy John surgery.
There is no question that, when healthy, Matt Harvey is among the better pitchers in the game. However, that health is tenuous at best. Two major injuries in four seasons has to be concerning with any player, especially a pitcher that was being counted on to be a key part of the rotation. Can the Mets even consider Harvey a part of the future?
That decision will have to come shortly. Based on his performance when healthy, he should be. But can Harvey enough to force the Mets to keep him?
The Mets future may be just as bright as the present
If there was a silver lining to the injuries that the New York Mets had to suffer through, it was that some of their younger players had a chance to shine.
More from Call to the Pen
Yes, the pitching staff was in shambles. And yes, only four players appeared in 130 or more games. However, that gave other players a chance to show if they could be viable Major League options.
Seth Lugo, at 26 years old, may not be exactly young, but he was a revelation. Featuring the highest spin rate of any pitcher on his curve, he posted a 5-2 record with a 2.67 ERA and a 1.094 WHiP. Robert Gsellman, who was torched in Las Vegas, had a 2.42 ERA and a 1.276 WHiP, striking out 42 batters in 44.2 innings of work. That was far better production than the Mets could have realistically expected from either pitcher.
Even Michael Conforto displayed a few positives. Even though his production took a step back, Conforto improved his plate discipline, as his walk rate increased from 8.8% to 10.3%. Brandon Nimmo, in a small sample size, produced a solid .274/.338/.329 batting line. Even Gavin Cecchini showed flashes, hitting two doubles in his six at bats.
The New York Mets faced quite a bit of adversity last season, but still made the postseason. In the end, they will be better for it, ready to turn this experience into another run for the playoffs in 2017.
This article originally appeared on