New York Mets Shut Jacob deGrom Down for the Season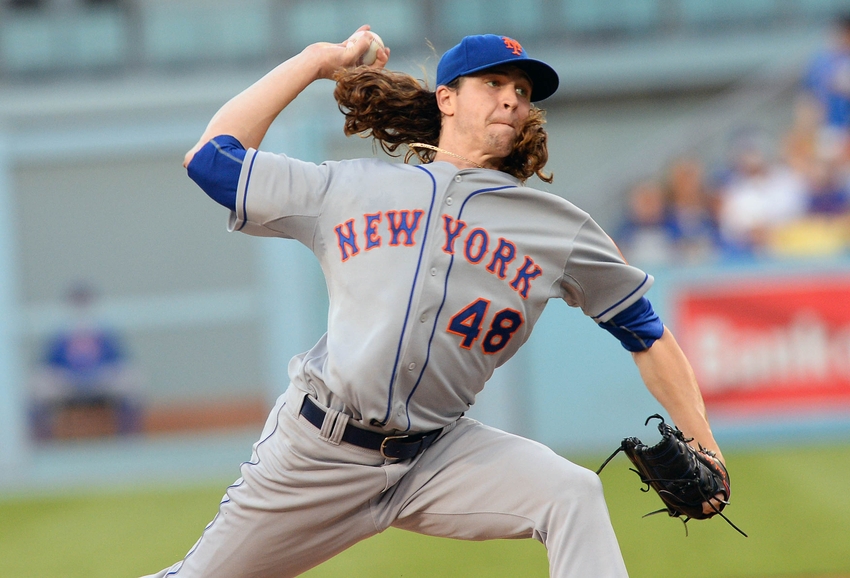 The New York Mets are contending for a playoff spot, but will need to do so without one of their top pitchers. It was announced that Jacob deGrom will be shut down for the rest of the year.
The New York Mets postseason hopes have taken a big hit today as it was announced that righty Jacob deGrom has been shut down for the remainder of the season.
This move comes as a bit of a surprise, as deGrom was expected to rejoin the team's starting rotation this weekend. The righty was unable to do so, and now it appears is possibly headed for season ending surgery. While the surgery has not yet been confirmed as of yet, it should not alter deGrom's ability to play next season.
This move further weakens a Mets team that has been ravaged by injuries this season. Taking deGrom out of their rotation makes it look much less intimidating to opposing teams come postseason time.
More from Call to the Pen
Regardless of whether or not he has the surgery, we do know that deGrom will not throw another pitch this season. He was tentatively scheduled to return to the rotation this weekend before struggling with pain while shagging fly balls.
The injuries to the Mets pitching staff has hurt them no doubt but with plenty of pitching depth they still may be able to maintain a postseason spot. The problem will be can they do anything once they get there?
All the injuries to the Mets young pitchers could make them consider extending Bartolo Colon for another season as insurance. That is assuming that the forty-plus year old veteran doesn't have any retirement plans.
Jacob deGrom's season ending injury leaves Noah Syndergaard as the lone ace now in the Mets rotation with Bartolo Colon sitting second and beyond those two there are no more starting pitching options the Mets can count on.  The Mets projected and current rotations are listed below:
Projected 2016 Rotation
Jacob deGrom
Noah Syndergaard
Bartolo Colon
Zach Wheeler (Expected back at some point this season)
Current 2016 rotation
Noah Syndergaard
Bartolo Colon
Unknown
Only two pitchers out of five are still healthy for the Mets considering that they are anywhere near postseason shows just how tough of a team they have been this season.  The Mets have hung in the postseason race so far despite all these injuries. Is the Jacob deGrom injury the last straw, or will they continue to surprise and overachieve in 2016?
This article originally appeared on