New York Mets: Noah Syndergaard Too Careless With Baserunners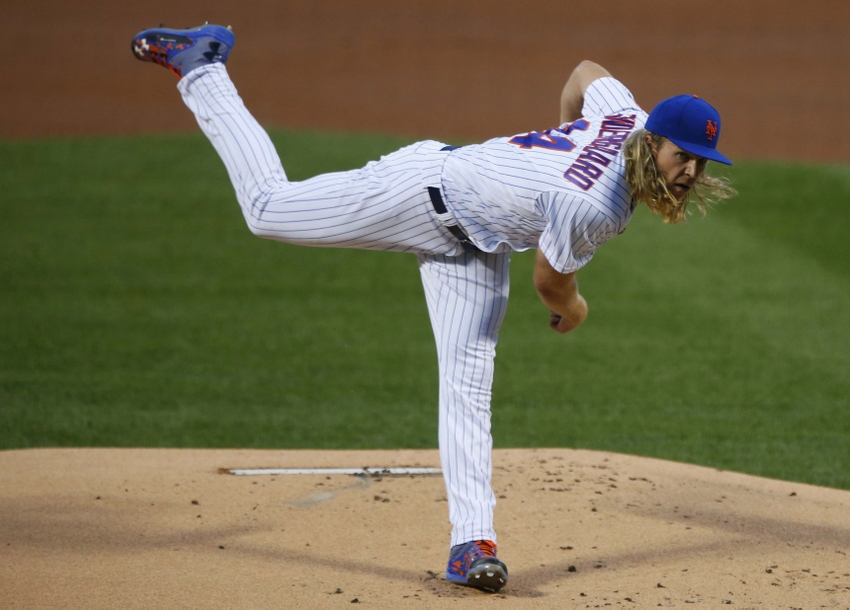 The successful New York Mets pitcher is close to setting a dubious record. What can Noah Syndergaard do to not allow so many stolen bases?
New York Mets pitcher Noah Syndergaard does a lot of things well. Holding base runners on the bag is not one of them.
The hard-throwing righty is stingy allowing base runners to the tune of a 1.111 WHIP. Still in the phase of his career where he feels he can strike out anyone at will—the 10.4 K/9 rate proves that—Syndergaard's attention is focused on keeping batters from making contact.
Sometimes, they make contact and reach. When they do, National League runners know he will not pay attention and steal bases at will. How many, you ask? Try 45, including the four the Washington Nationals swiped Friday night.
More from Call to the Pen
Now, a high leg kick will slow down a pitcher's time from the start of his delivery to the moment the ball reaches home plate. Met legend Dwight Gooden, who owns the record for most stolen bases off a pitcher in a year with 60 in 1990, reached a can-can dancers height with his leg kick. That extra tenth of a second was all a runner needed to get a successful jump.
Although Syndergaard's is not as high, his power comes from leg strength and motion. The slower that is, the more time a smart runner has to judge when to go. The last pitcher to allow 50 or more was Hideo Nomo in 2001. With the Boston Red Sox, he allowed 52 stolen bases. Again, his unconventional delivery could be timed by a smart runner.
Right-handers, of course, face third base pitching from the stretch. They rely on their catcher or a certain pre-planned time to throw back to first to keep a runner honest. Like Gooden and Nomo in their day, Syndergaard does not pitch out of the stretch often. His mentality is of a thrower and not a pitcher. If he fans guys, he does his job.
In a year where the Mets playoff hops are hanging by a thread, Syndergaard's disregard of runner may be the final reason they fall short. If runners know they can put themselves into scoring position because of his timing that run or two may make the difference.
In reality, the multitude of injuries and anemic offense will likely doom the Mets. Yet, they are still within a shout of the Wild Card race after everything.
What will need to happen is a renewed focus next spring in Port St. Lucie about throwing over to first and disrupt a runner's timing. The changes will not show results overnight, but the better he becomes now at it, the more productive he will be when he has to pitch his way out of trouble instead of simply throwing.
This article originally appeared on