Mets minor leaguer makes terrific catch while falling into dugout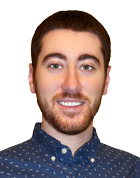 Ranging into foul territory to track down a fly ball can be dangerous. Sometimes there are bullpens to avoid, and there are always fences to shy away from. That can make it difficult to make the catch, but these obstacles posed no threat for Mets minor leaguer Dale Burdick.
On Sunday night, he made a great catch while falling into the dugout, which was actually a pretty steep fall. Fortunately, his teammate was there to catch him and prevent him from falling onto his face.
Burdick may be hitting .179 for the Fireflies this season, but his glove is strong.