MLB Willing to Drop Draft Pick Forfeiture from Qualifying Offer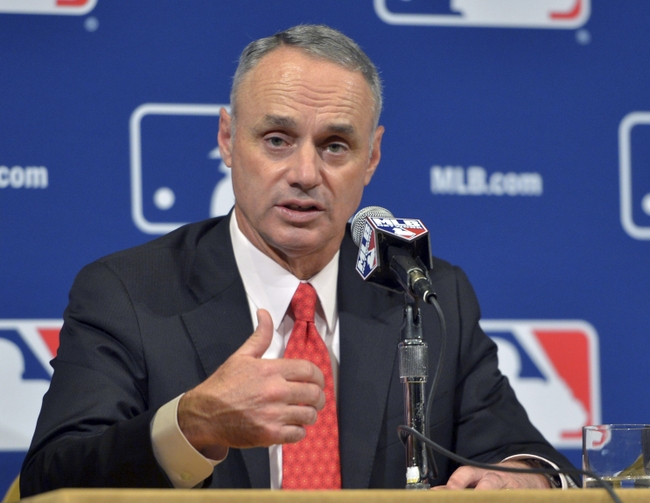 Collective Bargaining Agreement talks have stalled, but MLB is reportedly willing to ditch the draft pick forfeiture from the qualifying offer – if the players agree to an international draft.
Talks over the next Collective Bargaining Agreement have reignited with a twist. Jon Heyman of Fan Rag Sports Network reports that MLB is willing to make a major concession – if the players are willing to compromise. The new development has been enough to bring both union leaders and MLB negotiators back to the bargaining table.
The major concession in discussion is the draft pick forfeiture associated with the qualifying offer. Under the current free agency system, teams may offer an impending free agent a qualifying offer. Should the player refuse the offer, he becomes a free agent, but any team that signs him would forfeit their top unprotected draft pick.
For most teams, this significantly increases the cost of acquisition, and it has significantly depressed the market for players who are not necessarily stars but have the qualifying offer attached to their name. In recent years, Ian Desmond, Kendrys Morales, and Stephen Drew have seen potential suitors evaporate due to their rejected qualifying offer. Players, obviously, have not been a fan of this system and would love to see it go.
More from Call to the Pen
The owners, on the other hand, are fans of the current system since it benefits teams that lose players to free agency. Oftentimes a team will pay an exuberant acquisition cost for a player, and regaining a first-round pick often makes such a trade more palatable. It also offers non-contending teams a chance to retain a player in hopes of keeping him in the future rather than dealing him at the trade deadline.
In exchange for eliminating this salary-reducing measure, the team owners would clearly want something significant in return. This would reportedly come in the form of an international draft. Current star prospects in foreign countries are subject to some spending restrictions, but the cream of the crop often receive gigantic signing bonuses that only the richest teams can afford.
Installing an international draft clearly has its benefits in that it would allow all teams to compete on emerging talent rather than just those with the deepest pockets. Team owners would reap additional benefits from such a system since it would certainly reduce the costs of international acquisitions. Limiting players to negotiate with just one team would certainly eliminate the massive bonuses like the one given to Yoan Moncada.
Given the salary-reducing nature of the international draft, players clearly are not in love with the idea. The reason why exchanging one cost-reducing measure for another might work in this situation is that the qualifying offer system affects members of the union exclusively while many international bonuses go to players who fail to reach the major leagues. Members MLB Players Association would probably achieve a net benefit under such an arrangement.
Whether or not this is enough to bring a new CBA into agreement before the December 1st deadline remains to be seen. Heyman also notes that the owners are willing to raise the luxury tax from $189 million to $200 million, but he warns that there are other significant factors at play. The first-year draft allotments and MLB Advanced Media revenue, for example, have come under fire as of late. Hopefully, an agreement can be met and baseball will return to brighten our lives.
This article originally appeared on