27 totally unnecessary MLB awards after two months
With 30% of the MLB regular season in the books after almost two months of action, we've witnessed some great plays and big surprises.
Now before everyone jets out of town and fires up the grill, here's a large helping of totally unnecessary awards looking back at first third of the season.
1. Most unexpected minor-league style managerial outburst: Detroit Tigers manager Brad Ausmus.
2. Saddest team to watch: The 12-34 Minnesota Twins. You may have guessed it'd be the struggling Atlanta Braves, but the Twins finished a respectable 83-79 last season and had playoffs aspirations heading into this one. Also in Minnesota, a player recently confronted announcer Dick Bremer because the player was unhappy about critical remarks Bremer made during a broadcast.
4. Most Puig: Yasiel Puig getting benched on May 25 for not running/admiring a deep shot to right-center field that resulted in perhaps the longest single of the season.
5. Most clever defensive play: Detroit Tigers second baseman Ian Kinsler's dropped-pop-fly-groundout to keep Colby Rasmus off the base paths.
6. Most devious defensive play: Braves right fielder Ender Inciarte for his successful "I lost the ball!" gag that helped him to double up the Phillies' Carlos Ruiz at first base.
Ian Kinsler is out here playing chess. https://t.co/NGqyUB47xw pic.twitter.com/FNICW8Klzu

— MLB GIFS (@MLBGIFs) April 17, 2016
7. Award for harshest torturing of a former team: The New York Mets didn't want to overpay second baseman Daniel Murphy after his postseason record six-game home run streak, so Murph signed a 3-year, $37.5 million year deal with Washington, keeping him in the division. In Nationals-Mets contests so far, Murphy is 10-for-23 (.435/.440/.739) with two homers and six RBI.
8. Greatest fan reaction(s): Awarded to the Giants fans sitting by this man who celebrated his souvenir before realizing that he had interfered with a live ball, resulting in his ejection and walk of shame.
9. Most likely to wind up in the UFC: Texas Rangers second baseman Rougned Odor.
10. Most exciting team to watch: No surprises here — it's the Cubs. They've got a hippie manager, a new locker room that looks like a nightclub, a roster loaded with players that enjoy each other, a vivacious atmosphere, a devoted (but very cautiously optimistic) fan base, and most importantly, a +119 run differential through 45 games! Put another way, it's why Dexter Fowler was willing to forego a more lucrative contract in Baltimore to return to Chicago.
13. Biggest fantasy baseball bust: Matt Harvey. The armorless Dark Knight will continue to take his turn in the rotation and try to work out his struggles, but fantasy owners (and Mets fans in real life) can hardly bear to watch more of his batting practice sessions (.330 batting average against) as his ERA/WHIP has climbed to 6.08/1.69.
14. Biggest fantasy baseball boom: Colorado Rockies rookie shortstop Trevor Story. So many strikeouts (66 already) but 12 homers and 31 RBI. Pretty, pretty good.
15. Best ballpark selfie: This guy:
16. Most adorable father-son moment (via reddit): A Cubs fan explains to his son the meaning of "grand slam." Watch the boy's reaction.
17. Greatest hitting streak by a player that sounds like a Samuel L. Jackson character: Boston Red Sox outfielder Jackie Bradley Jr.! He's run his streak to 28 games (and counting), which is even more impressive because he's been batting toward the bottom of the order.
18. Happiest umpire: Alan Porter, who got a great chuckle when White Sox catcher Dioner Navarro tossed a ball to AL Cy Young front-runner Chris Sale when Sale wasn't looking.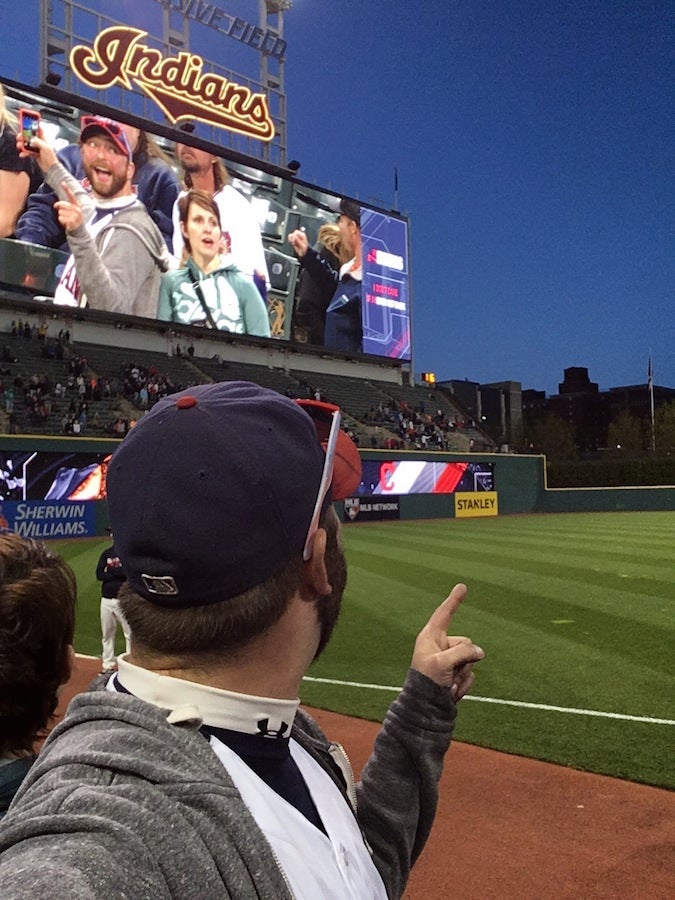 19. Best new adjective to describe what previously might be called a nasty or filthy pitch: Feculent.
20. Most feculent pitch of the season: Make that pitches because it's impossible to choose one if you're a regular at The Pitcher List (and you should be):
21. Most unfortunate piece of equipment: No, it's not Pablo Sandoval's belt! It's still the Pirates' Gatorade cooler (@piratescooler) that Sean Rodriguez boxed last season.
22. Comeback player of the year: The No. 1 overall draft pick in 2004, Matt Bush, who was a shortstop converted into a pitcher. As you may know, he served 39 months in prison in connection with a 2012 DUI accident. Finally at age 30, Bush made his MLB debut on May 13, coming out of the bullpen for the Texas Rangers for a clean inning with one strikeout. Through 7.2 innings this season he's struck out seven, allowed six hits and one walk.
23. Most unlikely pitcher to reach 10-plus saves already: If you knew Philadelphia Phillies righty Jeanmar Gomez was even going to become the 9th inning guy, over more likely spring candidates including David Hernandez and Andrew Bailey, well, good for you. As of May 26 he leads all of baseball with 17 saves.
24. Leading performance in a final season: Granted, only Cubs catcher David Ross has also announced that he will retire at season's end, but these awards flew off the rails a while ago. The 40-year-old Ortiz is currently batting .333 and leading the league in extra base hits (33). Incredible.
25. Best shift-defeating base hit: Yankees manager Joe Girardi hates the shift but it's sure amusing when guys poke holes in it like this. The award goes to San Francisco Giants third baseman Matt Duffy:
26. Most exciting milestone within striking distance: Now at 2,960 hits, Ichiro is closing in on 3,000. If and when the 42-year-old gets there all depends on what kind of playing time he gets in Miami.
27. Greatest field crashing by an animal: Cat at the this May 12 Angels game: