MLB: The Most Overrated Prospects Heading into 2017
Jason Reed/FanSided via Call to the Pen

Fansided
The MLB has undeniably the best talent development system in all of American sports. No other sport has the hype and intrigue that baseball has, and it is all the more evident with the moves of the MLB. In no other sport can superstar players be dealt for prospects, and that is what makes baseball so great.
Every year there is a surplus of prospect rankings, attempting to put into order the value of baseball's best young talents. Our very own Benjamin Chase has pout together great prospect lists, backed by his tremendous knowledge of minor league baseball. However, often times with all of these varying lists some players get over touted as phenomenal prospects, when in reality they must prove themselves even further.
For simplicity sake, we are going to use the MLB Pipeline top 100 prospects list. Every year the MLB puts together a list of the top 100 prospects in baseball, with 2017 being released very recently. Yes, this list will differ from nearly every other list you can find on the internet, but to avoid an over abundance of information we will use it as a guideline. Now, I am not trying to say any of these prospects are bad players, simply they have not proved that they have that high of talent.
Of course, all of these guys could and will develop and hopefully will prove what I am saying wrong. So, with everything laid out on the table, lets take a look at the most overrated prospects heading into the 2017 season.
Aaron Judge – 45th
Aaron Judge is ranked 45th of all prospects in baseball and is regarded as the part of the youth movement in the Bronx. Judge is a right fielder who also can play first base, and with his six-foot-seven frame offers up a raw power option.
However, Judge will fall victim to the same standards that other power hitters have. Although he offers speed and fielding, which most other power hitters don't, his trends at the plate are worrisome. While his ceiling may be with the likes of Giancarlo Stanton, it is going to take a lot of work to get there.
The biggest problem with Judge is he falls into the power hitting trap of striking out too much. We are seeing a movement in the MLB, the home run is no longer as valuable, and that is shown by this years free agent market. Mark Trumbo, Jose Bautista, and Mike Napoli all took ages to sign, and didn't get what they wanted because they strike out too much.
Ten years ago, teams would be jumping at the bite for these players, now that is not the case. Judge had a 44.2 strike out percent during his big league tenure. Granted a 27 game sample size isn't fair, but in his minor league career that mark has always been around 25 percent.
Judge is going to have to prove he can make contact with big league pitching, because if you can't touch it you're not going to crush it. Right now, Judge hasn't proven that and is making his case for the 45th best prospect seem far-fetched. With a crowded first base and right field scene, and with Clint Frazier on his way, it wouldn't be surprising to see Judge be dealt.
Mickey Moniak – 19th
Mickey Moniak was taken first overall in the 2016 first year player draft by the Philadelphia Phillies. At 18 years old, the outfielder has a long way before playing in Philadelphia; however, he has Phillies fans clamouring for his arrival.
Being the number one draft pick is a special honor, however the draft position itself has been rather hit and miss. I know it is a high standard, but only one number overall pick has been inducted to the Hall of Fame. That man being Ken Griffey Jr., you would think there would be more.
Now, I am not saying that Moniak does not have the potential to be one of the highest ranked prospects in the game, I think the MLB is jumping the gun. Moniak is sitting at 19th solely because of his draft position, and I think he cannot be ranked that high before he proves it. In his 46 games in rookie ball nothing really jumped out, he held a .284 average with one home run and 28 runs batted in. Once again, the kid is only 18 so I don't expect him to be a superstar, but ranking him as a superstar this early is absurd.
Especially considering that Moniak is ranked ahead of proven guys, this seems all the more crazy. I am nowhere against him being a top 100 prospect, but his draft position alone should not justify his ranking. Yes, the kid looks great and shows a lot of promise, but anything can happen and this is far to early to justify. I am sure one day he will live up to the hype and be a top ten prospect, today is not that day.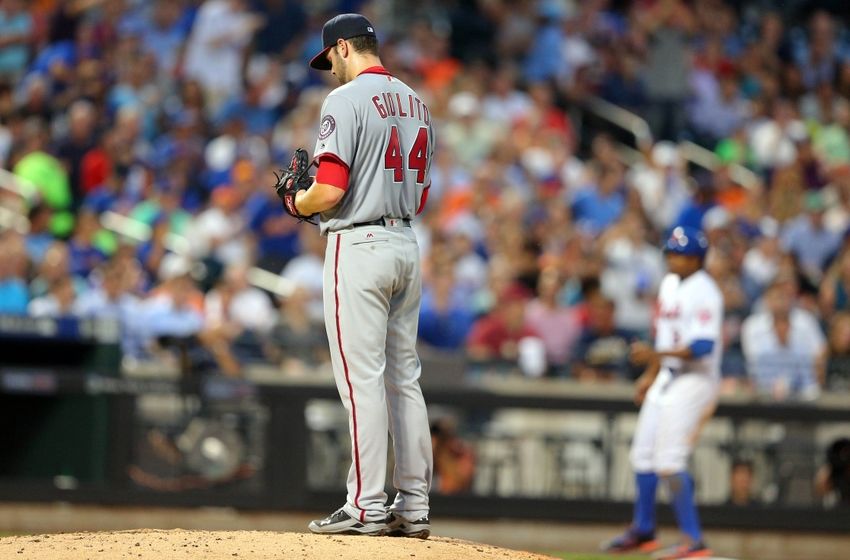 Lucas Giolito – 12th
Lucas Giolito, formerly a member of the Washington Nationals, was dealt to the Chicago White Sox in the deal that gave the Nationals Adam Eaton. Giolito was included in a package that sent fellow top prospect Reynaldo Lopez as well.
More from Call to the Pen
Reynaldo is ranked 46th on this same list, so it is safe to say that the deal was centered around Giolito and the White Sox are very keen on him. However, they may have too lofty of expectations of Giolito, as he has already went down from 3 to 12 in the rankings.
Giolito seems like he can be a valuable piece to the Chicago White Sox, he just does not seem to be the dynamic player that the White Sox are hoping for. Giolito's short time in the MLB last season did not go to plan, as he had a 6.75 ERA in 6 games pitched.
It is not fair to make a sole decision on a pitchers first few games, however his stuff just did not seem as dynamic as expected. He showed tremendous potential to perhaps be a solid mid rotation arm in the near future, but did not shout out ace like many expected he would. I think Giolito's previous hype is the only thing holding him so high.
It's not to say that he cannot reach that ceiling, I just think he has a little bit more work to do before doing so. With hard work Giolito definitely can reach that ace status, but there is work to be done. Giolito's high-ranking is based on hope, and realistically he deserves to be a few slots done on the list.
This article originally appeared on