MLB: The Evolution of the Lead-off Hitter
s.a. rose/FanSided via Call to the Pen

Fansided
Over the years, the leadoff hitter has changed in the MLB. Let us look at how that spot in the lineup has evolved in the past few decades.
"Today I am the greatest of all-time" – R. Henderson
Rickey was referring to Rickey as he became the all-time leader in stolen bases, but he could have been referring to being the greatest lead-off hitter of all time as well. With an OBP of .401 throughout his twenty-four seasons, Rickey is the ultimate lead-off hitter who holds or held at one time the all-time record for most runs, most walks, most home runs to lead off a game, and stole more bases by a wide margin than anyone in history.
He was elected to the Hall of Fame the first chance the voters had, even if he had a hard time believing he was actually retired. Tim Raines, part of the Hall of Fame class of 2017, had an OBP of .385 which is higher than Pete Rose (.375), Ichiro (.356) and Hall of Fame second baseman Craig Biggio (.363) and held the distinction of being the second best leadoff hitter of his era.
The blend of power and speed enabled both Rickey and Raines to put fear into opposing defences and established them as the players people think of when prototypical lead-off hitters come to mind. How has the lead-off hitter evolved since Rickey and Raines were swiping 90 feet at a time? Let's look at some of the more memorable lead-off hitters in MLB of the last three decades.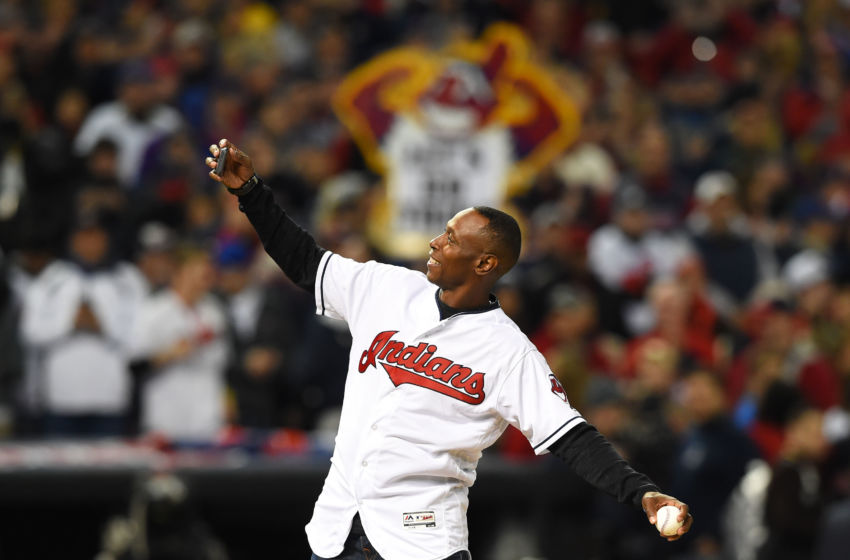 Leading off in the 1990s
The trend was for centerfielders to lead off, get on base, be a league leader in stolen bases and play high caliber defense. Here are three of the most memorable from the era.
Brady Anderson – what do people remember about Brady Anderson? Perfectly squared sideburns that would put teen idols Brandon and Dylan to shame and that he had a fifty home run season in 1996, sandwiched between seasons with 16 home runs and 18 home runs. Anderson, who finished 9th in 1996 in the MVP voting with 50 HR, 110 RBI, 21 SB and OPS a hundredth of a point higher than Albert Belle that season, was the catalyst for a team that went to the playoffs in back-to-back seasons as new owner Peter Angelos spent on stars of the day in order to win.
Darin Erstad – the former Nebraska Cornhusker punter was selected first overall by the then California Angels in the 1995 draft. He was with the big club the next season playing Gold Glove level defense nearly every season in center field and getting on-base. His style of play was not that of an über-talented first pick overall – his uniform was typically the dirtiest.
Kenny Lofton – the former University of Arizona point guard, had a career OBP of .372 and had five consecutive seasons in the decade where he stole between 54 and 75 bases. While not hitting a lot of home runs, Lofton often influenced the game for Cleveland either with his glove (4 golden gloves) or for his hitting and base-running.
Honorable Mention – Devon White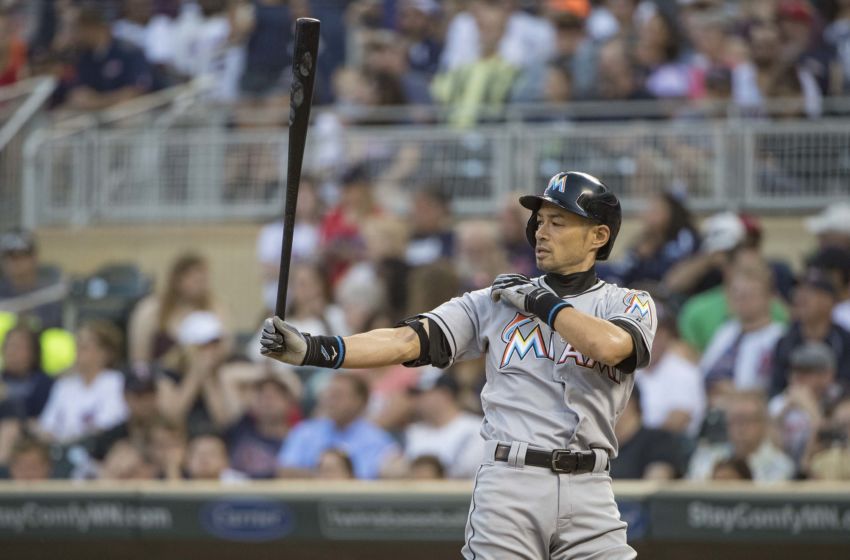 Leading off in the 2000s –
As far as lead-off hitters go, it was Ichiro's decade and the drop-off to the next memorable lead-off hitter is pronounced.
Ichiro – The current Miami Marlin is one of the most lethal hitters baseball has ever seen. Upon his arrival in 2001 to play in Seattle, Ichiro's first season involved his team winning 116 games to set an AL record, Rookie of the Year award and MVP (only the second player to ever win both awards in a season) as well as the batting title and stolen base title. In each of the next ten seasons, Ichiro would have over 200 hits in each season, including the record for most hits in a season with 262 in 2004. Ichiro still gets on base as his OBP was .354 and won ten gold gloves in a row during the decade to prove he was a complete player.
Grady Sizemore – Before injuries robbed him of his elite abilities, the former Expos draft pick had the potential to be a 40-40 threat as his best season of 33 home runs and 38 steals in 2008 was seen as an appetizer to a Hall of Fame career. Unfortunately, Sizemore missed two complete seasons earlier this decade and has not been able to reach the standards he set for himself nearly a decade ago.
Johnny Damon – Spending the decade with two of the highest profile teams in MLB, Damon is known mostly for what he did in the playoffs for the two AL East rivals winning a World Series with each in 2004 (Red Sox) and 2009 (Yankees) but he was a decent lead-off hitter for the decade and was often among the league leaders in runs, stolen bases and had a career OBP of .352. There is no word yet if he plans to play for the Thai national team at the 2017 WBC, like he did in 2013.
Honorable Mention – Alfonso Soriano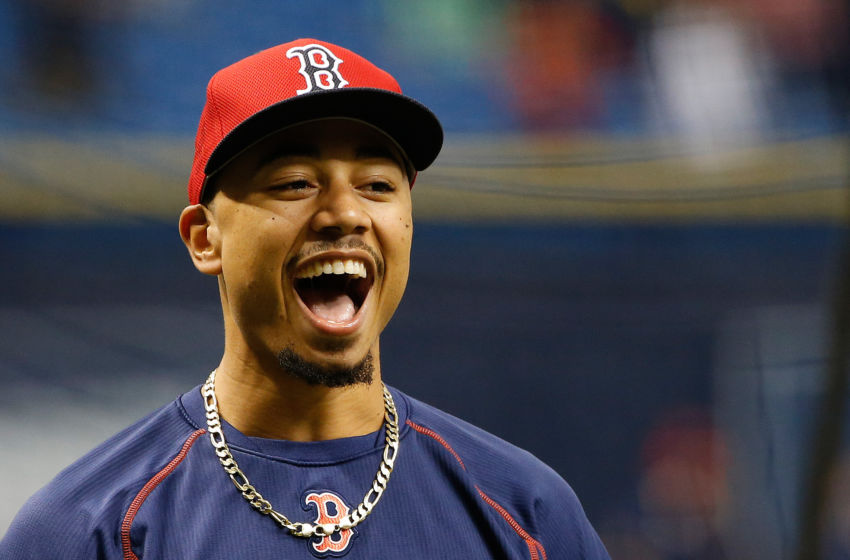 Leading off in the 2010s –
The 2010s have been about the same with typical leadoff hitters getting on-base, stealing bases and among the league leaders in runs scored. MVP runner-up in 2011 Jacoby Ellsbury, Jose Reyes in his first go-around with the Mets, and even Derek Jeter with the Yankees made sense as traditional hitters at the top of the order but there have been some temporary experiments with players you would not expect to bat first in the line-up – Alex Gordon in Kansas City, slugger Jose Bautista in Toronto and DH Carlos Santana last season in Cleveland. Will more managers look to OBP as the only statistic that matters in line-up construction or will we continue to see managers looking for that traditional lead-off hitter?
Mookie Betts – Setting the table for one of the best line-ups in baseball, is Mookie Betts the successor to Rickey and Raines? The 2016 AL MVP runner-up led the league in total bases last season and was second in hits. Betts also hit 31 home runs and stole 26 bases in 30 attempts to show the power-speed combination that Rickey and Raines displayed from the lead-off spot. It is scary that Betts accomplished all of this during his Age-23 season and should improve – the only thing that might keep him from joining Rickey, Tim Raines and Ichiro in the conversation of 'who is the best lead-off hitter?' of all-time is if Boston decides he's too good to be hitting first in the line-up and needs to bat third.
George Springer – Batting third for Houston is a 5'6 165 lb second baseman (Jose Altuve) and batting first is a 6'3 215lb corner outfielder (George Springer) who was caught stealing more often than he was successful in 2016. While it may look strange to traditionalists, it seems to work for the Astros. Springer sported a .356 OBP in his three years in Houston, which coincides with Altuve's three straight 200 hit seasons. Getting on-base for Altuve and clean-up hitter Carlos Correa should benefit Springer this season and for years to come in the young Astros lineup.
Kyle Schwarber – Manager Joe Maddon, who is synonymous with unconventional, is telling anyone who will listen that Kyle Schwarber will be his lead-off guy. Sacriligious to traditionalists because Schwarber does not steal bases or spring to mind as an elite base-runner like most of the players who lead off. Maddon's decision to replace a traditional lead-off hitter like Dexter Fowler with Schwarber would be based on his OBP of .355 in 2015 and needing to get his bat into the line-up. It would be unconventional but as mentioned with Gordon, Bautista and Santana, there are creative solutions for the lead off hitter emerging that don't fit into the mold established by Hall of Famers Rickey Henderson and Tim Raines over thirty years ago.
The leadoff role was once the provence of speedsters who would swipe bases and do little else. Now, the role has become redefined, with a focus toward getting on base. It is fascinating to see how much that spot in the lineup has changed over the years.
This article originally appeared on