MLB Rumors: White Sox trading Adam Eaton to Nationals for Lucas Giolito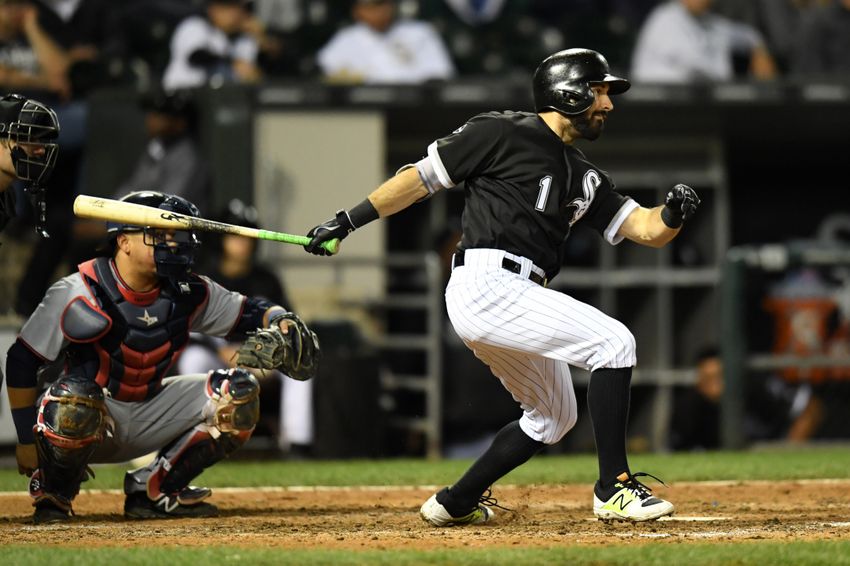 The White Sox are far from done dealing as reports say they are close to shipping Adam Eaton to the Nationals.
Chris Sale being sent to the Boston Red Sox yesterday was a good indication that the Chicago White Sox are selling hard. It sounds like the next big-name player to go could be outfielder Adam Eaton. The White Sox are reportedly working on a deal that would send Eaton to the Washington Nationals, according to MLB.com White Sox reporter Scott Merkin.
There has been no shortage of rumors regarding possible trades between these two teams. The Nationals were considered one of the front-runners for Chris Sale before that deal fell through. They have also reportedly been in talks about acquiring lefty Jose Quintana from the Sox. However, this deal with Eaton seems the most likely.
Eaton is coming off a fantastic year with the Sox where he hit .284 and was a Gold Glove finalist. If the deal indeed happens, the Nationals will reportedly give up pitcher Lucas Giolito and two other minor league pitchers, according to Bob Nightengale of USA Today.
Source: White Sox working on a deal to send Adam Eaton to the Nationals.

— Scott Merkin (@scottmerkin) December 7, 2016
Eaton isn't the only high-profile center fielder the Nationals have been reportedly interested in. Rumors have flown of them attempting to acquire Pittsburgh Pirates former MVP Andrew McCutchen as well. Eaton would be considered a younger, cheaper and more controllable option as he's signed by the Sox through 2021.
As far as this deal's impact on the White Sox, it would only continue to support their idea of a full-on rebuild. The team hasn't been to the playoffs since 2008 and have finally realized that a full tear down is the way to go. Yoan Moncada (MLB.com's number one ranked prospect) who was acquired in the Sale trade can be considered the centerpiece of that rebuild.
If Eaton is indeed dealt, Quintana, Todd Frazier and Jose Abreu could be the next to leave Chicago as the White Sox rebuild the roster.
This article originally appeared on