MLB: Predicting the Award Winners for 2017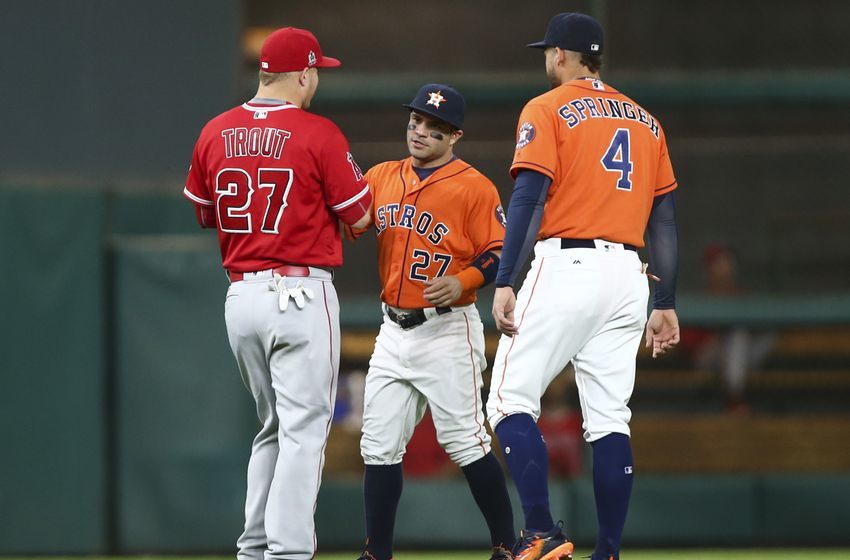 Each and every year several of MLB's bests are awarded with the most prestigious accolades in baseball. Whether it be exceptional fielding, hitting, or all around greatness these players shine above the rest. With a new year upcoming, who will earn these prestigious honors?
Baseball has perhaps the most diverse and prestigious awards in all of American sports. With the MVP, Cy Young, Silver Slugger, and Gold Glove MLB has quite a good selection of greatness in its ranks. As of late, some of these awards have been dominated by certain individuals, and rightly so. In a time where World Series wins and awards are driving points for Hall of Fame discussion, these awards are second in importance only behind the World Series. With so much talent in MLB, these awards are always up for grabs. In 2017, this trend will no doubt remain constant.
Of course some of these awards have been dominated in recent years. We can directly look at Mike Trout for MVP, or Salvador Perez for Gold Glove. However, often times these awards vary from recipient to recipient, as we have not seen a repeat of AL Cy Young since Pedro Martinez in 1999-2000. 2017 will be the same, there will be an MVP or Cy Young candidate none of us saw coming and a handful of new Gold Glove and Silver Slugger winners. The game of baseball is constantly evolving, and so is the talents along with it.
With all of that being said, it may be a difficult task to predict who will win what award next season. That doesn't mean I won't try though! Looking at past trends and future expectations, a viable prediction can be made for each award. While some of these will be very easy, AL MVP, some may be shocking. Therefore, let's look at the most likely winners for MLB's most prestigious awards.
Gold Gloves:
American League:
National League:
The names that likely jump right off the bat on this list are C.J Cron, Julio Urias, and Tucker Barnhart. However, each of the three men have good cases to win their respective awards next season. Whether it be finally getting the playing time, or less competition, it makes sense to see these three win their first Gold Glove Award. As for the rest, not all of them are repeats from last season, but each still make their own case for the award.
Julio Urias and C.J Cron are included on this list because they will likely get a seasons worth of fieldng, leading to their awards. Because of injury, C.J Cron did not field enough innings at first base to merit an award. However, the time he did play was enough to solidify himself as one of the best fielding first baseman in the league. Urias has proven himself to be a pick-off specialist, even though some of his moves look like balks.
As for Barnhart, with Buster Posey potentially seeing less time behind the plate, his case seems more solid. Barnhart Was first in runners caught stealing, sixth in fielding percentage, second in wild pitches allowed, and second in passed balls allowed. In the two cases where Barnhart is second, Buster Posey is first. With Posey potentially seeing more time at first base next season, Barnhart will bring in a Gold Glove.
Silver Sluggers:
American League:
National League:
The Silver Sluggers for next season are pretty standard, with the closest races likely being AL 3rd base, AL shortstop, NL catcher, and NL shortstop. The only big surprises of the list are Machado winning over Donaldson, Lindor winning over Bogaerts, and Realmuto winning over Posey. Turner will take the honor from Seager, as Turner looked absolutely outstanding during his stint this season.
Machado will likely win the Silver Slugger because he has slowly been closing the distance with Donaldson's numbers. Machado has only been getting better and better, and Donaldson has only regressed, slightly. Not saying Donaldson will be bad in any form, just will fall to second best behind Machado. Lindor is in the same boat as Machado. Lindor's numbers we're very close to Bogaerts last season, and at such a young age his numbers will only get better. That race will be as tight as it gets.
As for the NL catcher, well that may be the most surpising. J.T. Realmuto actually put up stellar numbers last season. Realistically, Realmuto was as good if not better at the plate than Buster Posey was in 2016. Realmuto doesn't have the same reputation that Posey has, and that can hurt him. However, 2017 will see Realmuto put up numbers that make his case for Silver Slugger undeniable.
Rookie of the Year
Yoan should be, and likely will be, the starting second baseman for the White Sox on opening day. I know, Brett Lawrie currently holds the position and the naturalists out there will declare that Moncada shouldn't start opening day. However, Moncada is big league ready there is no denying that. Without a high-caliber player blocking him in the MLB, why waste his talents in the minors? Yes it is good to help him develop even further, but nothing compares to big league pitching and Moncada could serve as a considerable boost for the White Sox. With so many prospects biding their time already, why not throw one of them a bone and start them on opening day?
As for Reyes, the popular pick to win NL Rookie of the Year next season is Dansby Swanson. Admittedly, just a few weeks ago I wrote Swanson off as a shoe in to win the honor next season. However, upon further investigation Reyes seems more suitable to win the award in 2017. In 46 innings pitched, Reyes posted a 1.57 ERA in 2016. His strike out rate was great for starters at 10.17 k/9, only solidifying his dominance in getting hitters out.
Undoubtedly, Reyes will likely be the more crucial of the two. While I do believe Moncada will put up stellar numbers, likely better than Reyes, Reyes is actually contributing to a playoff push. With Moncada's already big name, and Reyes push to the postseason, they will prove to be formidable rookies in 2017. Not only will they be formidable rookies however, they will slowly become some of MLB's best.
Cy Young:
The Cy Young award may be the hardest to predict out of all of the awards. The National League is loaded with talent. There is the likes of Max Scherzer, Steven Strasburg, Noah Syndergaard, and Madison Bumgarner just to name a few. In the AL, well the AL seems to be a different story. Yes there is elite pitchers in the AL, quality guys who are true aces. However, I think any of these NL guys can best any of the AL pitchers. Nobody screams out Cy Young to me, however I do think Barstow's own Aaron Sanchez will put together an award season.
Aaron Sanchez is probably an odd choice for AL Cy Young, as I have not seen anyone else write him off as Cy Young caliber. However, Sanchez led the AL in ERA last season with a 3.00 mark. While neither his strike out or walk rate really sticks out, he still manages to get batters out. His ground ball percentage is a testament to that, as Sanchez had the third best ground ball percentage of qualified pitchers. The amazing thing about Sanchez is that he is only 24 years old, with so much time on his side he will only get better and better.
As for Kershaw, well Kershaw will regain his throne as the best pitcher on the planet. Not that anyone has questioned that title, luck has just not been on his side. 2015 saw Kershaw fall to third in Cy Young voting behind historic performances from Jake Arrieta and Zack Greinke. 2016 saw him suffer a back injury that saw him miss a good chunk of the season. Although he still led all pitchers in WAR, he still wasn't qualified. Kershaw will regain his throne, and win the Cy Young for the first time since his MVP season in 2014. The great thing about Kershaw is he remains outstanding, these other guys have breakout seasons, then fading back into constant contributors. While guys like Arrieta and Greinke are great, they haven't posted year in year out numbers like Kershaw has.
Most Valuable Player
American League: Mike Trout
It is hard to make a case on either of the defending MVP's failing to regain the honors in 2017. I mean, realistically these guys have no players on the elite status that they are on. Sure, Bryant has Bryce Harper creeping behind him looking to regain his MVP trophy. But outside of the shaky Harper, who really is there in the National League? There are great players don't get me wrong, but it is hard to match up with what Bryant has been doing. Guys like Trea Turner and Corey Seager may have an outside chance, but even that is hard to see.
As for the American League MVP, nobody is on the same level as Mike Trout. Jose Altuve is close, Mookie Betts isn't far off, but Trout is one of the greatest talents we've seen in a long time. Unless some extreme misfortune occurred, such as injury, it is hard to see anyone put up the type of season it takes to overtake Trout. It has happened before however, but that took the first triple crown in nearly 50 years and an amazing stretch of baseball that led the Blue Jays to the postseason. It would take something special to overthrow Trout, and right now it seems to still be Trout's league.
What do you think? Are my predictions for the most part spot on, or am I completely crazy? I would love to see your predictions and insight in the comments, guessing the awards months before the season even begins is a fun discussion.
More from Call to the Pen
This article originally appeared on