MLB Playoff Wrap: Giants Waste Bumgarner Gem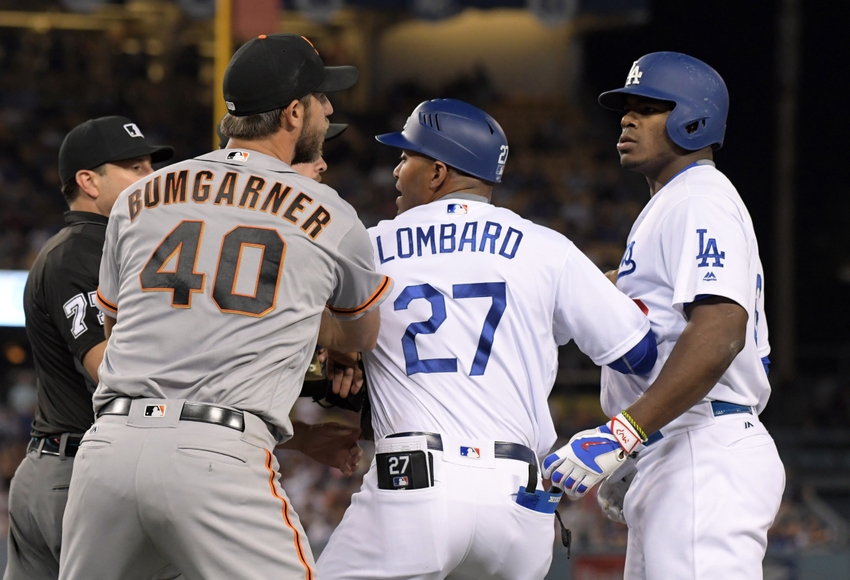 The MLB playoffs are set to begin in just a couple of weeks, which means that teams that are fighting for a spot in the postseason will have to start stringing together some wins if they hope to punch their October ticket. That, or in the Giants case, hope that the Cardinals or Mets start losing a bunch of games. Like, now.
The San Francisco Giants received just about as good of an outing as they could have hoped for from staff ace Madison Bumgarner, who tossed seven innings of one-hit ball while striking out ten Dodgers. With his pitch count at just 97, manager Bruce Bochy decided to yank Mad Bum in order to get to the dumpster fire that is the San Francisco bullpen, who delivered a performance that even the Human Torch would have found was a bit too much.
If you think that is a bit harsh, then explain how three separate pitchers surrendering two runs while recording zero outs is in any way a good sign for a team hoping to make the postseason.
For those keeping track, that's 74 blown saves for the Giants in September.

— Wendy Thurm (@hangingsliders) September 18, 2016
That's Wendy Thurm, freelance writer and lifelong Giants fan. Times are tough, so laughter is the best medicine.
Of course Bumgarner and Yasiel Puig had a dust-up during last night's game, and there has been some speculation that could be part of the reason Bochy decided to pull his ace even with his pitch count well in hand, especially given the team's dire circumstances. If the kerfuffle did in fact in any way lead to San Francisco turning to their bullpen, then that's something Bumgarner is going to have to keep in check the rest of this season with every game potentially being the difference between making it and watching from home.
With the win, the Dodgers sit six games up on the Giants and see their magic number fall to seven. The Cardinals 5-3 win in Colorado ties them with San Francisco for the second wild card, and if the two teams were to be tied at the end of the regular season, St. Louis would host the play-in game for the wild card which in all likelihood would eliminate Bumgarner from being able to pitch in the wild card game, if the Giants were to win.
The New York Mets lost to the Braves 7-3 with Noah Syndergaard lasting just 3 2/3 while surrendering five runs on eight hits and three walks. Atlanta starter Aaron Blair earned his first big league win after suffering the loss in his first six decisions. The Mets remain a game up, but now have to fend off both the Giants and Cardinals.
Over in the American League, the Yankees had an off day and dropped to 4.5 games back with Toronto's 3-2 win in Seattle. Jays starter Marco Estrada held the Mariners without a hit through the first six innings before Robinson Cano led off the top of the seventh with a single to center. Both M's runs came in the bottom of the ninth off Toronto closer Roberto Osuna, who had to throw 26 pitches.
The Orioles dropped the first game of their series with the Red Sox 5-2 in a game that saw Mookie Betts continue to rake at Camden Yards. Coming into the game he was batting .500 in Baltimore on the year, and after a 1-for-2 night with a home run, two RBI and a pair of walks, he continued that dominance.
The Jays and O's are once again tied for the wild card lead, while Houston, with a win over Oakland remains three back, tied with Seattle who dropped a game. The Tigers were also off, meaning that they dropped another half-game behind the wild card, leaving them at 2.5 back.
As for elimination numbers, the Phillies (1), Brewers (2) and White Sox (3) could all see their MLB playoff hopes officially come to an end in the next two days.
More from Call to the Pen
This article originally appeared on