MLB: Pitch Count Rules Coming to Texas High Schoolers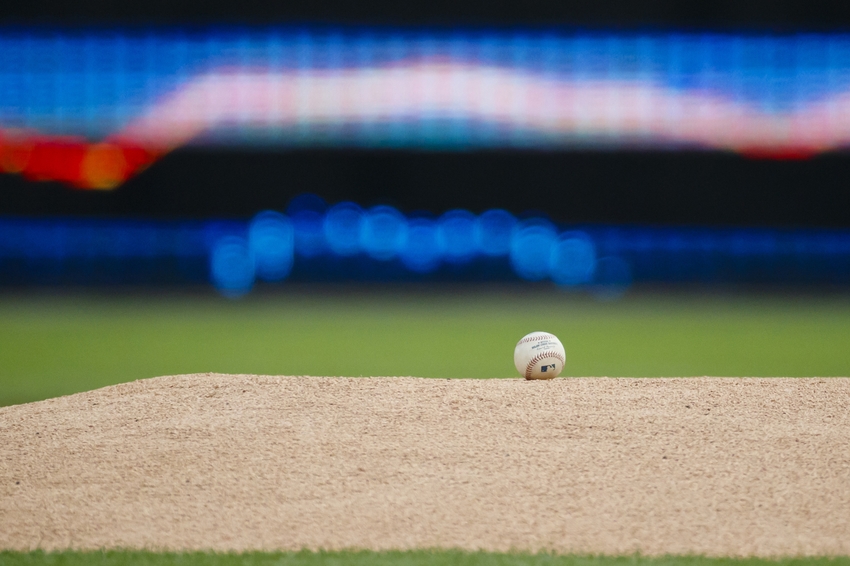 In a long-overdue move, teenage pitchers in Texas schools will be under pitch count limits put forth by the University Interscholastic League. MLB has weighed in on the new system.
In July, the National Federation of State High School Associations (NFHS) unveiled a new policy that requires high school pitchers to be given a certain amount of rest in between days on which they throw a certain number of pitches. The NFHS policy requires each state to develop its own pitch count restrictions. The current policy is an innings limit. Now states must move forward with a pitch count limit. With increasing attention paid to pitchers' workloads in MLB, it makes sense that the same is happening in youth baseball as well.
A study from 2015 done by the American Orthopedic Society for Sports Medicine found that 56.7 percent of Tommy John surgeries between 2007 and 2011 were performed on 15-to-19-year-old players. When the NFHS revealed these new rules, Major League Baseball praised the guidelines. Chris Marinak, senior vice president of league economics and strategy at MLB, said in a news release, "We are pleased to see the NFHS taking this significant step towards curtailing pitcher use and fatigue. The health of high school pitchers is critical to the future prosperity of our sport."
In May, a high school junior named Colby Pelchin threw 157 pitches in 10 innings in a regional championship game in Wichita, Kansas. This outing drew scrutiny from scouts and media and led to the suspension of Pelchin's coach, Jeff Hoover, for violating the Kansas State High School Activities Association's nine-inning limit.
West's Colby Pechin threw 157 pitches in regional championship, 99 of which were strikes (63 percent). #vkscores

— Sean Boston (@Sean_Boston_23) May 21, 2016
Since the NFHS came out with their new pitch-count policy, more and more states have announced their guidelines. Texas did so recently, putting the following rules in place:
High school players, regardless of age, will be limited to 110 pitches in a game. A player will also be limited to a total of 110 pitches in a postseason series.
Junior high players will be limited to a total of 85 pitches.
If the limit comes in the middle of an at-bat, a pitcher can finish that at-bat.
Texas also laid out guidelines for days of rest after a pitcher has thrown a certain number of pitches. For high school pitchers, the days of rest guidelines are outlined below:
0-30 pitches, 0 days rest
31-45 pitches, 1 day rest
46-65 pitches, 2 days rest
66-85 pitches, 3 days rest
86-110 pitches, 4 days rest
Similar guidelines are in place for junior high pitchers, with fewer pitches required for a certain number of days of rest. The home team will designate an official pitch counter for each game and that counter will not be allowed in the dugout, but can meet with a coach or team representative in between innings to verify the official pitch count.
More from Call to the Pen
The 110-pitch limit in one game has been adopted recently by a number of states, including Maine, Pennsylvania, Georgia and Arkansas. These guidelines are less strict than those recommended by USA Baseball's Pitch Smart guidelines, which were developed with input from Major League Baseball and doctors. The Pitch Smart guidelines have been adopted by baseball organizations outside of high school in recent years, such as USA Baseball, Perfect Game, Baseball Factory and many summer collegiate leagues.
The Pitch Smart guidelines recommend that no 17-to-18-year-old should throw more than 105 pitches in a game and 15-to-16-year-olds should be limited to 95 or fewer pitches. Pitch Smart also recommends four days of rest after any outing where a pitcher throws more than 76 pitches. The Texas rules outlined above would allow a pitcher to throw up to 85 pitches and be able to pitch again after just three days rest.
On the Pitch Smart website, there is survey data about risk factors for young pitchers. Almost half of the young pitchers surveyed (45 percent) pitched in a league without pitch counts or limits. Nearly that many (43.5 percent) have pitched on consecutive days. A little more than 30 percent of pitchers surveyed pitched on multiple teams or in overlapping seasons, with 19 percent pitching in multiple games on the same day. Finally, 13.2 percent pitched competitive baseball for more than eight months per year.
With these numbers in mind, it's important for the parents of young pitchers to be aware of how much their child is pitching. Every parent should know the guidelines in place and protect their child's arm from coaches who may ignore them. These guidelines that states are enacting are a good step forward. Hopefully, there won't be any high school pitchers throwing 157 pitches in a game next year.
This article originally appeared on