MLB Journeyman Eric Thames May Return to MLB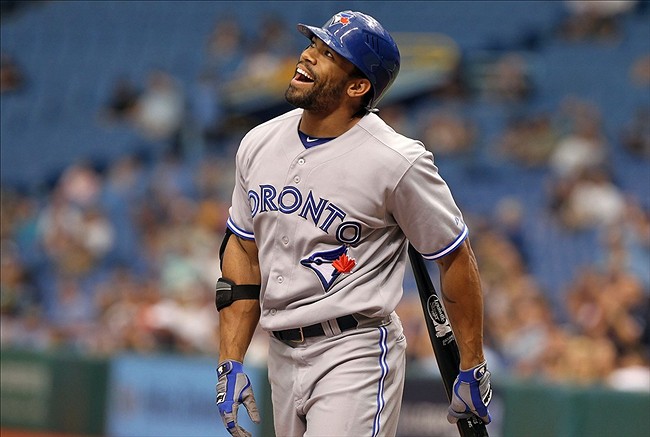 Former MLB journeyman Eric Thames has dominated since moving to the Korean Baseball Organization, and his success may earn him another shot in the majors.
The name Eric Thames was one that even the most die-hard baseball fans wouldn't expect to hear again. The now 30-year-old played two lackluster seasons in the majors with the Toronto Blue Jays and Seattle Mariners before ultimately seeing his career fade away in the minor leagues.
In 181 career major league games, Thames slashed .250/.296/.431 with 21 home runs and 62 RBI. Nothing spectacular, but not bad by any means. Ultimately, a lack of plate discipline and a 25 percent career strikeout rate led to his demotion. Below average defense in the outfield didn't help his case, but he proved to be serviceable.
Rather than give up baseball altogether upon his demotion to the minors, Thames made the move to Korea following the 2013 season – and it paid off tremendously. In three seasons in the KBO playing for the NC Dinos, Thames has hit .347 with 124 home runs and 379 RBI. In 2015, he walked 103 times in 142 games. For comparison, he walked just 15 times in 86 major league games in 2012.
Granted, the KBO is much friendlier to hitters than MLB, but Thames has proven his power is legit. This past season, he hit .317/.425/.676 with 40 homers in 525 plate appearances – so, naturally, he's drawn some interest from MLB teams.
Jerry Crasnick of ESPN reported that the San Diego Padres, Oakland Athletics and Tampa Bay Rays have all expressed interest in Thames. Now at the end of his one-year, $1.5 million deal with the Dinos, Thames has plenty of options. While he could return to Korea, his performance proves he's worthy of a shot in the majors. But if no major league team decides to sign him, he could make the move to play in Japan.
More from Call to the Pen
Given that the KBO has produced lackluster talent in the past few years – aside from Jung Ho Kang of the Pittsburgh Pirates – it's clear why MLB teams would be hesitant to bank on Thames.
At 6-foot-1 and 220 pounds with muscle, Thames has the physique to succeed in the majors. Now that he's gained experience at first base in the KBO, Thames provides an intriguing option for teams looking to add a platoon player. If he does indeed sign in the majors, it's likely Thames would shift between the corner outfield spots, first base and designated hitter.
With the increased demand for power bats in the majors, it's easy to see at least one team extend an offer to Thames. Crasnick wrote that one source suggested Thames could receive a multi-year deal worth close to $18 million.
Crasnick also noted that Thames could have a hard time adjusting to bigger ballparks and hitting against pitchers with higher velocity. Korean players like Byung Ho Park, Dae-ho Lee and Hyun Soo Kim all struggled at various points in their first major league seasons.
Here's what one scout said of Thames, per Crasnick:
"He's very aggressive at the plate and on the field, too, for that matter," the scout said. "He's a first-ball fastball hacker, boy. He's trying to hit the ball hard. Sometime you see guys who are happy to make contact and put the ball in play. That's not him. He's gonna hurt somebody someday."
Thames, however, told Crasnick he values process over immediate results. With the Padres, Athletics and Rays all lacking impact bats, Thames could very well see a contract offer in the near future.
This article originally appeared on