MLB: If the League Ended Today, Who Would be a Hall of Famer?
Jason Reed/FanSided via Call to the Pen

Fansided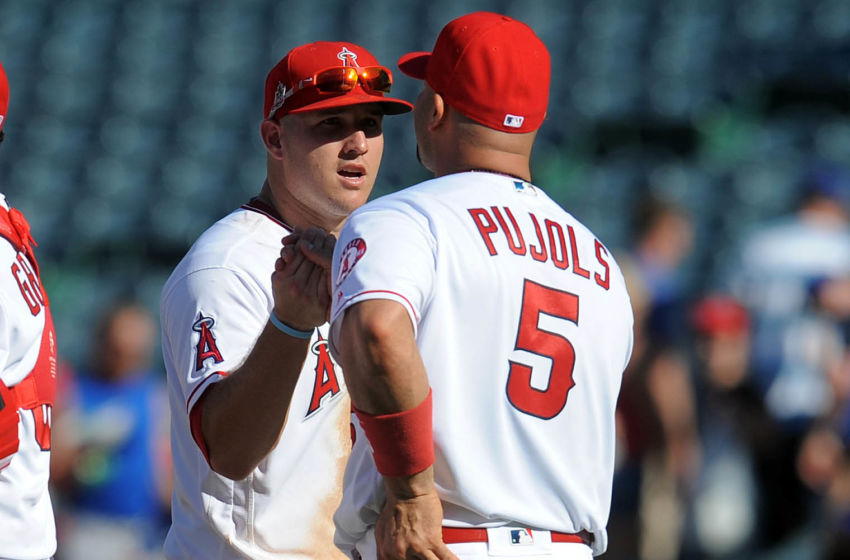 Some select players have already done enough in their career to merit a hall of fame inclusion. With that being said, if MLB ended today, which current players have done enough to get into Cooperstown?
Outside of the coveted World Series trophy, the Baseball Hall of Fame is the most sought after accomplishment for players. Getting included into the Hall makes you immortal, puts yourself head and shoulders above the rest. Some players in the current landscape of MLB could already make a case for the Hall of Fame. Even if these guys retired today, or say the league shut down, these players would have done enough to earn that prestigious honor. Yes, there are young guns like Mike Trout that arguably could already enter the hall, but he is something beyond earth and truly is a special case. We cannot hold the same account for Kris Bryant or Bryce Harper.
Instead, we will be using Baseball Reference's Wins Above Replacement statistic. Yes, this method is flawed, but gives us a good gauge on the statistics it takes to make the hall of fame. There are outliers on both sides, extremely high WAR's and pretty low WAR's that made it into the Hall based on paving the way for the rest of baseball. Admittedly, we cannot justify a player to be a hall of famer solely on WAR, but it is interesting to see who would make the cut if we were to do so.
The average WAR for position players in the hall of fame is 69, while the average for pitchers is 70. Of course, there are players under this threshold that make the list, so we must make a judging line for our choices. I set the bar at 50.9 for position players, and 53.17 for pitchers. These two WAR's are Kirby Puckett's and Sandy Koufax's, respectively. Both men had a relatively short career, both due to misfortunes, but are considered solid members of the Hall. Some of these inclusions, or exclusions, may not make sense as they don't seem like hall of famers. Keep in mind we are using WAR as our gauge to generate an interesting discussion.
The Borderline Players:
First of all, the fact that Mike Trout is 18th in active WAR going into his sixth full season is staggering to me. Trout is up there with the likes of David Wright and Joe Mauer, guys I remember watching in elementary school. I mean heck, Wright made his MLB debut when Trout was only 13 years old, and we don't even consider Wright to be an old-timer yet. Besides that, these are guys that are right there on the cusp of statistically making the Hall of Fame, and some of them honestly could if the league ended today.
Trout is a Hall of Famer to me, I'm sorry for any baseball naturalists that it upsets. Trout has put together one of the most histroric five-year stretches in history, and he has no signs of slowing down. He was won two MVP's, and established himself as a special player. Alongside Trout, I could see Pedroia, Verlander, and Hamels also go in. King Felix is very close to making it, however with no playoff experience it's almost hard to make a solid case. The same goes for Mauer. He is a solid player but does not reach out and shout Hall of Fame to me.
David Wright is the most questionable on this list. He has always been a solid player but never really reached superstar level. He has the numbers to show, but like Mauer and Hernandez just lacks that Hall of Fame factor. As for the other three, Pedroia is a two-time World Series champion, MVP winner, and career .301 hitter. Hamels has locked down a World Series, which honestly is the deciding factor pushing him over the edge. Verlander has won both the Cy Young and MVP, and has consistently been one of the best pitchers of this decade.
Solid Inclusions:
Honestly, the thing that shocked me about those guys right away was that Zack Greinke has the same career WAR as Clayton Kershaw. I know, Greinke has pitched for four more years than Kershaw, but I figured Kershaw to be leaps and bounds ahead of everyone. In fact, he is second out of active pitchers behind C.C Sabathia. Which is all the more impressive considering Sabathia has pitched in seven more seasons than Kershaw.
Like with Koufax, I think Clayton Kershaw could get into the hall of fame easily with a short career. Kershaw is the most dominant pitcher of this era, the three Cy Young's and one MVP speaks enough for itself. Along with Kershaw, I think Sabathia could get into the hall. A former Cy Young and World Series champion,. Sabathia has picked up 223 wins, enough for a Hall of Fame vote. While his ERA is pretty high at 3.70, his longevity and win total should be enough. As for Greinke, well I just don't think he has done enough. He has had a few breakout seasons, but has lacked to really seem in any way a Hall of Fame caliber pitcher.
I think every single batter on this list would get elected to the hall of fame as well. Ichiro Suzuki very well could have gotten close to 4,000 hits if he had come to MLB earlier than 2001. Cano does not really shout Hall of Fame, but that illustrious World Series title pushes him over the edge. Chase Utley is perhaps in the same boat as Cano. He has had some great years, but lacks much offensive stats, utilizing his World Series to his advantage. I think Cano and Utley are very close, but narrowly make it in.
The No-Brainers:
To put into perspective how special Albert Pujols has been, only 29 players have had a better career WAR. With six more seasons under contract, we may even see Pujols challenge Lou Gehrig for the 18th best WAR of all time. In a time of PED usage, the fact that Pujols hasn't had any serious allegations against his name makes this all the more impressive. Pujols, alongside guys like Alex Rodriguez (who is not on this list because he is no longer active), are the ones opening the door for future superstars such as Mike Trout.
The only somewhat questionable name on this list for me would be Carlos Beltran. Not that Beltran likely won't be a Hall of Famer one day, he just doesn't stand on the same level as these guys. If the league ended today, the three other guys would all be inducted by their 4th or 5th ballot, Beltran likely by his 7th or 8th. Beltran has been good for so long, and that will likely earn him the Hall of Fame nod, but he isn't the sort of superstar these other three men are.
Miguel Cabrera very well could challenge Pujols' WAR when it is all said and finished. Cabrera is under contract until 2024, and is still putting up 5.0 WAR seasons. Although, if the season ended now he wouldn't be a first ballot inclusion like Pujols. However, the triple crown winner has done enough already to cement his spot in Cooperstown.
As for Adrian Beltre, I feel like he is the most under appreciated player in baseball. We all know he is great, but we fail to realize that he has been great for so long. Beltre is second to Ichiro in active hits, third in active home runs, and second in active WAR. He may not have a World Series or MVP award, but a potential 500 home run, 3,000 hits hitter is a no doubt Hall of Famer.
More from Call to the Pen
This article originally appeared on