MLB History: Tragic Deaths That Shocked the Game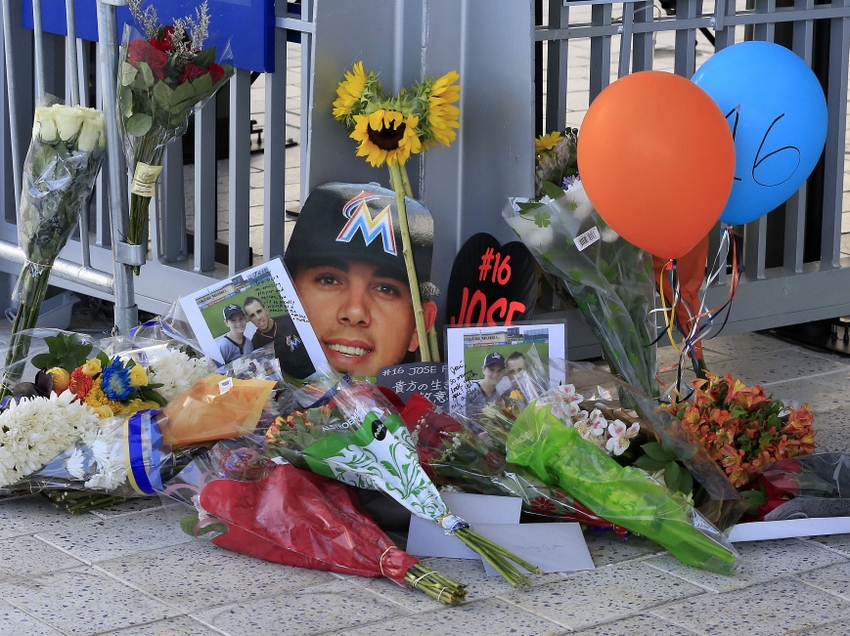 The death of Jose Fernandez was a huge shock to the MLB and fans of the game. Let us look back and some of the other players who were struck down in the prime of their lives.
It is always shocking when a young person dies, either through illness or unexpectedly. These people, cut down in the prime of their lives, with so much ahead of them, leave a hole that can never be filled. Their impact, and the memories they left behind, will never be forgotten.
That shock and sadness is magnified when the young person in question is an athlete. While death does not care about a person's age or profession, it is always a shock when a young athlete is cut down in the prime of their lives and careers. That is especially the case when these players are just getting started.
This is why it was such a shock when the news that Jose Fernandez was killed early Sunday morning broke. Players across the MLB were saddened by his sudden loss, shocked that the Marlins ace was taken away in the prime of his life. Yet, Fernandez was not the first to be taken away during his career, and he will unfortunately not be the last.
And so, as we mourn the loss of Jose Fernandez, let us take a look at those other players whose deaths, either due to an accident or by the own hand, ended their careers, and lives, earlier than anyone would have expected.
Marty Bergen was a decent enough hitter (at least compared to his historically awful brother, Bill Bergen) but was a gifted defensive catcher. He was also completely insane, and his mental health issues played a large part in his shocking murder/suicide.
Considered to be the best defensive catcher in the history of the game by Hall of Famer Jesse Burkett, Bergen began to suffer mental problems after his infant son died. He began to alienate himself from his teammates, inexplicably slapping Vic Willis during breakfast one day, and he was given a wide berth by his teammates. After his son died, he would leave the team periodically to head home, then just reappear without saying a word to anyone. Of course, Bergen also thought his teammates were making fun of him due to his son's death, further straining relations.
As time went on, his condition worsened. He was pulled from one game in October 9, 1899, because he was dodging knife thrusts from an invisible assassin instead of catching pitches. Bergen was prescribed medication to treat his illness, but refused to take it because he thought that spies were trying to poison him. He did recognize his issues, and sought help from doctors and the church, but would not follow prescribed treatments.
His mental issues came to a head on January 19, 1900. He snapped, and killed his wife and two children with an axe, crushing their skulls with his blows. After their murder, Bergen then killed himself, slitting his throat with a straight razor with enough force where he almost decapitated himself.
A memorial to Marty Bergen, donated, in part, by Connie Mack, stands at his gravesite in St. Joseph's Cemetery in North Brookfield, Massachusetts, honoring him for his contributions to the MLB. His death, and the circumstances surrounding it, may have been the most shocking in baseball history.
Ken Hubbs was going to be the future for the Chicago Cubs at second base. Instead, he was taken from the game far too early.
His career began on a promising note. In his first full season in 1962, Hubbs had a .260/.299/.346 batting line, hitting 24 doubles. While his offense may not have been great, Hubbs was a gifted defensive second baseman, finishing second in range factor and ranking in the top four in putouts, assists, and double plays at second. That year, he won the Rookie of the Year and Gold Glove awards.
In 1963, Hubbs batting line slipped to .235/.285/.322 batting line, but there were signs of improvement. He increased his home runs, from five to eight, and struck out 36 fewer times. Hubbs' OPS+ also increased, despite a lower batting line. He may not have won a Gold Glove award that year, but his defensive numbers also improved. It appeared as though the Cubs had their second baseman for quite a few years to come.
Unfortunately, tragedy struck. Hubbs, who had a fear of flying, took flying lessons and acquired his pilot's license in an attempt to combat those fears. With a storm approaching, Hubbs and a friend attempted to set off for Colton, California. They did not file a flight plan, and there was no contact from the airplane after takeoff. A rescue mission found the wreckage a quarter mile south of Bird Island in -1 degree temperatures.
One of the bright young stars of the MLB at the time, Ken Hubbs lives on in a foundation named in his honor. An award, also named for Hubbs, is given annually to the top male athletes in the greater San Bernardino area, where he grew up.
Similar to the tragic death of Jose Fernandez, Steve Olin and Tim Crews were killed in a boating accident during Spring Training in 1993. However, in this case, alcohol was a main factor.
A right handed submariner, Steve Olin had taken over as the Indians closer partway through the 1991 season. He finished that year with 17 saves and a 3.36 ERA, striking out 38 batters in 56.1 innings of work. The following season, he appeared to be on the verge of becoming one of the better closers in the game, notching 29 saves with a 2.34 ERA and a 1.211 WHiP, using his submarine delivery to generate ground ball after ground ball.
Tim Crews had been a free agent signing that offseason, coming over from the Los Angeles Dodgers. He struggled in 1992, posting a 5.19 ERA and a 1.474 WHiP, but was still expected to be a key part of the Indians bullpen in the coming year.
Unfortunately, both careers were cut short in a boating accident. Olin, Crews, and Bobby Ojeda had taken a boat out on Little Lake Nellie in Clermont, Florida. Crews, who was legally intoxicated at the time, was piloting the boat, although Olin and Ojeda had barely any alcohol in their system. The boat crashed into a pier, killing Crews and Olin, with Ojeda suffering severe injuries to his head. He attributed his survival to the fact that he was slouching in his seat, but the accident took a severe toll on him mentally, as he only pitched in 11 games afterwards.
Steve Olin and Tim Crews were honored by the Cleveland Indians that year, with patches featuring each number on each sleeve of the uniforms. When the Indians clinched the pennant in 1995, manager Mike Hargrove had the team play Garth Brooks 'The Dance,' Olin's favorite song, over the loudspeakers while they celebrated on field in honor to their former closer.
One of the top pitching prospects in the MLB, Nick Adenhart looked like he would be a cornerstone of the Los Angeles Angels starting rotation for years to come.
Initially projected to be a first round pick, Adenhart suffered a partially torn ligament in his elbow in his final start in high school. Falling to the 14th round, he signed with the Angels and quickly made his way up through the ranks. Not only was he one of the Angels top prospects, but Baseball America considered him a top 100 prospect in baseball from 2006 through 2009.
Adenhart made his debut in 2008, appearing in three games for the Angels early in the season. He posted a 1-0 record, although he had a 9.00  ERA and a 2.583 WHiP. In 12 innings that year, he allowed 18 hits and 13 walks, striking out four batters. After being sent back to the minors, he won a spot in the Angels rotation out of Spring Training, and in his first start of the year, pitched six shutout innings. Adenhart appeared ready to be a key piece of the Angels rotation.
Unfortunately, just hours after that outing, Adenhart would be killed. A red minivan ran a red light, and broadsided the car that Adenhart was a passenger in, sending it into a telephone pole. He was rushed to the hospital with another passenger, and succumbed to his injuries. The driver of the minivan, who fled on foot, had a 0.19 blood alcohol content and a suspended license. He was later sentenced to 51 years in prison.
The Angels honored their young pitcher by creating the Nick Adenhart Pitcher of the Year award, given each season to the best pitcher on the team. A bronze statue of Adenhart is in display in the Angels trophy case, with smaller versions given out as the award. A memorial fund was also created, designed to provide funds for struggling youth baseball organizations.
A promising young outfielder who was expected to be a key part of the St. Louis Cardinals future, Oscar Taveras was killed in a car accident that not only took his life, but that of his girlfriend as well.
Not only was Taveras considered one of the top young players in the game, but he was a consensus top three prospect in both 2013 and 2014. He tore through the Cardinals minor league system, showing impressive power and decent speed. His ceiling and potential were high enough where he was compared favorably to Vladimir Guerrero for his abilities in every facet of the game.
Given his first taste of action 2014, Taveras showed his potential. He only produced a .239/.278/.312 batting line with three home runs, but he only struck out 37 times in 248 plate appearances. Taveras had his crowning moment in Game Two of the NLCS, when he hit a pinch hit home run off Jean Machi to tie the game. He appeared destined to be the Cardinals starting right fielder in 2015, a position he would likely hold for a long time.
Instead, tragedy struck. Taveras, driving with his girlfriend, ran off a highway in the Dominican Republic and crashed into a tree, killing both occupants. Three weeks after the accident, it was learned that he was legally drunk, with a blood alcohol content of 0.287, almost six times the legal limit.
In his honor, the Cardinals left the lights in right field on for the night of October 28. Yordano Ventura, Taveras' friend and countryman, wrote RIP O.T. 18 on his hat before his start in Game Six of the World Series, where he fired seven shutout innings to keep the Royals from elimination. A decal of Taveras, along with images of Darryl Kile and Josh Hancock, remains in the bullpen in Busch Stadium.
One of the first high priced free agents, Lyman Bostock was an excellent all around player whose death resulted in several changes to Indiana state law.
A second generation ballplayer, Bostock began his career with the Minnesota Twins. Teammates with Rod Carew, the great hitter pushed Bostock to become even better, helping him become an all around player. He finished fourth with a .323 batting average in 1976, and the following year, hit .336 as he finished just behind Carew for the batting title.
Coming off such a strong season, he signed one of the larger contracts in MLB history at the time with the Angels. However, Bostock struggled, with a .150 batting average through April, and attempted to give his salary back to the team, since he didn't feel he deserved it. From that point, Bostock performed well, with a .296/.362/.379 batting line. His did not hit for the same power, but he finished the season strongly, giving hope that he would rediscover his form the following year.
He would never get that chance. Hours after a game against the White Sox, he and an uncle went to visit Joan Hawkins, who Bostock had tutored years ago. Her sister was also there, and after a few minutes, they agreed to drive the two to a cousin's house. At an intersection, Leonard Smith, the estranged husband of the sister, pulled up alongside the vehicle. He fired a shotgun into the car, shooting Bostock in the head. On trial for murder, Smith pleaded insanity and was committed for psychiatric treatment, but was released within seven months.
Bostock's death caused changes to the Indiana state law. After the outrage after Smith walked free, the state ruled that anyone found insane during the commission of a crime could be found guilty, and serve a prison sentence after being freed from an institution.
Ray Chapman appeared to be in the midst of a Hall of Fame caliber career when his life was cut short by Carl Mays pitch that struck him in the head.
A player with a solid ability to make contact and an excellent batting eye, Chapman already had over 1000 hits at 29 years of age. An excellent bunter, he led the league in sacrifice bunts three times, and set a single season record with 67 in 1917. Gifted defensively, he led the American League in putouts and range factor three times, and was routinely amongst the league leaders in assists.
Before his career was cut short, Chapman had posted a .278/.358/.377 batting line, hitting 162 doubles and stealing 238 bases. His career at that point was very similar to Luis Aparicio, who would appear a generation later. Given his ability to make contact, and his solid speed, it was likely that Chapman could have been on the path to the Hall of Fame as well.
Instead, he is remembered as the one MLB player to die as a direct result of his injuries on the field. A player he leaned over the plate, daring pitchers to come inside, he was struck in the head by a Carl Mays fastball. Eye witnesses say that Chapman likely never saw the ball, as it was difficult to notice against the overcast sky, as he never moved before getting hit. The ball shattered Chapman's skull, with a loud enough sound that Mays thought it hit the end of his bat, and throw to first. With blood pouring from his ear, he tried to walk off the field, but collapsed near second base, dying twelve hours later at the hospital.
As a direct result of Chapman's beaning, the spitball was banned after the season, although players already throwing the pitch were grandfathered in. Mays faced backlash over the incident for the rest of his career, as he was a surly fellow who had a reputation for headhunting. Considering the circumstances, Mays certainly seems like he was scapegoated for an unfortunate accident.
One of the greatest players of the 1800's, Ed Delahanty died under mysterious circumstances while attempting to cross Niagara Falls.
One of the premier hitters of the 1890's, Delahanty was an all around threat on the diamond. He led the league in home runs twice, and in doubles five times. He hit over .400 three times, leading the league with a .410 batting average in 1899. That year, he posted a .410/.464/.582 batting line, leading the league with 238 hits, 55 doubles and 137 RBI. Delahanty also stole 30 bases, and struck out only 22 times in 581 at bats.
Overall in his career, Delahanty was one of the greatest players to play the game. He posted a .346/.411/.505 batting line, with 522 doubles and 1466 RBI. Delahanty was also a solid defensive player, performing well in left, and also spending time at first, second, short and third over his career.
However, his career is overshadowed by the circumstances in which he died. After threatening other passengers and brandishing a straight razor while yelling about death, a drunken Delahanty was kicked off the train at Fort Erie in Ontario, near Niagara Falls. He attempted to cross the International Bridge that night, and either jumped to his death or fell off, being swept over the Falls. Some reports indicate that a shdowy figure was seen following Delahanty as he attempted to make his way across, possibly with the intent to commit a robbery.
One of the greatest players from before the turn of the century, Ed Delahanty is now remembered more for his death than for his prowess on the baseball diamond.
The heart and soul of the New York Yankees during their run in the late 1970's, Thurman Munson's legacy can still be felt.
A brash, arrogant person who would back up his swagger on the field, Thurman Munson was a star. He was one of the few to stand up to George Steinbrenner and win, as even The Boss knew that Munson was not to be trifled with. He was a Rookie of the Year and the 1976 American League MVP. In his career, Munson won three Gold Glove awards and made seven All Star Games, and likely had more accolades to come.
His career numbers do not quite reflect the impact he made upon the Yankees. A career .292/.346/.410 batter, he hit 229 doubles and 113 home runs. Defensively, he was a force behind the plate, with his strong arm capable of shutting down an opponent's running game with ease. Routinely among the league leaders in assists and double plays, few catchers were as good as Munson during that time.
Munson had earned his pilot's license the year before, and frequently spent time in his Cessna Citation I/SP airplane, allowing him to go back to his home in Canton on off days. His airplane had several mechanical issues before, but Munson refused to get rid of it. He was practicing takeoffs and landings when his airplane clipped a tree, crashing and bursting into flames. Two friends were able to escape, but Munson, who broke his neck during the crash, died of asphyxiation due to smoke and toxic substances.
The New York Yankees immediately retired Thurman Munson's number after his death, with his locker remaining in one piece and in the Yankees museum. The minor league field in Canton was named in his honor, and a street in the Bronx was renamed in his memory in 1979.
One of the greatest players in MLB history, Roberto Clemente was an even better person away from the diamond.
Clemente was one of the greatest players ever to set foot on the diamond. Arguably the best player of the 1960s, he was a four time batting champion that decade. In his career, he made 12 All Star Games, was the 1966 National League MVP, and won 12 consecutive Gold Glove awards. He was a player without equal.
In his illustrious career, Clemente posted a .317/.359/.475 batting line, with exactly 3000 hits and 240 home runs. His 166 triples are the 27th most in MLB history, and he ranks in the top five in career putouts, assists, and runs saved as a right fielder. He could literally do it all on the field.
Off the field, Clemente was noted for his charitable works, and that generosity led to his death. After earthquakes devastated Nicaragua in December 1972, Clemente spearheaded the effort to bring supplies to the nation. When reports reached him that those supplies were being taken by the rulers of the country to enrich their lives, he boarded a plane on New Year's Eve to make sure the right people got those needed essentials. That airplane crashed off the coast of Puerto Rico, and Clemente's body was never recovered.
Roberto Clemente was immediately put into the Hall of Fame, and his passing led to the creation of a rule that states that a player who has been deceased for at least six months is eligible for entry into Cooperstown. The Roberto Clemente Award was created, given to an excellent player who is also personally involved in community work. The first Latin American player in the Hall, Clemente is still an inspiration for many young players around the globe.
This article originally appeared on