MLB: Giants, Tigers Talk of Trade for J.D. Martinez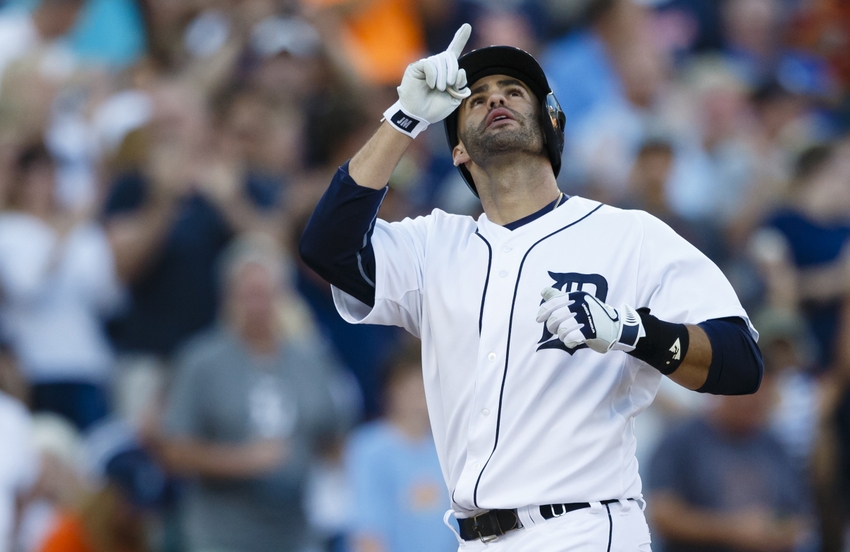 Amidst the trade rumors floating around the offseason, talk between the San Francisco Giants and Detroit Tigers for J.D. Martinez began to surface.
Heading into the offseason, the two items on the Giants' shopping list are relievers and outfielders. In an effort to check one item off of the list, the Giants began the initial stages of negotiating a trade with the Tigers for veteran outfielder J.D. Martinez. News of the potential trade broke via a Tweet from Jon Morosi of MLB Network.
Add on J.D. Martinez: #SFGiants/#Tigers trade talks occurred at GM meetings last week and have yet to advance beyond initial stage.

— Jon Morosi (@jonmorosi) November 15, 2016
After six years in the major leagues, Martinez is coming off one of the best seasons of his career. While batting .307 in 2016, he hit 22 home runs, 68 RBIs and 35 doubles in 120 games. During his three seasons with the Tigers, Martinez averaged 34 homers per 162 games. Furthermore, he recently appeared in the first All-Star Game of his career in 2015.
Currently, Martinez is promised $11.75 million in the second year of the two-year extension he signed last winter. Bound for his final year under Tiger control, all sides could benefit from Martinez's trade  to San Francisco.
For the Giants, it is doubtful they will re-sign Gregor Blanco and Angel Pagan this offseason. An Instagram video posted by Blanco after the season indicated the end of his five-year stint with the Giants. Meanwhile, Pagan's age and dismal final month of 2016 might lead to the outfielder parting ways with the Giants.
With Hunter Pence set to start in right field next season, the question remains as to who will fill in the rest of the outfield. While the Giants could recall Mac Williamson, Jarrett Parker or Gorkys Hernandez, a one-year deal for a veteran outfield proves to be a viable option.
On the other hand, the Tigers are in the midst of rebuilding their team from nearly the ground up. Consequently, Detroit expressed their willingness to trade away their veteran ballplayers in exchange for young talent. As a result, Martinez joins the rumors of trading away Justin Verlander, Miguel Cabrera, Victor Martinez and Ian Kinsler.
By trading away Matt Duffy last season, the Giants showed their readiness to sacrifice their youngsters to satisfy their needs. Realistically, the Giants could deal a pair of their minor league prospects in exchange for Martinez. The trade provides one team with budding ballplayers to fuel their rebuilding process and the other a veteran outfield presence.
More from Call to the Pen
This article originally appeared on