MLB Free Agency: The Three Best Fits for Matt Holliday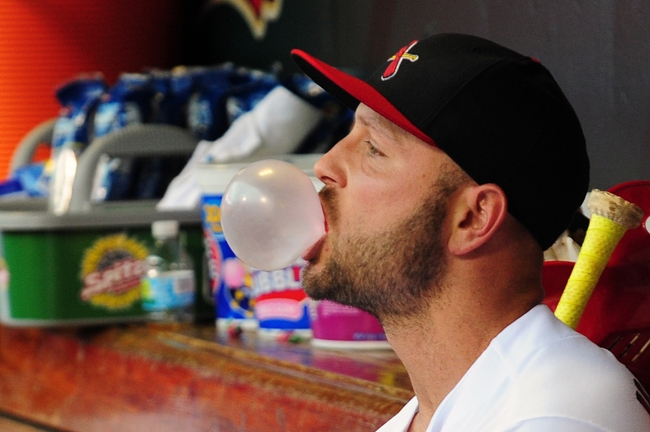 Veteran outfielder Matt Holliday showed us all in 2016 that he can still produce at the MLB level. Where should he go in free agency?
Matt Holliday is one of the most seasoned veterans in MLB. Making his debut in 2004, Holliday ranks 15th in games played for active players, and he should move up that list next year after the retirements of Alex Rodriguez, David Ortiz and possibly others are official. Despite it being the later stages of his career, Holliday can still produce for a team at the big league level.
In 110 games last season, Holliday slashed .246/.322/.461 with 20 home runs and 62 runs batted in. In fact, Holliday was voted an All-Star as recently as 2015. He batted .279 that season, around average with what we've seen from him of late. Although his numbers are fading, Holliday can still help a team looking for a push to the postseason.
Whether he platoons, becomes a designated hitter, or is an everyday outfielder, Holliday can still be a factor down the stretch in 2017. Fangraphs actually predicts Holliday's numbers to rise in next season. With an anticipated average of .275 with identical power numbers, Holliday could be a key player in 2017.
Although they are promising for teams in the market for an outfielder, we cannot base his worth solely on predictions. However, while he might not be as valuable as the site predicts, he still presents value to most big league clubs. Any team searching for contributions from a veteran leader will almost certainly have Holliday on their radar. This will most likely be his last chance to cash out on a nice contract, so with the offseason in full swing, let's take a look at potential fits for Matt Holliday.
Baltimore Orioles
With the potential departure of slugger Mark Trumbo, the Orioles are short a right fielder. Baltimore may find problems being successful if they cannot repeat the power surge we witnessed in 2016. Matt Holliday would be a step in the right direction for Baltimore to replace their losses. Obviously, Holliday would not produce the same numbers as Trumbo, but he could be a one- or two-year replacement if Baltimore cannot sign a big name outfielder such as Dexter Fowler.
Holliday would fit in nicely in Baltimore. Camden Yards is far more hitter-friendly than Busch Stadium, and Holliday may even see himself become the DH. With the potential loss of Pedro Alvarez, the Orioles could have a hole to fill there. If they can lock Holliday down to a deal and also find a better defensive outfielder, then Baltimore would be set. We've seen veteran players in the past add years to their careers by transitioning soley to a DH role. Without the hassles of fielding nine innings every day, Holliday may see his numbers rise.
With the only other option – as of now- to play right field being 25-year-old Joey Rickard, Baltimore needs to make a move. While Rickard has shown good potential and put up relatively decent numbers, his sample size is small. Baltimore can't expect Rickard to be their everyday starter in right field, just not yet. With the addition of Holliday, the team can further utilize Rickard in positions of need, and the youngster can benefit from Holliday's veteran presence.
Houston Astros
Despite already bolstering their club with veteran players this offseason, expect the Astros to make another move. Houston already has brought in the likes of Josh Reddick and Brian McCann to combine with their previous young talent. Per FOX Sports' Ken Rosenthal, the Astros are attempting to bolster their offense so they can trade a young talent for elite pitching. Bringing in Holliday here may just be the best of both worlds.
Sure, these young guys certainly will be better for longer than Holliday, but signing Holliday can knock out two birds with one stone. Holliday would slot into the outfield, allowing Houston space to ship off George Springer in a deal. They may need to include a defensive-minded outfielder in a deal of this caliber, but it is definitely doable. Although Holliday won't contribute in the way that Springer can, he can help the team overall by allowing Houston to make a move for needed pitching.
Houston would then have a pretty stacked offense. Holliday would join Jose Altuve, Carlos Correa, Alex Bregman, Josh Reddick, Brian McCann and Evan Gattis as the heart of the Astros lineup. Add the pitching that they need in a Springer deal and the Astros may well see themselves back in the postseason. Although a straight-up signing of Holliday may be unnecessary, if the proper moves are made after the fact, it may indeed be a genius move.
Kansas City Royals
The outfield in Kansas City is pretty set in stone. With Lorenzo Cain returning from injury to join Alex Gordon and Paulo Orlando, the Royals' outfield is solid. However, Kansas City signing Matt Holliday would not be for the outfield. In this deal, Holliday may become an occasional outfielder if Gordon needs rest. However, Matt Holliday's defense hasn't been the best of late, and a move to full-time DH may be the best option.
The Kansas City Royals lost their DH Kendrys Morales this offseason to the Toronto Blue Jays. Now they have an exceptional hole at the position. The currently listed DH, Cheslor Cuthbert, may not be a good season-long designated hitter. While Cuthbert's batting average was higher than Holliday's last season, he does not provide the same power that Holliday still posseses. Also, like argued before, a veteran hitter that can solely focus on hitting will often benefit statistically. Matt Holliday making the move to designated hitter will strengthen his numbers and prove himself worthy to wear Royal blue.
Morales and Holliday are actually very similar statistically. Kendrys hit for a bit more average, .263 to Holliday's .246, but Holliday can put up similar if not better numbers as a DH. Production-wise, they are similar as well. Morales had 10 more home runs, 17 more runs, and 31 more runs batted in. However, Morales had 192 more plate appearances than Holliday.
If you average out the numbers, with Morales' amount of plate appearances Holliday would have slugged 29 home runs, scored 69 runs, and collected 89 runs batted in. Now the two are near identical, and if you look at their strikeout (19.4 percent, 16.7 percent) and walk percentages (7.8 percent, 8.2 percent), the similarities are more evident. Holliday could perfectly fill the void that Morales has left behind, making this move the wisest for both parties.
Matt Holliday may well be one of the most sought out free agents this offseason. His veteran presence and offensive production only increase his value to a club. However, Holliday is only getting older, and he will be 37 next season. With perhaps only a few quality years left, he must make the switch to a designated hitter. Ruling out all NL clubs leaves these three teams that make the most sense. Holliday needs to sign with a team that is ready to push for the postseason. He cannot join a rebuild, or an already solid team with a good outfield. Therefore, the Orioles, Astros and Royals are the best fits for the veteran outfielder.
This article originally appeared on