MLB Free Agency: The Best Fits for Orioles Slugger Mark Trumbo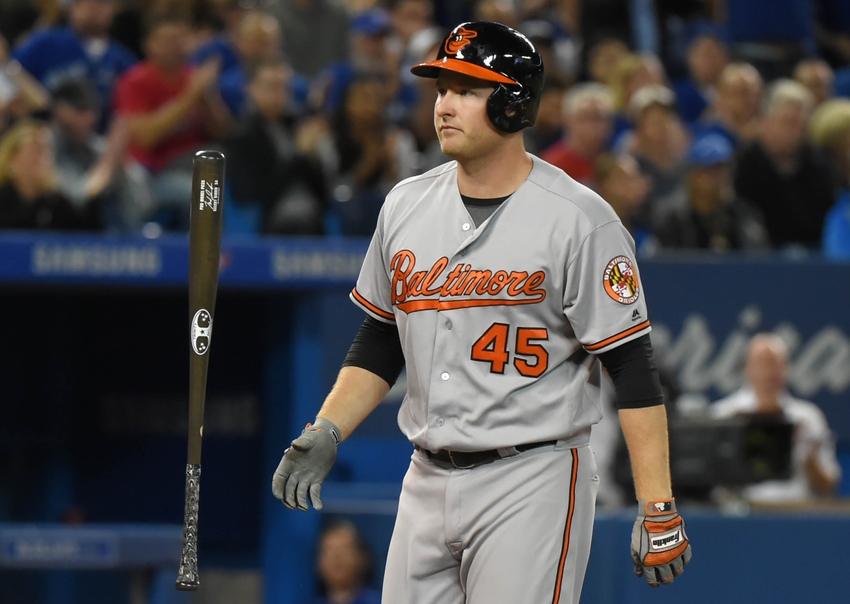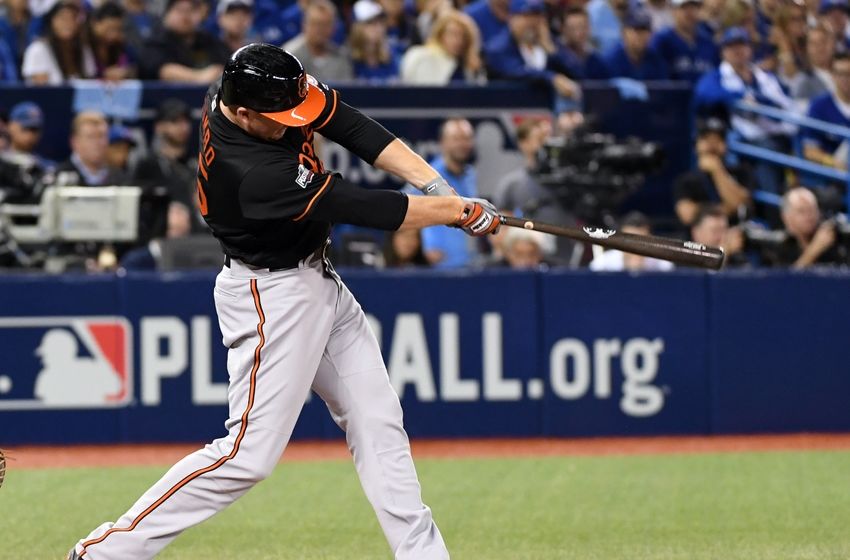 Mark Trumbo reinvented himself this season as one of the best power hitters in baseball. What would be his best landing spots as MLB free agency heats up?
Four years ago, Mark Trumbo was an upcoming power hitting outfielder who looked like a star. Trumbo hit 95 home runs in his first three years as a professional, which was seventh best in the league during that time.
The two years after, Trumbo seemed to lose his footing. He hit a combined 36 home runs, which isn't bad, but wasn't living up to his potential. Then, as we know, 2016 happened and Mark Trumbo slugged 47 home runs and knocked in 108 runs. Trumbo is now a free agent, being the most lucrative power hitting bat available. This all poses the question, who is the best fit for Mark Trumbo as MLB free agency heats up?
A lot of things factor into what team can reel in the best power hitting bat in the market. There is always factors such as money and success, that arguably are the two biggest requirements for every athlete. However, in some cases, personal reasons may override the desire to win now and can cause a deal that otherwise wouldn't be present.
Trumbo certainly won't be short of options, as a surplus of teams desperately need a middle of the lineup bat. His versatility also makes him all the more desirable. Although being a corner outfielder, Trumbo could easily move to first base and has even shown he can play a modest third base. American League teams are likely to be even more drawn in by the fact that he can DH down the line if need be.
Whichever team ends up landing Trumbo is hopeful that he can duplicate his numbers from 2016, and his performance wasn't simply a "contract year performance".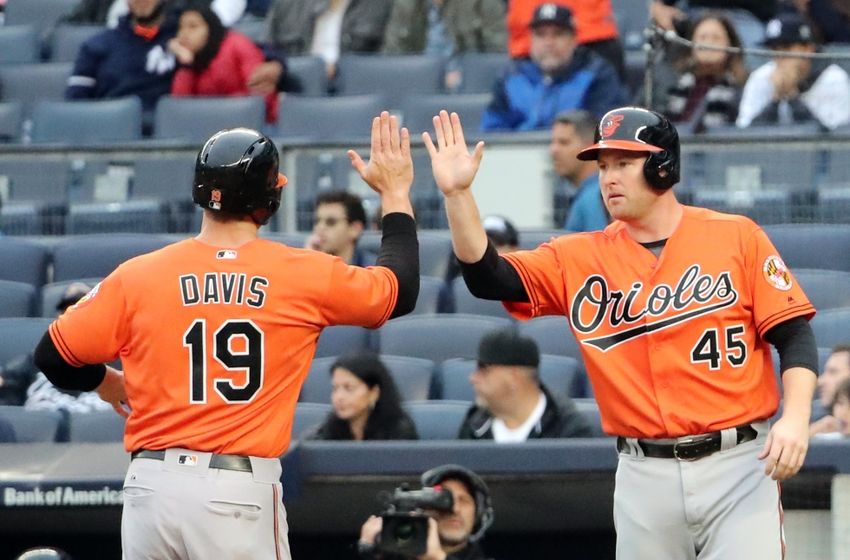 Baltimore Orioles
It is very likely that Trumbo decides to stay in Baltimore. If Baltimore can offer the right money, Trumbo surely would love to return to the ballpark that saw him hit 25 home runs this past season. The Orioles would then maintain their insanely loaded power line up, and could focus on bringing in new additions instead of possible replacements.
Things likely wouldn't be very different for Trumbo and the Orioles. A lot of Baltimore's talent is locked in at least for the 2017 season, with Matt Wieters, Pedro Alvarez, and Steve Pearce being the only potential impact players not locked down. Baltimore could easily afford to resign these players, and likely won't find it very hard to replace them on the free agent market.
The Orioles would then benefit from maintaining a core of the same players, allowing them to develop and further grow their chemistry. The team certainly would have playoff potential yet again, and could make it even further with the right pieces. The problem is though, that with resigning Trumbo Baltimore may not have the budget to sign high impact players.
The biggest factor of whether or not this deal goes down would be the money. Baltimore already owes big money to Chris Davis and Adam Jones. The Orioles haven't been known to be huge spenders like other MLB teams, which just might make their chances all the more slim.
As appealing as a return to Baltimore may be for Trumbo, this is undeniably his best chance to cash out and receive big money. Although success his likely his biggest factor, personal reasons and money also play into the mix.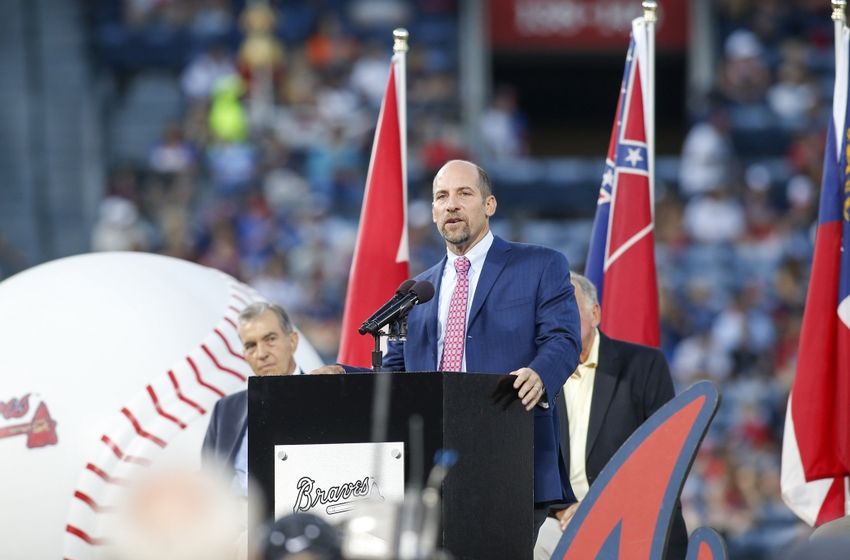 Atlanta Braves
The Atlanta Braves are certainly the most perplexing team in baseball right now. They are in a rebuilding phase, yet are signing old guys like R.A. Dickey and Bartolo Colon. They also have veteran guys Matt Kemp, Freddie Freeman, and Nick Markakis to name a few. The Braves are opening a new ball park, and are trying to add credible names to their already stacked prospects. That is where Mark Trumbo comes in.
Trumbo would serve as the face of the new SunTrust Park in Atlanta. Like the Marlins did in 2012, the Braves seem to be trying to sign bigger names to rebuild credibility for their club. Unlike the Marlins, however, Atlanta must avoid continuing to sign guys that are so old. Although Dickey and Colon can certainly still bring something to the mix, they are going to need more to have the turn around they expect.
That is where signings like Trumbo make sense. He is a big name, coming off the biggest year of his career, and the Braves can not only bank on his talent but can exploit his increase in popularity.
Not only would Trumbo like the idea of being the face of SunTrust Park, he would benefit hitting behind or in front of Freeman. This would benefit the entire middle of the line up, because now the best option to pitch to is Kemp. Although Kemp isn't what he use to be, he still hit 35 home runs last season.
This signing would likely benefit both sides equally, which could be a very appealing to Trumbo. However, Trumbo might want to win now and not in 3 years, so that could hold him back.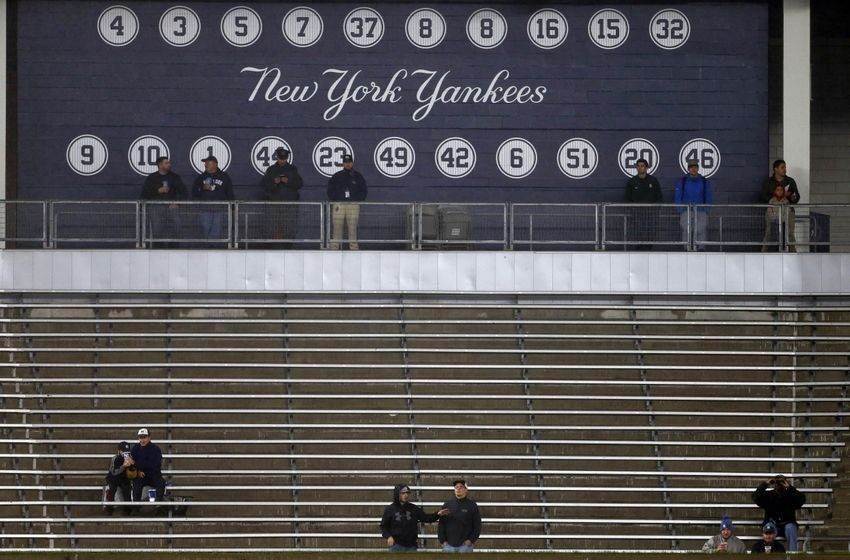 New York Yankees
The New York Yankees are in a very similar situation the Braves are in. They are considered to be in rebuild mode, however boast older guys like C.C. Sabathia. The Yankees already have six outfielders on their 25 man roster, but knowing New York, they could make room for one more.
They could even DH Trumbo, trading away Brian McCann to free salary space. With Trumbo, the Yankees outfield would boast himself, Brett Gardner, Jacoby Ellsbury, and the young Aaron Judge. New York could even slide Trumbo back to first base or DH to bring up highly touted prospect Clint Frazier. Regardless of what they were to do with Trumbo, it would add a much-needed dimension to the club.
He would serve perfectly as the gateway between youth and veterans within the Yankee organization. Trumbo, who will turn 31 before the season, is young enough where he is in his prime but old enough to mentor the younger guys. Not only would the Yankees get a David Ross type of situation with Trumbo being a mentor, they would also get a power hitting bat that would help them win now.
The Yankees certainly have money, they have young talent like Gary Sanchez who can win now, and they have a very hitter friendly ball park. Trumbo could get a lucrative contract, be put in a line up he could mentor and win now, and enjoy the perks of small Yankee Stadium. This all seems like a perfect fit for Trumbo on paper. However, personal influences make one more destination seem all the more likely.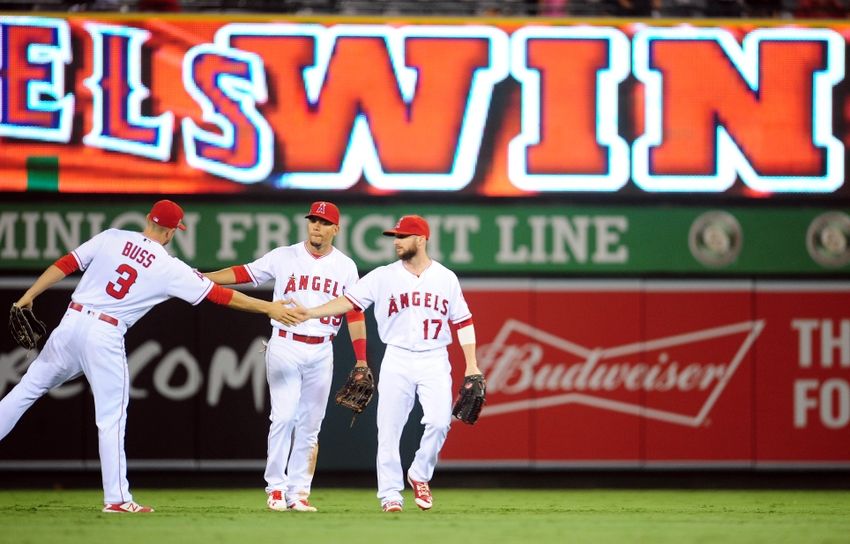 The Los Angeles Angels of Anaheim.
Nothing in baseball seems like a better fit than Mark Trumbo resigning with the Angels. First, the Angels are in desperate need of a third outfielder, and he could be the perfect addition alongside Mike Trout and Kole Calhoun in the outfield. He would play left field, and would return to the park he has hit 47 home runs. Also, Trumbo has played in Anaheim before, and it has been well documented that it is his home.
More from Call to the Pen
Ever since the disaster that was the Josh Hamilton signing, the Angels have been short an outfielder. They have struggled to piece together a winning season since 2014. While this can be attributed to injury, they lack a power hitting bat to compliment their lineup.
Although Trout hits a good amount of home runs, he is not regarded as a pure power hitter. The next big source of power would be Albert Pujols, however age is not on his side. Adding Trumbo would fill the gap in the outfield, and would provide a big bat behind either Trout or Pujols that would benefit them.
The thing that makes this perfect is not only the Angels need for another outfielder, it's that Trumbo is meant to be in Anaheim. For those of you unaware, Trumbo was born in Anaheim. He spent his childhood idolizing the Angels. It has been well-recognized, like at this years all-star game, that he and Trout are good friends.
Trumbo might not be able to pass up the opportunity of returning home. Of all the teams that could vie for Mark Trumbo during MLB free agency, the Angels very well might be the perfect fit.
This article originally appeared on