MLB Free Agency: Patience Pays Off for Ian Desmond and Dexter Fowler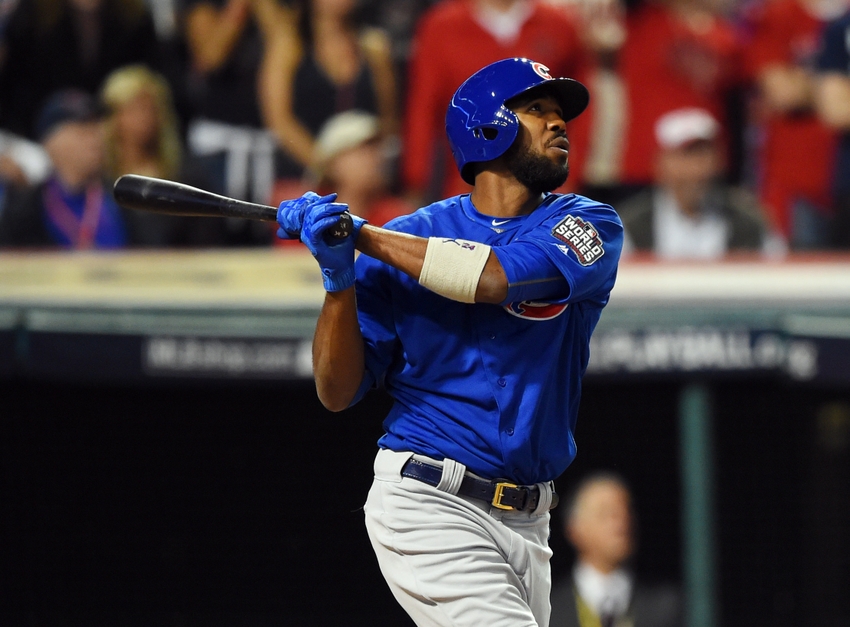 After coming up short in an unfriendly market a year ago, Ian Desmond and Dexter Fowler cashed in during their second go-around as MLB free agents.
MLB free agency can often feel like a wonderland of instant gratification. Even for players who aren't particularly remarkable, the money always seems to be flowing. Of course, the market can be cruel as well, and otherwise fine talents sometimes find themselves left out in the cold without that big multi-year contract they thought for sure they would be getting. In those cases, players typically have to compromise and hope that their future payday is merely deferred and not eliminated.
Dexter Fowler and Ian Desmond found themselves in that kind of situation a year ago. Most would agree that both are solid ballplayers, but each saw his market fail to ever really materialize for various reasons.
Desmond took a huge gamble on himself in 2015 and lost rather spectacularly. He reportedly turned down a seven-year, $107 million extension offer from the Nationals, electing to test free agency instead. He went on to have one of the worst seasons of his career in his walk year, slashing .233/.290/.384 over 156 games.
He had to settle for a one-year, $8 million "prove it" deal with the Rangers, along with moving from his natural position at shortstop to center field. It certainly wasn't what Desmond imagined when he rejected the Nationals' sizable paycheck.
As for Fowler, he didn't really shoot himself in the foot with a poor performance in 2015. After being traded the previous offseason to the Cubs, he posted a .250/.346/.411 slash line with 17 home runs, 46 RBI and 20 steals. That was well below his production level in 2012 when he put up a career-best .863 OPS for the Rockies, but it was a respectable showing for the outfielder nonetheless.
Unfortunately, Fowler got somewhat lost in the shuffle of a crowded outfield market last winter, as he was overshadowed by names like (future teammate) Jason Heyward, Yoenis Cespedes and Justin Upton. It appeared that Fowler had reached a three-year deal to sign with the Orioles in February, but he abruptly reversed course by inking a one-year, $8 million pact (same terms as Desmond, oddly enough) to stay in Chicago.
Both Desmond and Fowler needed to make convincing arguments for themselves in 2016 if they wanted to avoid another underwhelming offseason. They were successful by any reasonable criteria. Desmond's bat bounced back in Texas, as he slashed .285/.335/.446 with 22 homers and 86 RBI. While he was no Gold Glove candidate, he didn't really embarrass himself in the outfield either.
More from Call to the Pen
Fowler missed some time with a hamstring injury, but he slashed an impressive .276/.393/.447 while adding 13 homers and 48 RBI. His .393 on-base percentage was a career high, as was his 4.2 bWAR. He was as good a leadoff hitter as the world champion Cubs could have asked for, and he surely didn't mind sticking around an extra year to break that pesky curse. Fowler could have exercised a mutual option to remain in the Windy City for another season, but he rightly felt confident in his renewed earning power.
The free agent market rewarded Desmond and Fowler for their bounce-back campaigns, probably beyond what even they might have expected. Desmond signed a five-year, $70 million contract with the Rockies earlier this week. He'll apparently need to learn another new position (first base), but a sixth-year option could increase the deal's value to $83 million, and he probably won't mind hitting at Coors Field.
Then news broke last night that Fowler had agreed to terms with the Cardinals, hopping from one NL Central rival to another. According to FOX Sports' Ken Rosenthal, the deal is worth $82.5 million over five years and includes a full no-trade clause.
The waiting game doesn't always pay off for major league ballplayers, but it certainly did for Ian Desmond and Dexter Fowler. Players might fool themselves into thinking that they have only one truly good shot at cashing in, and that settling on a one-year contract is a defeat. But they can also be opportunities to rebuild your value, as Desmond and Fowler demonstrated over the past season.
It's hard not to look at Edwin Encarnacion and Jose Bautista and wonder if they will be this winter's examples of talented players for whom the market never really came together. There are other factors at play there (i.e. age), but sometimes the economic stars just don't align regardless of one's ability on the field.
This article originally appeared on