MLB Free Agency: Edwin Encarnacion's Market Strinking?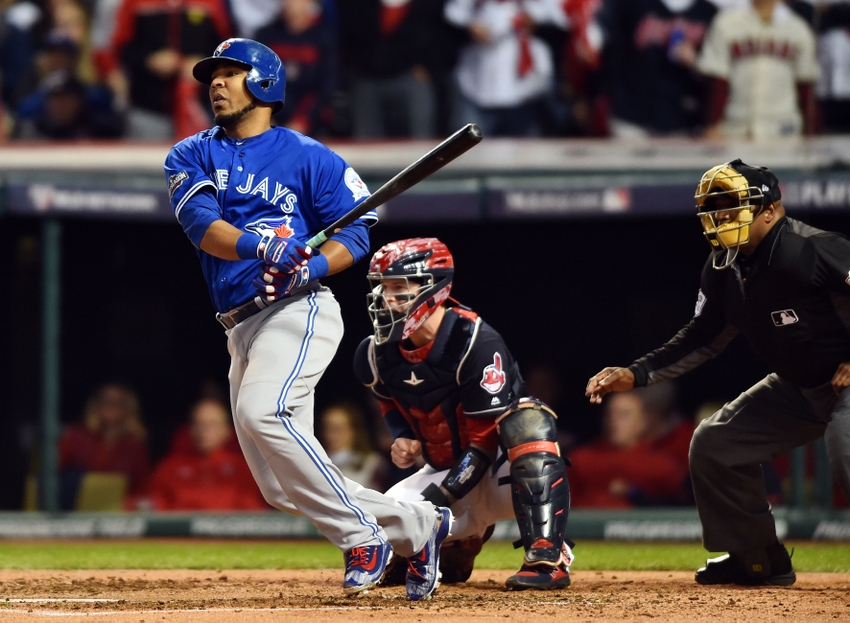 Edwin Encarnacion is clearly one of the best hitters on the MLB free agent market. But, after a couple of recent signings, the soon to be 34 year-old's future looks a lot less clear.
Coming into the MLB offseason, Edwin Encarnacion seemed like a surefire bet to land one of the larger contracts of this free agency period. With some of the best power potential in baseball in conjunction with the consistently dominant numbers he's put up over the past five years, it looked like that the 33 year-old (34 in January) could set the market for veteran middle of the order hitters.
Well in usual MLB offseason fashion, this has not come to be the case. While many thought that Encarnacion would be the first choice for many offensive needy ballclubs, it appears that most of his prospective free agent destinations have opted to go in a different direction.
Starting with his incumbent Toronto Blue Jays, it was widely known that President Mark Shapiro and his staff had tough decisions to make on his three premier free agents: Jose Bautista, Michael Saunders and Encarnacion. The team was certainly not going to pay for all three and there was a very good chance that the front office would decide to let all of their impending free agents walk for a better deal. This was probably proven correct as the team does not have a spot after signing designated hitter Kendrys Morales early in the winter for 3 years $33 million, and just bringing in the versatile Steve Pearce to platoon with Justin Smoak at first base. Heck, even Shapiro himself said yesterday on MLB Network that an Encarnacion signing seemed "improbable".
More from Call to the Pen
Moving onto another AL East club, the New York Yankees have appeared to move on as well by opting to sign veteran Matt Holliday for 1 year $13 million to fill the team's DH spot. While Holliday is not as potent of a threat with a bat, this move signals that the Yankees are more inclined to pay big money for a premier closer in Aroldis Chapman or Kenley Jansen.
Houston has also appeared to make their splash on the offensive side of things by bringing in three middle of the order hitters to help supplement their young core of Jose Altuve, Carlos Correa, Alex Bregman and George Springer. General manager Jeff Lunhow started the MLB offseason by acquiring former Yankee Brian McCann to help bring power behind the plate and signing outfielder Josh Reddick who is looking to bouneback from a down second half with the Los Angeles Dodgers.
This left the Astros with only the designated hitter role to fill, which they did by bringing in 39 year-old Carlos Beltran into the mix during the MLB Winter Meetings. Beltran has been a steady middle of the order bat even given his age. The only one-year commitment was the deciding factor in the Astros moving in from Encarnacion.
Other frequently discussed potential suitors like the Boston Red Sox and Texas Rangers also have been recently reported that they may be moving on from Encarnacion due to his age and lofty contract demands. It's also important to note that while the three-time all-star did play first base at times in 2016, many National League teams are still probably hesitant to commit four years to an aging ballplayer who's seen more seen as only a designated hitter. Now it remains to be seen whether the shrinking market could intrigue an NL club to get in the mix, but at this point it doesn't seem all to likely.
Reasons for why Encarnacion's market is becoming less robust probably has a lot to do with the fact that man teams in the MLB are not quite sure that they want to pay aging power hitters top dollar over the course of a long-term contract. In my opinion, Encarnacion has shown enough consistency in his production and his ability to stay on the field to warrant that lengthy contract, but clubs are obviously wary regardless.
Looking at some potential suitors that I haven't previously mentioned, there was an interesting report from Paul Hoynes of the Cleveland Dealer, that the club was "deep in talks" with Encarnacion, but that nothing is imminent. This would be an interesting fit because Cleveland is still looking to fill the hole at designated hitter left by Mike Napoli. Encarnacion could also somewhat spell Carlos Santana at first base.
Colorado is another interesting team that could be seriously considering making a run at Encarnacion. Thomas Harding of MLB.com has reported that the team is looking at the former Blue Jay among other potential first baseman candidates. They already have reported interest in Mark Trumbo at first base, who's also not the best with the glove, so Rockies management looks like they may be willing to overlook his defensive liabilities to bring one of the best power hitters in the MLB to the most hitter friendly park. I'm just trying to imagine the type of numbers he would put up playing half of his games at Coors Field, it would be absolutely ridiculous.
Still, while the Indians and Rockies could potentially play in this market, I just can't help but think that the Red Sox come through late and work out a deal. With David Ortiz riding into the sunset, they have a clear everyday spot for Encarnacion and Dave Dombrowski is one of the most aggressive decision makers in the MLB.
The market is certainly becoming less fruitful for Encarnacion as he may have to settle for either a three-year deal or a four-year pact for less annual money. An opt-out always remains on the table as well, just as Yoenis Cespedes did last offseason. However, I would argue that this wouldn't be as wise of a decision given his age. Encarnacion is still a premier hitter even as he goes into his age  34 season. In fact, I would say that he makes a strong case to be the second highest paid free agent in the MLB behind only Yoenis Cespedes who got four years and $110 million from the New York Mets.
One of the beauties of the MLB offseason is that there are so many surprises and Encarnacion's unlikely dwindling free agent prospects is just one of the more interesting storylines to keep a lookout for as the MLB Winter Meetings continue.
Where do you think Encarnacion will end up? What type of deal should he end up getting? Share your thoughts in the comments below.
This article originally appeared on