MLB Free Agency: Best Fits for Mark Melancon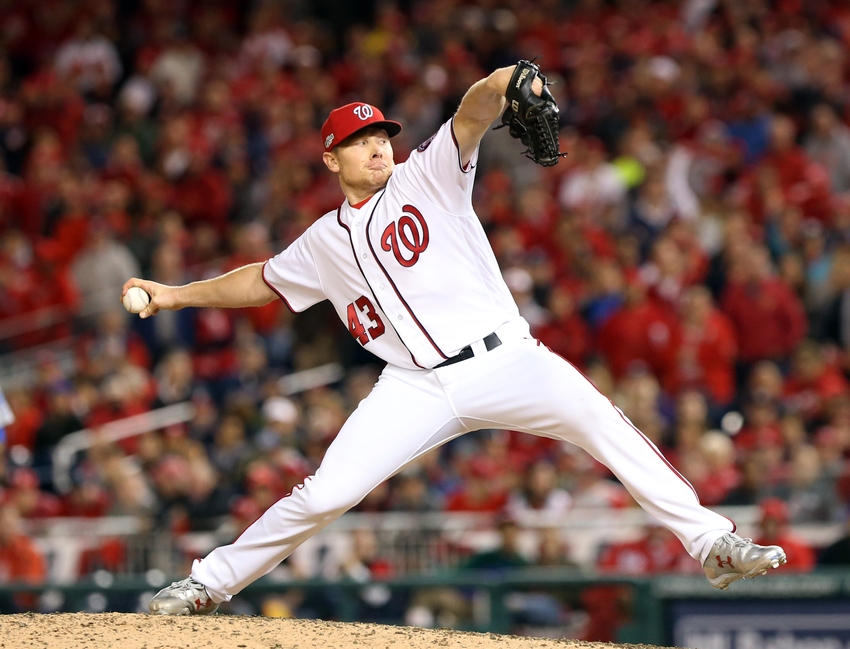 The market for closers is buzzing in MLB free agency, and though Chapman and Jansen are getting more of the attention, Mark Melancon is a bona fide option in his own right. Where might he end up?
Much has been made about MLB teams' renewed focus on building their bullpens. In case anyone had forgotten, this year's postseason highlighted just how valuable a true lockdown reliever is to a club with title aspirations. Despite a hiccup in Game 7, the World Series-winning Chicago Cubs owe much of their success to closer Aroldis Chapman, while their opponents the Cleveland Indians rode Andrew Miller's dominance (for multiple innings at a time) to the AL pennant.
The good news for franchises looking to boost the back-end of their bullpen this offseason is that in an otherwise meager group, this year's free agent class has its share of high-quality closers. Naturally, most of the attention has centered on Chapman and Dodgers ninth-inning man Kenley Jansen. Both will surely command big contracts that will ultimately price out a lot of teams. But there is another closer on the market with a very impressive track record who should cost a good deal less than his peers: Mark Melancon.
Melancon has somewhat quietly been one of the game's most effective closers over the past couple seasons. Between 2015 and 2016 he notched 98 saves, more than any other player in baseball. He also blew only six chances over that span while posting a 1.95 ERA and 0.91 WHIP. In 2015 he led both leagues with 51 saves for the Pirates, which he followed up with 47 more saves this year split between Pittsburgh and the Washington Nationals after a midseason trade.
Chapman and Jansen have a bit of an age advantage over Melancon, who will be 32 by the time next season rolls around. The other two will both be 29. However, that could mean that Melancon might take a shorter-term deal, which should be more agreeable to some teams. Already there has been some talk about Chapman looking for something in the five-year, $100 million range. Seeing that, you can really understand the appeal of a Mark Melancon.
Multiple teams have checked in on Melancon and he is going to have his pick of several good situations. But which clubs would present the best fits for the veteran closer? Here are five to keep an eye on.
Washington Nationals
First, the obvious one. It would make a lot of sense for both sides for Melancon to stay with his most recent team, the Washington Nationals. The Nats acquired the right-hander prior to this year's trade deadline from the Pittsburgh Pirates, who chose to deal the impending free agent as their playoff hopes dimmed.
Melancon did a fine job for his new team down the stretch, which was a big relief considering the trouble they were having with Jonathan Papelbon. Melancon converted 17 of 18 save opportunities for the Nats while posting a 1.82 ERA and 0.81 WHIP. Over 29.2 innings of work, he struck out 27 batters and walked only three. He recorded a save in the NLDS, tossing 4.1 scoreless frames in Washington's eventual series loss to the Dodgers.
The Nationals fully intend to compete again next year and advance deeper into the postseason. A healthy Stephen Strasburg and a potential bounce-back campaign from Bryce Harper would go a long way toward achieving that. But they can't afford to neglect their bullpen either. Losing out on this offseason's free agent closers would force them to turn to someone in-house like Shawn Kelley – a solid, if unremarkable option.
Recent reports have suggested that the Nats are willing to spend this winter, and while they might be tempted by the flashier choices in Chapman and Jansen, it's hard to argue with keeping a good thing going by re-upping Melancon. After all, Washington might want to save its money for a couple years from now when a certain superstar right fielder will be eligible to take his own dip in the free agency pool.
San Francisco Giants
There may not have been a more high-profile team in need of bullpen help this season than the San Francisco Giants. Everyone knows about the second half swoon that nearly cost them a postseason berth. A significant part of their late-season struggles can be attributed to a shaky relief corps.
Giants relievers led the league in blown saves in September and just couldn't settle on a closer at the end of the year between veterans Santiago Casilla and Sergio Romo, as well as youngsters Hunter Strickland and Derek Law. With Casilla and Romo now both free agents, the Giants will need to make a bullpen addition anyway. Might as well make it a dependable closer to lock down wins in the ninth inning.
After splurging on Johnny Cueto last offseason, Melancon probably fits better into San Francisco's budget over the other big name closers. With plenty of experience in the NL, he feels like a natural choice. And AT&T Park is traditionally kind to pitchers, which definitely doesn't hurt.
The Giants seem to agree, because various reports have confirmed that the club is indeed targeting Melancon. They even had him in for a visit earlier this month. Fixing the bullpen seems to be at the top of their to-do list, and rightly so. Bringing in Melancon would be a solid step toward ensuring next year's squad avoids those late-inning meltdowns.
Colorado Rockies
The Colorado Rockies usually aren't major players in free agency, but this year could be different for a couple reasons. Though they finished well outside the Wild Card picture, the team was surprisingly competitive at times this season. The Rox will want to get off on the right foot in the first year of new manager Bud Black's tenure as well.
With a potent offense at their disposal, a capable pitching staff would do wonders for the Rockies' playoff chances. Unfortunately, that has always seemed like a fool's errand considering they play half their games at Coors Field. With the hiring of Black, Colorado is definitely aiming to make some positive strides on the pitching side of things, and signing Mark Melancon to lead the bullpen would be another strong statement to that effect.
As a Colorado native, Melancon might be interested in pitching close to home, even if the team isn't quite ready for primetime yet. In an article from MLB.com's Tracy Ringolsby, Melancon shrugs off Coors Field's famously thin air, saying, "I grew up pitching in these conditions. It doesn't bother me." Ringolsby goes on to report that there is "mutual interest" between the Rockies and Melancon.
The Rockies would have to loosen their purse-strings a bit more than they're used to, but adding Melancon would be a signal to the rest of the league that they're serious about competing.
Los Angeles Dodgers
We've already mentioned Kenley Jansen a few times, and while the Dodgers would surely like to keep him, there's no guarantee that happens. And the new report that Major League Baseball has told the organization it needs to slash its considerable debt clouds things even further.
Melancon won't exactly be a bargain bin item, but his eventual contract should come in appreciably lower than Jansen's or Chapman's. He could be a decent compromise for the Dodgers in terms of maintaining a top closer in the bullpen and saving some money.
Jansen has been a huge comfort to the Dodgers in the ninth inning over the past few years, but Melancon's track record more than stacks up. Since 2013, Jansen has managed a 2.19 ERA, 0.86 WHIP, 7.07 K/BB ratio and 155 saves. Melancon has produced a 1.80 ERA, 0.91 WHIP, 5.96 K/BB and 147 saves. The Dodgers shouldn't notice too much of a difference going from one to the other.
L.A. has reportedly expressed interest in Melancon this offseason, and that link is made stronger by the fact that they discussed acquiring him from the Pirates before the trade deadline. If the Dodgers can get him on a three-year deal, he should provide them high-level performance for the duration, and by its completion their financial situation should be a bit clearer.
New York Yankees
The Yankees are another team for which Melancon would be somewhat of a "compromise." Since before the offseason even officially began, rumors and speculation have run rampant that the Yanks will do everything in their power to reunite with Aroldis Chapman. After getting a prospect haul for him from the Cubs, the Bronx Bombers now have the ability to use their financial clout to bring him back into the fold.
More from Call to the Pen
However, as previously mentioned, Chapman will almost surely net the biggest relief pitcher contract in history. It's not unheard of for even the Yankees to balk at price tags, especially in recent years. If the bidding for Chapman nears or perhaps even eclipses that $100 million mark, don't be surprised if GM Brian Cashman decides to pass and allocate that money over a few other needs instead.
Melancon would be strong alternative. The Yanks drafted him in 2006, and they have a history of bringing back old friends. In this case, it wouldn't just be nostalgia. Melancon would come in and confidently take the closer's reins, allowing Dellin Betances to slide back into a setup role, where he has always seemed a bit more comfortable. The Yankees really need to add another reliable bullpen arm this offseason, if only to take some of the load off Betances.
With the money saved, the Yankees can turn their attention to finding a bat to fill their DH spot. While there have been reports that they could aim high for the likes of Edwin Encarnacion or Yoenis Cespedes, talk of Carlos Beltran has been more prevalent and bringing him back as a one-year stopgap seems to gel more with the team's current philosophy.
This article originally appeared on