MLB Free Agency: Best Fits for Justin Turner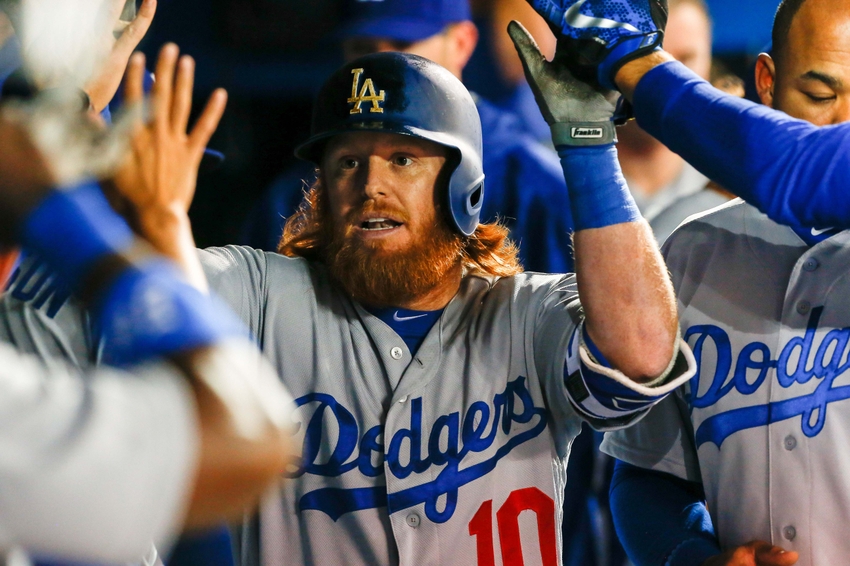 Third baseman Justin Turner has turned himself from a replaceable utility player to a coveted third baseman in MLB free agency.
Heading into this off-season, Justin Turner may be the most sought after infielder in MLB free agency. Turner, who batted .275 with 27 home runs and 90 runs batted in provides an all-around asset. His great hitting blends well with his Gold Glove caliber defense. The third baseman, who owns a .357 postseason batting average, turned his career around. In 2014, the Dodgers signed Turner to a minor league contract. As he started filling in for Juan Uribe, and eventually replacing him, Turner proved his worth at the big league level. Now, the red-haired third baseman will reap the benefits with a lucrative contract.
Despite all of this, Turner still flies under the radar in terms of popularity. Despite finishing ninth in MVP voting, Turner has never been an all-star. His only ever accolade was being Rookie of the Month in May 2011. Despite having a .296 average, 50 home runs, and 193 runs batted in the last three years Turner has often been snubbed of any and all accolades. In fact, Turner owns the sixth best Wins Above Replacement for third basemen in the last two seasons; fifth this season alone. For whatever reason, Turner flies under the radar of many as one of the elite players in the game.
Regardless of whether or not Turner has been acknowledged in the past does not take away from his value to any MLB club. The third baseman can and will provide as a great middle of the line-up bat that can thrive offensively and defensively. With Turner in the midst of his prime many teams will be attempting to bring him in. Out of all of these teams only a select few are a good fit.
Atlanta Braves
The Atlanta Braves have already had a very active off-season, and a huge signing like Turner could be incoming. With no immediate MLB ready talent at third base in the farm, signing a quality third baseman should be on Atlanta's agenda. Adonis Garcia is a decent third baseman, however adding Turner could have major ramifications towards the Braves success. Turner could then be reunited with former teammate Matt Kemp in trying to make the Braves a formidable force once more.
Turner would share the spotlight of face of the franchise heading into a new ballpark. Himself, Freddie Freeman, Julio Teheran, and Dansby Swanson would serve as the faces of a new generation. Atlanta could likely afford to give Turner the lucrative contract he deserves as well. With the way they've been spending, they likely can afford to lure in any target they so desire. At the top of these desires should indeed be Justin Turner.
Turner would likely thrive in Atlanta as well. He is too young to be considered as diminishing, but old enough to bring a veteran presence. Likely being the leader of a new clubhouse, Turner could produce for Atlanta both on and off the field. With the promise of a bright future, a team turning around to thrive in a new ball park, Turner may be unable to stay away from Atlanta. While he could insert himself into an already established postseason contender, the promise of leading a team into the promise land may be overwhelming for Justin Turner.
St. Louis Cardinals
The Cardinals are looking to push back into the postseason in 2017, and a Justin Turner acquisition would provide just that. Rumor has it that the Cardinals are showing interest in Turner to take over the hot corner from Jhonny Peralta. This of course would signal the move of Peralta, likely for farm talent or a back-end of the rotation arm. Signing Turner could accomplish two things at once. St. Louis would be getting a considerable defensive upgrade along with the offensive upgrade, and can further help another area of need.
Turner has been very successful in his career batting at Busch Stadium as well. In St. Louis, Turner is a lifetime .310 batter. The only parks that he has a better batting average at with more than forty at bats is Chase Field (.323) and Coors Field (.361). Those numbers of course are against a quality Cardinals staff over the last seven years, so when he is facing less quality of pitching his numbers likely would rise. Surrounded by excellence around him, St. Louis may be the best place to go if Turner wants to have the statistically best year of his career.
Sparking a trade sending away Jhonny Peralta would be very beneficial to the Redbirds as well. While likely they would only receive mid-level minor league talent, there is still potential. A team in need of a DH, such as the Baltimore Orioles, potentially may offer a back-end rotation piece in return for Peralta's service. Turner then would supply a ripple effect in St. Louis that very well could propel them to challenge the Cubs atop the division.
Los Angeles Dodgers
The best bet for Justin Turner heading into the 2017 season would be to remain home with the Los Angeles Dodgers, instead of heading to greener pastures in MLB free agency.
More from Call to the Pen
Remaining in Los Angeles, where he was given a shot to turn his career around, seems as the most sensible option not only financially but with personal happiness and team success. The Dodgers are in a position to make a World Series run, as they have been the last four seasons, and on a personal level Turner seems extremely happy. The chemistry he displays with Adrian Gonzalez is unmatched and the love that the Dodger fans have for Turner is unmatched.
Turner is undoubtedly the Dodgers number one target heading into this off-season. Although they also may attempt to resign Kenley Jansen, Kenley is more replaceable than Turner.
Not taking away from Jansen's great talent, it's just there is three great closers on the market and outside of Turner not many third baseman. The Dodgers already have a hole at second base, and cannot afford to have another gap at the hot corner. Turner would remain comfortable, maintain his routines, and continue smashing baseballs into the Chavez Ravine seats.
Justin Turner would be a huge hit to the Dodgers if they did lose him. Turner, who went to college at my current school California State University Fullerton, is a Southern California kid. Born in Long Beach, Turner has likely been surrounded by Dodger baseball his entire life. He seems meant to be a Los Angeles Dodger; Andrew Friedman and company cannot allow him to slip from their grasp.
Regardless of if Turner ends up in Atlanta, St. Louis, Los Angeles, or a completely different ball club, he will undoubtedly thrive for years to come. With the charisma he has, and the underdog mentality he likely holds he will continue proving critics wrong. He will be an all-star, he will win accolades, and hopefully he will attribute to a World Series trophy.
This article originally appeared on