MLB Free Agency 2017: Five potential teams for Ivan Nova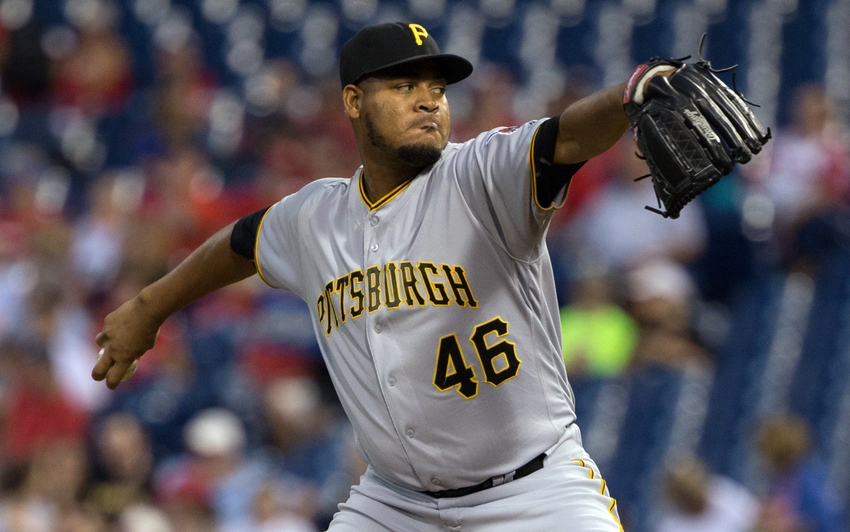 Ivan Nova may be in line for a nice payday this off-season. Who is going to give it to him?
Ivan Nova appears to be another one of the Pirates great reclamation projects. Nova threw only 20 innings in 2014 and had a 5.07 era in 2015 for the New York Yankees. In 2016 he had a 4.90 era for the Yankees and they traded the impending free agent on the cheap to the Pirates. The Pirates got 64 innings out of Nova with a 3.06 era. In the first half of 2016, Nova had a 2.31 walk rate and gave up 1.76 home runs per nine. In Pittsburgh, he had a 0.42 walk rate and gave up 0.56 home runs per nine.
Given his recent success in Pittsburgh, he is going to get paid. Given Pittsburgh's stingy reputation, it is not going to be them doing so. They've let A.J. Burnett, JA Happ, and Francisco Liriano all go and Nova will likely be no different. So who is going to overpay…I mean sign Nova this offseason?
5. Texas Rangers
The Rangers already signed Andrew Cashner this off-season, but this team is likely to be signing a couple of veteran arms to try to fix their problem. They are overall complete at most positions. However, they definitely need some back end pitching depth if they want to make another serious run at a World Series in 2017.
The Rangers would also be a solid fit because they would not be afraid to pay for a player like Nova. If they think that they can bring out what the Pirates brought out, and he can be a key cog such as Edinson Volquez for the Royals in 2015, it will be worth any dollar amount. The Rangers would not be afraid to take that chance.
It also would be a solid fit for Nova. He does not need to come in to be a relied on pitcher and would not be a top two option for the Rangers. They can deal with some of his regression and still have improvement in their pitching.
The Rangers have A.J. Griffin, Martin Perez, Nick Martinez and Chi Chi Gonzalez all to potentially fill innings at the back end of the rotation. However, all come with their own set of questions, and when it comes to needing a player for six solid innings, they could rely on Nova.
4. Miami Marlins
The tragic events of the Jose Fernandez death, unfortunately, bring baseball implications as well. It set the Marlins pitching staff back in a big way. He was the clear-cut top ace and they really were a team that needed a second guy, as there was a big drop-off from Fernandez.
Therefore, if any  team has to take a shot on a pitcher like Nova, it could be the Marlins. When looking at the Marlins five-man rotation, he could arguably be as good as any pitcher in there. They would have to look at the depth that Nova brings, and the upside that the Pirates may have turned him into something that it could be worth the gamble.
The Marlins are typically a smaller budget team, but they do go out and acquire and spend when they feel that the time is right. Looking at the lineup that they are bringing into 2017, it could be a prime window to compete. Their outfield will arguably be the best in the MLB, and with Dee Gordon as a leadoff base stealer at second base, they have a young and up and coming core.
They need innings, they need upside, and they need to strike with a lucky find as soon as possible. Nova seems like a good fit to potentially fill that hole for the Marlins.
3. Kansas City Royals
The Royals struck when they signed Edinson Volquez fresh off of a stint with Pirates coach Ray Searage, and could be looking to strike again with Nova. This team still has a roster capable of winning the division and getting back to the World Series, but their big deficiency is pitching.
They can use Nova in a similar way to the Pirates. The Pirates preached throwing strikes and looking for contact in ground balls. They used their defense to keep Nova in games and Nova did see a rise in his strikeout percentages. The Royals have Sal Perez, one of the better framing catchers, and one of the better defensive infields in the MLB.
Adding a guy like Nova and possibly getting similar production what the Pirates got in the back half of their season would be a huge upgrade to the Royals pitching staff. With Danny Duffy and Ian Kennedy in the mix, Nova could fill spot right in the middle of the rotation.
The question with the Royals would be whether they would spend the money to add Nova if a bidding war were to open. They have typically been a team looking to stay ahead of the curve with young talent and not signing veteran free agents, and notably, have let players such as Billy Butler and James Shields go.
While the chances may not be as likely as a big market team, the fit for Nova to go to the Royals is probably the best one there is.
2. San Diego Padres
Signing Ivan Nova to a deal higher than some may have expected feels like a move the Padres would make. They are always going above and beyond to try to win now, and even with a young roster, they could be thinking the same thing in 2017.
They also could be thinking their pitching stinks as it is, why not? Tyson Ross is clearly the best pitcher on the team, but he is coming off of a season with five innings pitched. The rest of their projected rotation is a mix and match of fringe MLB talent and bottom of the rotation pitchers. Nova is a swing for the fences, but at least he has shown some ability to be an impact pitcher.
Aside from the Pirates being a fixer, the switch to the National League would have obviously helped Nova. On top of the lack of designated hitter, he went from Yankee Stadium, a home run heavy ballpark to PNC Park, one less prone to home runs. Petco Park is known for being a pitchers ballpark. Nova's home run rate was a huge factor in his recent success and there is a chance that Nova could take advantage even more with the Padres.
The Padres need someone to come in and take these innings and to go into the season with these pitchers would be a surrender. To add Nova seems like a good fit for both sides.
1. Los Angeles Angels
It feels like the obvious answer when questioning who would potentially overpay for a free agent pitcher would be the Los Angeles Angels. The Angels are a team interested in winning now, they are never afraid to spend money, and do they ever need a pitcher.
This is a team that on paper, when healthy may have some type of solid pitching staff. However, it seems like their young and talented arms will never be healthy and active at the same time.
Garrett Richards is the ace of the staff, but by all indications, he will not be ready for the start of the season. He is dealing with an elbow tear but elected to forego Tommy John surgery, as it would have ended most of his 2017 campaign.
Speaking of Tommy John, two young pitchers, Nick Tropeano and Andrew Heaney will be missing most of this season as they recover from the procedure. Tyler Skaggs is a 25-year old former big name prospect, that you guessed it once had Tommy John surgery. Skaggs is recovered and came back to pitch in the 2016 season. However, that resulted in just 49 innings and an ERA over four.
Matt Shoemaker, Ricky Nolasco, and Jesse Chavez fill out the rotation, but there is little upside there, and Chavez is most likely better off as a bullpen arm. The need to add another  arm with potential upside is obvious here.
The Angels have been a team that will never be scared of spending to win now. With Mike Trout and Albert Pujols on the roster the window will never be more open, but the roster is ways away. Adding Nova would at the least be a start, and would provide depth in arms that they currently do not have. It feels like a great fit and is the most likely home for Ivan Nova this offseason.
This article originally appeared on