MLB Free Agency 2017: 5 teams who should sign Mike Napoli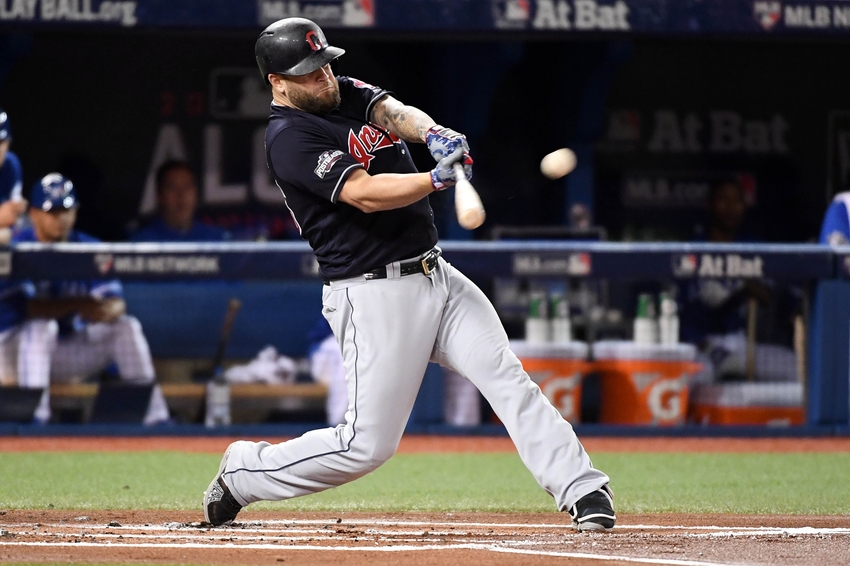 Mike Napoli is a top free agent on the market, but which team should pay up to make sure he's a piece of their championship roster?
At age 34, Mike Napoli had a big season in 2016. He hit 34 home runs and drove in over 100 runs in the heart of the Indians lineup. Terry Francona brought in his former Red Sox player to be a clubhouse leader for a team with potential postseason dreams, and he brought just that as the Indians cruised to the division and an American League Pennant. Now that he is a free agent he has some options as to teams who may sign him. He could resign with a manager and team he is familiar with but given his potential value some teams may attempt to over pay for the veteran first baseman/designated hitter. With that said, here are those five teams.
5. Baltimore Orioles
The Orioles are a team right on the doorstep being a primetime contender. The team had Mark Trumbo as a first base and designated hitter option and he was a great fit in the middle of the lineup. However, he recently rejected a qualifying offer and will test the market. Trumbo will most certainly come at a steeper price than Napoli. If the Orioles are to miss out on Trumbo or decide that a bidding war for a 30-year-old Trumbo coming off of a year in which he hit well over his head in terms of power, and brings little value in terms of fielding.
They could look to outbid a team on Napoli, and still spend a fraction of what they would spend on Trumbo. Napoli would fit right into the exact role, and it is not off of the table that Napoli could have better or similar production. Napoli spent three seasons with the Boston Red Sox and has a strong track record in Yankee Stadium and at Fenway Park.
It would most likely be in the Orioles best interest to consider life after Mark Trumbo. Doing so with a short-term play like Mike Napoli is not a bad idea. Do not be surprised to hear that they may have some interest this off-season.
4. Colorado Rockies
There have been rumors recently that while Napoli is best served to play most of his games as a designated hitter, that some teams in the National League may be interested in adding Napoli this off-season. It brings up the question as to who would actually be interested in Napoli to tie any smoke to that flame of a story. The Rockies would have to make the most sense.
The Rockies are a team that has to play baseball looking to out power their opponent. Their park is just never going to give the ability to be a pitching and defense team. With that said, at first base, they need a power hitter. Most teams get the most of their production out of the first base position, and for the Rockies to be lacking at this means it needs to be addressed.
Napoli is not a strong defender at this point, but as mentioned, they are not winning games with defense anyways. His power, which he showed may improve as he ages and plays more to hit home runs than to get on base, will only increase at Coors Field. He can also platoon with Gerardo Parra, which will limit his fielding, and set him up with favorable pitching matchups. It does make sense given the age and power of Napoli, and the need for a first baseman for Colorado.
3. Toronto Blue Jays
The Blue Jays appear to be in a similar position to the Orioles. They're in a situation where they can contend now and have decisions to make with some impending free agents. Their free agents are two of the most expensive in the market though with Jose Bautista and Edwin Encarnacion. It seems highly unlikely that both players would return, and there is potential that neither comes back.
With one or the other gone, the need for a player such as Napoli exists. Napoli can step in become another power bat and a plug into the center of the lineup. His price will not be cheap, but it will be leaps and bounds lower than the numbers, and the long term commitment that they would have to give Bautista and Encarnacion.  
They can bring one of the two back, and Napoli can serve as a platoon bat beside a left-handed hitter in Justin Smoak. This is a team that needs to find a way to remain competitive but also needs to find a spark to get over a hill they have not been able to get over recently. Napoli, and what he can bring from trips to the World Series in Boston and Cleveland may have that factor that can give the Blue Jays an edge they previously did not have.
2. Seattle Mariners
The Mariners could be the 2017 version of the Cleveland Indians. An addition like Napoli may give the same type of value to a team that was lingering in the middle but had the potential to take a step forward. Felix Hernandez, Taijuan Walker, and James Paxton can be compared to  Corey Kluber, Danny Salazar and Carlos Carrasco respectively. The Mariners do not have a Francisco Lindor rookie to breakout, but their lineup could arguably be better.
With Mike Napoli in the heart of the lineup, a run of Robinson Cano, Kyle Seager, and Napoli is a scary trio and one that could make noise in October. In getting a player such as Cano, the Mariners have shown that they are willing to spend money to win now. They have a huge hole at first base currently and if any team is to make a big move for Napoli, it would be the Mariners.
Felix Hernandez is coming off of a down year, especially for his standards, but if they can try to squeeze out a couple of good years this team really could find themselves a legitimate roster. A move in adding a veteran and core piece to the middle of the lineup could really help, and it could make them a legitimate contender in the American League West.
1. Kansas City Royals
The Royals have to know that they have a window. This team did a strong job of drafting and developing talent during their stint at the bottom of the MLB, and it paid off for a championship window at this day and age. During the 2017 season, Alcides Escobar will be 29, Eric Hosmer 27, Mike Moustakas 28, Lorenzo Cain 30, and Alex Gordon 32. They have a couple of years to win a championship with this core, and they have to take advantage.
The team lost Billy Butler and Alex Rios in recent years, and currently at designated hitter are potentially looking at Cheslor Cuthbert. Napoli would be a big upgrade and would be a bat ready to strike now in the middle of this lineup.

What would make Kansas City a strong option is that they would solely want him to be the designated hitter. At age 34, if someone is going to pay you a similar amount of money, but one involves playing the field, and the other is straight up hitting, you are going to take the hitting job.
It is a great fit for the Royals and would be a strong addition to a team ready to strike now. Napoli could definitely be interested given the need and the fit and if the money is right there is no reason the two could not come to terms. If Napoli is to leave, it could be the intra-division cross over and Napoli joining the Royals in 2017. 
This article originally appeared on