MLB free agency 2017: 5 potential teams for Mark Trumbo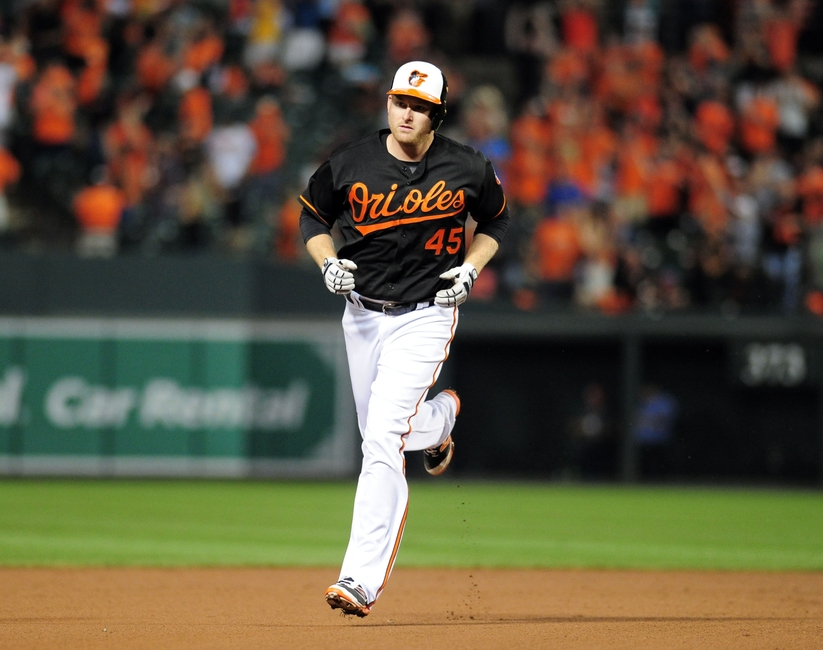 Major League Baseball's home-run leader Mark Trumbo is a free agent. Which teams will make a run at signing him.
fFter backup catcher Steve Clevenger for Mark Trumbo, the Baltimore Orioles pulled off the best trade in baseball last winter. At the time, Trumbo was coming off two mediocre seasons and did not fit in with the new defense-first approach with the Seattle Mariners. Clevenger went to the Mariners, batted .221 in 22 games, and eventually got himself in hot water for sending a string of racist posts on social media. Trumbo, however, slugged 47 home runs for the Orioles, a new career high, and drove in 108 runs, also a career high.
The Orioles extended Trumbo a qualifying offer, which he declined. Entering free agency, there should be a number of teams interested in signing Trumbo, including the Orioles. As a hitter, Trumbo is rather one-dimensional. He hit 47 home runs but walked only 51 times while striking out 170 times. After failing to complete their deal with Dexter Fowler, Trumbo was forced to play right field for the Orioles, while serving as DH against right-handed pitching. Needless to say, his defense in the outfield left something to be desired. Trumbo has rated better at first base throughout his seven-year career but has never been on a team with an opening at first base.
There are holes in Trumbo's game, but for a team seeking pure power, he is a younger, cheaper option than Edwin Encarnacion or Jose Bautista. Trumbo's swing can break down, and he does get homer-happy at times. His career OPS in the second half is over 100 points lower than the first half, and his annual slide dragged down the Orioles after the All-Star break this season. Despite the obvious flaws, power is still valued in a big, big way, and Trumbo will have no problem finding a four-year contract on the open market.
The majority of Trumbo's suitors will come from the American League, but there is a chance he could land with a National League team to play first base at the right price. Here are the five teams who should have the most interest in signing Trumbo.
Baltimore Orioles
Trumbo's season with the Orioles underscored many of the problems with their current roster construction. Too many empty at-bats, too many weak fly balls, too many strikeouts, not enough walks. Baltimore's offense relies on the home run to score, and that will continue in 2017 and beyond. For that reason, re-signing Mark Trumbo would make sense. The Orioles offensive approach cannot be changed without a complete overhaul.
Owner Peter Angelos allowed his team's payroll to blow past $150 million for the first time last season. The unprecedented level of spending must continue beyond the 2016 season if the Orioles hope to capitalize on the peak years of Manny Machado, Adam Jones, and Chris Davis. One dimensional or not, the 2016 team probably misses the playoffs without Trumbo's 47 home runs.
The Orioles level of interest in Trumbo will likely depend on how many other teams are in the mix. His free agency case is similar to Nelson Cruz, who played one year for the Orioles in 2014 before leaving after they would not give him a fourth year. In Trumbo's case, a fifth year would be a deal breaker. Trumbo did enjoy his time in Baltimore and is an obvious fit for the Orioles, their small ballpark, and the AL East.
Boston Red Sox
The Red Sox probably have their sights set higher than Trumbo. He should be viewed as a fall-back option if Boston is unable to land Encarnacion or Bautista to DH for them after the retirement of David Ortiz. Trumbo would slate in as a full-time DH with the Red Sox.
Fenway Park, with its short porch in left field, would appear to be a good fit for Trumbo. He hit three home runs there in only nine games in 2016. Signing with the Red Sox would allow Trumbo to continue playing the bulk of his games in the AL East. He hit 32 of his 47 bombs in AL East stadiums last season.
For the Orioles, Trumbo is forced to bat in the middle of the lineup, something he is not entirely suited to do. In Boston, he would likely bat in the lower third of the order, where his home runs would continue to be extremely valuable. Down in the seven-through-nine spots, Trumbo's strikeouts and pop ups would not kill so many rallies. Combined with 81 games in Fenway Park and less pressure, Trumbo may continue cranking out 40-homer seasons. It is a good fit on paper but will depend on the rest of the free-agent class.
Texas Rangers
The Texas Rangers are a team seemingly always in the market for power hitters, and it makes sense given the way the ball flies in Arlington. With the Rangers, Trumbo would find himself playing first base and DH. Texas has a need at both positions with Carlos Beltran and Mitch Moreland hitting free agency.
The Rangers may be interested in re-signing Beltran to serve as a veteran presence in their lineup and clubhouse, but the hole remains at first base. Top prospect Joey Gallo does not appear any closer to figuring out big-league pitching. He has played 53 games in the big leagues over the past two years and has struck out 76 times in 133 at-bats. While the power is there for Gallo, he has not even mastered the minor leagues, where he has struck out in over 40 percent of his at-bats.
Trumbo is a more affordable option at first base, but the Rangers may have an interest in Encarnacion as their everyday first baseman. If Beltran is not re-signed, Trumbo is still in play for Texas as a DH. The Rangers already have close to $120 million committed to the 2017 roster, but did come close to $170 million in 2017. The money is there for two splashy free agents.
Toronto Blue Jays
The Jays have already filled their DH slot for the next three years by signing Kendrys Morales. The signing of Morales should signal the end of the road for at least one of the team's major free agents. Bautista is less likely to be re-signed, as playing him in right field as he approaches age 40 will only hasten his offensive demise.
The group leading the front office in Toronto avoided risky signing since taking over. David Price was let go last winter with little effort to make a competitive offer. Two straight trips to the ALCS has made it cool to be a baseball fan in Toronto again, but that newfound fanbase may turn quickly if Bautista and Encarnacion are replaced with low-cost value plays. Trumbo would come with some downside risk for the Blue Jays, but he should be covered in right field by having Kevin Pillar to his right in center field.
Losing Encarnacion and Bautista would be a huge blow to the Blue Jays, and Morales alone does not come close to filling that void. There is money to be spent in Toronto after two straight seasons of increased attendance, but the front office may have to be willing to take a gamble on a player like Mark Trumbo.
Colorado Rockies
There are several NL teams who could have some interest in Trumbo, including the San Francisco Giants and St. Louis Cardinals, but the Rockies make the most sense. Trumbo playing right field in the swirling winds of AT&T Park seems like a recipe for disaster, and the Cardinals have mostly passed on major free agents since losing Albert Pujols.
Colorado makes sense for Trumbo because it is the one place in the entire league where hitting home runs is all that matters. For all the efforts the Rockies have made to focus on developing young pitchers and upgrading their defense, winning in Coors still comes down to hitting the ball out of the park. Trumbo's swing would produce majestic results in the thin air of the Mile High City.
Without the DH, Trumbo would play first base and perhaps slide to right field occasionally if Carlos Gonzalez is traded. Adding his power to the mix with Nolan Arenado, Gonzalez, DJ LeMahieu, and Charlie Blackmon would only make an extremely potent lineup more explosive. Eschewing defense and paying for the power may be the right move for the Rockies as they get closer to contending in 2017 and beyond.
This article originally appeared on