MLB: Five Trades That Need to Happen This Offseason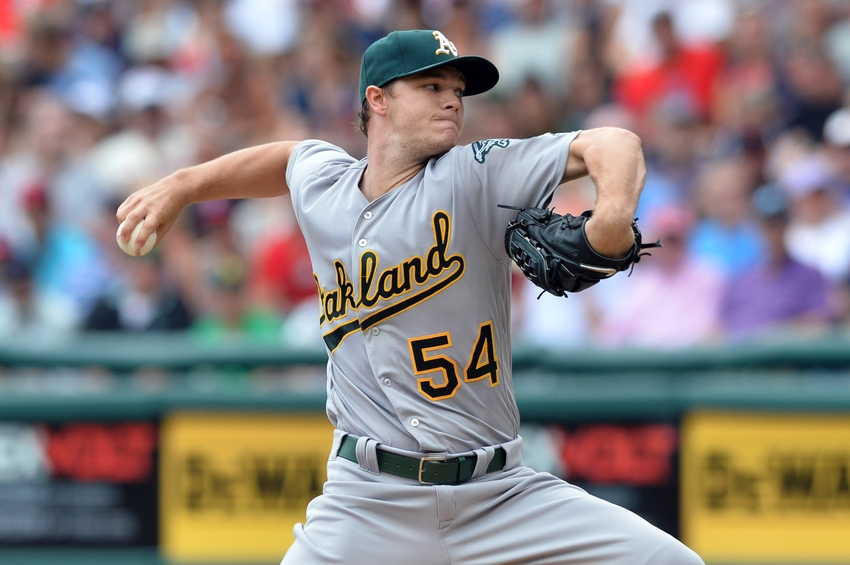 As the 2016-2017 MLB free agency signing period gets underway, don't expect to see the large amount of signings that we are accustomed to as baseball fans. A weak free agent market will turn the attention of baseball executives to acquiring their needs via trades rather than free agency.
The 2016-2017 MLB free agent class has been highlighted for its severe lack of depth over the last few weeks, with that class becoming even less appealing over the past five days with some of the best available free agents being extended the dreaded qualifying offer by their respective clubs.
Jose Bautista, Edwin Encarnacion, Mark Trumbo, Ian Desmond, Kenley Jansen, Justin Turner, Jeremy Hellickson, Neil Walker, Yoenis Cespedes and Dexter Fowler were all extended qualifying offers for the 2017 season at $17.2 million dollars. Teams will now have to forfeit an early draft pick if they choose to sign those players.
Which brings me to my opening statement. Baseball front office executives will rely heavily on the trade market to acquire their respective needs this winter, and avoid losing a draft pick or overpaying for a second-tier free agent. As a prime example, the best available starting pitcher Jeremy Hellickson fits into the middle of most teams' starting rotations, but will cost them a draft pick and a multi-year deal for somewhere in the ballpark of $8-$10 million per year.
The poor market coupled with the fact that teams are positioning themselves to follow the Theo Epstein blueprint will make for some excellent trade discussion this winter. Here are five trades that need to happen in the 2016-2017 offseason.
The Chicago White Sox are at a crossroads after wrapping up their fourth straight losing season on the south side of Chicago. This October they watched the crosstown rival Chicago Cubs win their first World Series in 108 years, and in the process the entire media landscape seemingly forgot that the White Sox had won the World Series in 2005. The Cubs are the talk of the town, while the White Sox haven't made the playoffs in a while, made a managerial change, and general manager Rick Hahn has hinted that the team will begin to rebuild this winter on multiple occasions.
Oh, and by the way, they hold the most valuable trade piece on the market, Chris Sale. The All-Star southpaw is one of the best starting pitchers in baseball, and boasts a team-friendly deal that runs for three more seasons, making him ultra enticing to teams in need of starting pitching. The Boston Red Sox, the Los Angeles Dodgers and the Texas Rangers have all been mentioned in Sale discussions. You could even throw the New York Yankees in the mix with the depth of their farm system now.
The White Sox like what the Red Sox have to offer, but president Dave Dombrowski his playing his cards close to his chest on what exactly he is willing to send back in return for Sale. I'm going to go against the grain with this one; here's what I want to see happen.
Yankees get
LHP Chris Sale, 3B Todd Frazier


White Sox get
CF Clint Frazier, 3B Miguel Andujar, RHP Domingo Acevedo, RHP Dillon Tate
The New York Yankees, who after last season's moves have one of the deepest farm systems in all of baseball, and still made a run at a playoffs even after trading Andrew Miller and Aroldis Chapman, get an ace for the front of their starting rotation. The Yankees are making their way back into relevance, with a young competitive roster and a deep system to make a move like snagging Chris Sale to lead their pitching staff. They also get a power bat at the third base position in Todd Frazier, who sweetens the deal enough to allow the Yankees to send an excellent prospect package back to the White Sox featuring four top-ten prospects in their deep farm system.
The White Sox get a package headlined by ex-Indians top pick Clint Frazier, who will fill the White Sox center field need sooner rather than later. Frazier is the Yankees' top rated prospect, and 15th in all of baseball, according to MLB Pipeline. Frazier's bat speed and raw power have him projected to have an All-Star caliber ceiling in the majors, and he is among the best in the minor leagues right now.
Todd Frazier will be eligible for free agency after the 2017 season. I'm a huge fan of Frazier so this pains me, but he will be 32 years old and expensive. Miguel Andujar is the Yankees' seventh rated prospect, and boasts a plus rated arm at third base but needs to become more consistent with his glove. Andujar hit .273 with 12 HR and 83 RBI in 2016 in the Yankees system, and possesses great bat speed, well above average power, and a keen ability to make solid contact with breaking balls. Andujar is thought to be major league ready sometime in 2018.
The White Sox also receive a pair of right-handed starting pitchers in the form of Domingo Acevedo and Dillon Tate, the Yankees eighth and tenth rated prospects overall, respectively. Acevedo is a 6-foot-7 right-hander listed at 190 pounds, who boasts a 96-100 mile per hour fastball, and is seen as a front end starter at the major league level around the 2018 season.
Dillon Tate was a name that the Rangers were floating around in a Chris Sale deal last July. Most scouts believe that Tate can dominate hitters with his lively fastball that clocks in at 92-98 miles per hour, coupled with a sharp 85-89 miles per hour slider. Like Andujar and Acevedo, Tate is beveled to be major league ready sooner rather than later.
The Pittsburgh Pirates missed the playoffs for the first time since the 2012 season, and in a division that features the defending world champion Chicago Cubs, the Pirates would be wise to retool their roster a bit this winter. The Pirates need some rotation help, and Andrew McCutchen is the Pirates' most valuable trade asset at this point, and with his contract expiring after the 2017 season (the Pirates hold a $14.75 million dollar team option for the 2018 season) seems to be the likely candidate to be moved.
Besides his expiring contract and increasing age, McCutchen is set to be replaced by Pirates top prospect Austin Meadows in center field, so now is the time to make a move with the All-Star center fielder.
Mets get
CF Andrew McCutchen


Pirates get
RHP Robert Gsellman, LHP Anthony Kay
The New York Mets will possibly need a center fielder to replace Yoenis Cespedes, and they have plenty of pitching to spare to pull in Andrew McCutchen. If the Mets acquired Andrew McCutchen they would have him through 2018 if they chose to exercise his team option next November, for under $14 million per year. A discount from what they will have to pay Cespedes, and he is a year younger.
The Pirates would get a starting pitcher in Robert Gsellman who could join the rotation immediately after posting a 4-2 record with a 2.42 ERA over 44.2 innings of major league work with the Mets in 2016. Gsellman is a 23-year-old right-hander who has not exceeded his rookie limits yet, leaving the Pirates with six seasons of cost-control with the pitcher who debuted in late August for the Mets.
The Pirates would also receive the Mets' ninth rated prospect in Anthony Kay. Kay is a left-hander who draws the comparison of "a poor man's Mark Buehrle" from scouts. Kay was the Mets' first round selection in the 2016 MLB Draft this past June, and is working to develop a cut-fastball to his pitch selection. Kay is viewed to be major league ready sometime in 2019, giving the Pirates some added rotation depth down the line.
At this point the White Sox have already swung a trade to move Chris Sale and Todd Frazier to the Yankees for their center fielder and third baseman of the future as well as two starting pitchers.
Jose Quintana is seen as nearly as good as Chris Sale, and a sure top-end starter anywhere he goes across the baseball landscape. Quintana won't net a package like Sale, but he will command a similar prospect package on the open market, and the current free agent market makes it a seller's market this winter.
The White Sox flirted with the Red Sox on the Chris Sale deal, but in my scenario they ultimately got what they needed from the Yankees, due to Dave Dombrowski's unwillingness to meet the demands for Chris Sale.
I do believe they could work out a deal with the Boston Red Sox for Jose Quintana, though, with Nate Jones being a part of the package.
Red Sox get
LHP Jose Quintana,
RHP Nate Jones


White Sox get
2B Yoan Moncada, RHP Michael Kopech, 1B Sam Travis
As recently as yesterday the Red Sox president was quoted on the team's need for a set up man, as well as starting pitching. Check, and check. The Red Sox receive a dominant left-handed starting pitcher for the top-end of their rotation, bolstering the depth of the back-end by sliding guys down. At the same time they get their set up man in Nate Jones.
The White Sox fill more holes, with Yoan Moncada at second base, Michael Kopech in the starting rotation, and first baseman Sam Travis gives them the ability to slide Jose Abreu into the designated hitter role in the future, satisfying another need on the south side.
Yoan Moncada was surpassed as the Red Sox number one prospect by outfielder Andrew Benintendi. While I would rather see Benintendi headline a potential deal, it's just not going to happen. Moncada would be the White Sox's second baseman of the future, with an expected arrival anywhere from 2017 to Spring Training 2018. Moncada is a switch-hitter with great bat speed and the ability to make solid contact from both sides of the plate, with the potential to hit 20-25 home runs each year. Moncada's best asset at this point is his well above average speed, posting back-to-back 45-plus steal seasons in the Boston farm system.
Michael Kopech is a right-handed starting pitcher with a 95-97 mile per hour fastball complimented by a low 90s slider. Kopech's fastball has excellent late life, and at times reaches triple digits. Kopech adds depth to the future rotation joining Carlos Rodon, Domingo Acevedo (from NYY) and Dillon Tate (from NYY), even giving the White Sox the ability to strengthen the bullpen by sliding Carson Fulmer into the back-end of the bullpen, where many see him as a better fit anyway.
Sam Travis is seen as an excellent hitter who displays the ability to make hard contact to all areas of the field, complimented by soft hands and an excellent work ethic at first base. Travis assuming the first base role at some point in 2017 or 2018 will allow the White Sox to move Jose Abreu into the designated hitter role. This leaes the White Sox to fill out the bullpen outside of Burdi and Fulmer, and to find a left field option for the future after the deals with the Yankees and the Red Sox.
The Chicago Cubs are the defending World Series champions, but they have been mentioned in the rumor mill in regards to finding another starting pitcher. Jon Lester and John Lackey aren't getting any younger, and they have a void in the fifth spot of their rotation as is.
The Chicago Cubs and the Oakland A's have a history of swapping players, most notably the Jeff Samardzija for Addison Russell deal two years ago.
I see the two clubs being a fit here this winter as well.


Athletics get
2B Ian Happ, RHP Duane Underwood, LHP Carson Sands
I have the Cubs bolstering their starting rotation with Oakland ace Sonny Gray, while the Athletics get back a package of prospects including Cubs top prospect Ian Happ and pair of pitchers.
Sonny Gray will likely fit into the middle of the Cubs rotation with the emergence of Kyle Hendricks this season, but will surely bump John Lackey to the fifth spot. I know that Sonny Gray had an off year in 2016, but boy would a rotation of Arrieta, Lester, Hendricks, Gray and Lackey be scary behind that Cubs offense. Quite honestly, this move would make the Cubs' chances of repeating as World Series champions nearly untouchable.
Sonny Gray pitched his way to a 5-11 record with a 5.69 ERA in 2016 when he wasn't spending time on the disabled list. But Gray has a 38-31 record over four seasons in the major leagues with a very respectable 3.42 ERA. If you take away a poor 2016 campaign Gray has an overall record of 33-20 with a 2.88 ERA for the A's. Gray is entering his age 27 season and is under contract through 2019.
Ian Happ would give the Athletics a potentially superb infield in the next season or two, featuring Matt Chapman at third base, Franklin Barreto at shortstop and Ian Happ at second base. Happ is rated 21st on MLB Pipeline's Top 100 prospects list and is viewed as an all-around gem. Happ is a switch-hitter with speed, good contact ability, as well as a solid glove at second base. Scouts believe that Happ could evolve into a 20 home run, 20 stolen base offensive threat in the major leagues and is expected to reach the major league level sometime in 2018.
Duane Underwood and Carson Sands are the Cub's sixth and 24th rated prospects, and would provide the A's with a left-handed and right-handed starting pitcher in their farm system to replace the departed Sonny Gray.
Zack Greinke was less than stellar in 2016 with the Arizona Diamondbacks after signing a massive deal during last year's offseason, posting a 13-7 record with a 4.37 ERA over 26 starts. I'm not sure why Greinke even left the Los Angeles Dodgers. During his three seasons with the Dodgers, Greinke was 51-15 with a 2.30 ERA and 555 strikeouts.
The Dodgers need another starting pitcher to fill the void that, oh yeah, Zack Greinke left when he departed last winter, while the Diamondbacks severely need some salary relief and, quite frankly, a re-do on their entire offseason last year.
These two can help each other out in one move this winter.
Dodgers get
RHP Zack Greinke


Diamondbacks get
RHP Jordan Sheffield, C Will Smith
The Diamondbacks won't be getting back a ton from the Dodgers in this deal, because let's face it, no one is selling the farm for a 33-year-old pitcher with a massive contract attached. The Diamondbacks will get back a rotation piece for the future as well as a catcher for the future.
The Dodgers get Zack Greinke back, while not giving up either of their top pitching prospects in Julio Urias and Jose De Leon in the process.
Jordan Sheffield was actually the Dodgers' compensation pick in this past June's MLB Draft that they earned from, you guessed it, Zack Greinke signing with the Diamondbacks. This deal has so much irony that it's almost too good for it not to happen. Sheffield is a right-hander out of California. Sheffield has a developing three-pitch arsenal, with a fastball that sits in the mid 90s, topping out at 98 miles per hour. The Diamondbacks can expect to see Sheffield reach the major league level in 2019.
More from Call to the Pen
Will Smith was the Dodgers' first round selection in the 2016 MLB Draft, selected five spots before Jordan Sheffield. Smith is viewed as an athletic backstop with plus speed, and has experience handling a major league caliber pitching staff thanks to his time at the University of Louisville. A compact swing makes him more of a contact hitter than a power hitter moving forward. Smith is projected to join trade-mate Jordan Sheffield at the major league level in 2019.
This article originally appeared on