MLB: Five Position Battles to Watch This Spring
Travis Koch/FanSided via Call to the Pen

Fansided
One of the most exciting parts of MLB spring training is the team competition. Not team vs. team competition, but intra-team competition. Position races to be exact. There are five positions races that are most inriguing this spring.
Spring training isn't much for team vs. team competition. Each MLB team's focus is filling out their big league roster and taking a look at their talent for the future. A good spring record is as meaningful as a solo home run in the 9th inning when your team is down by eight runs. However, what is lacked among league-wide competition is enhanced by in-organization competition.
Most teams have at least one position of uncertainty entering spring camp. Prospects are always creeping in this time of the year. Teams are trying to determine if a prospect is ready for the show or if they need more time to develop. The Yankees will face that decision with Aaron Judge and the Phillies with Jorge Alfaro. Then there are tenured players working to prove their starting case. Melvin Upton Jr. and Andre Ethier come to mind. But it's the middle ground that is the most entertaining. Not the players jumping from the minors to the majors, and not the players hanging by a thread to earn a starting spot. I'm talking about position races consisting of established major leaguer vs. established major leaguer.
The following includes five position battles that should entertain this spring. The battles include a player with 30 home runs in 2016, a player who participated in three games last year, and a former MVP. Texas Rangers' Joey Gallo and Colorado Rockies' David Dahl will represent the young guns fighting for a spot. Though less than established, each have had their taste of the big leagues.
Gerardo Parra vs. David Dahl
The Colorado Rockies have their limitations, however, not on offense. Colorado's lineup is stacked to the brim, leaving very little wiggle room for those not slotted as starters. Every position is set aside from left field. Either Gerardo Parra or David Dahl will earn the spot. Each player is versatile enough to play each outfield position, but with Charlie Blackmon and Carlos Gonzalez manning center field and right field, neither position is a legitimate alternative option. The battle is solely for left field.
Parra is an eight-year MLB veteran. He's now on his fourth team in three years. The 29-year-old was limited to 102 games in 2016. He was unimpressive during that span, slashing .253/.271/.399 with 7 home runs, 73 strikeouts and only 9 walks. Parra has had an inconsistent career to this point and is therefore unpredictable. Perhaps 2017 will be one of his good seasons.
David Dahl was consistent in his short sample of big league play. In 202 at-bats, Dahl slashed .315/.359/.500 with 7 homers. He posted a ridiculous .404 BABIP. He is one of those players that can flat-out hit no matter what level he's playing. A very brief promotion to Triple-A in which Dahl hit .484 with 16 RBI in 16 games convinced Colorado to go a step higher and promote him to the major leagues. They did not regret it, as Dahl acted and played like he belonged.
You'd have to give the edge to the more talented and big-eyed David Dahl. He has a smoother bat and equal power to Parra. Each player hits from the left side, and each fare well against southpaws. But a .313 average for Dahl against left-handed pitchers last season is a major selling point entering 2017. Dahl stepped in for the injured Parra in the latter part of last season. Unfortunately for Parra, he may not get his job back, at least not permanently.
Johnny Peralta vs. Jedd Gyorko vs. Kolten Wong vs. Matt Adams
The St. Louis Cardinals have some decisions to make with their infield. They have a number of players to choose from and a number of variations to fill the infield. Aledmys Diaz will of course control shortstop, however, the rest is to be determined.
Matt Carpenter will start, but will he play first base, second base, or third base? Who earns a starting spot between Jhonny Peralta and Jedd Gyorko? Will Kolten Wong finally earn a season of major league certainty? Will Matt Adams hit enough to flirt with a first base nod?
Opening day will likely slot Carpenter at first base, Wong at second base, and either Gyorko or Peralta at third. The 26-year-old Kolten Wong signed a generous five-year contract with St. Louis last spring. This occurred prior to his most
More from Call to the Pen
disappointing campaign to date. There's a lot of pressure on Wong with both Gyorko and Carpenter each capable of playing second base. However, the Cardinals love Wong's skill set and have instilled a ton of faith in him. Therefore, second base may be his position to lose.
The race for third base is the biggest question mark. Jedd Gyorko's 30 home runs led the Cardinals in 2017. Jhonny Peralta, on the other hand, notched only eight long balls. Gyorko's 3.2 WAR compared favorably to Peralta's -0.4. There is no question Gyorko was more valuable to the Cardinals last season. Whether or not he can repeat his performance in 2017 is unknow, but he's certainly earned the first look as a starter. Needless to say, it would take a bold move from St. Louis to sit their previous season's home run leader.
Matt Adams could act as the greatest curveball to the Cardinals' plans. He's been counted out by many and his name even came up in some offseason trade talks. That being said, Adams could wander into legitimate playing time with a great spring. He's an imposing figure at the plate with the ability to hit for power and average when swinging well. But he'll definitely need to improve on a poor .471 slugging percentage from 2016 to be considered a part of the infield mix.
I'm not even going to try to name all of the possible infield combinations the Cardinals could throw out there this season. The hot bats will play a big part, as will matchups. One thing is for sure, manager Mike Matheny has a lot of weapons at his disposal. The team has a lot to decide, but it's a good problem to have. A much better problem than not having enough good options this time of the year.
C.J. Cron vs. Luis Valbuena
A hamstring injury ended Luis Valbuena's 2016 season. Consequently, the emergence of Alex Bregman ended his time with the Houston Astros. Valbuena signed a 2-year/$15 million contract with the Los Angeles Angels this offseason. He is expected to be the Angels starting first baseman to enter the season.
Slighted by the signing is C.J. Cron. Cron took over as the Angels' primary first baseman as Albert Pujols became an established MLB DH. 95 of Cron's 116 games played were spent at first base. His many appearances at first base were a result of his hitting. Cron has improved in each of his three MLB seasons at the plate. He had a career high in practically every hitting statistic last season, including RBI, batting average and OPS. All the work he put in and he doesn't even have a guaranteed starting job in 2017.
The Angels will let it play out this spring. The race between Valbuena and Cron is 50/50 and the winner will win by a nose. Regardless of opening day (whoever gets the start), the position could be interchangeable depending on the hot bat. Contrary to popular belief, the left-handed hitting Valbuena is historically better against left-handed pitchers. He slashed .267/.341/.400 against lefties last season, comparing to Cron's .237/.287/.387. Thus, matchups are favorable to Valbuena.
Of course, the aging Pujols will likely give either one some time at DH. While the Angels are against any injury to Pujols, I'm sure the tandem of Valbuena and Cron was prepared in part for the possibility.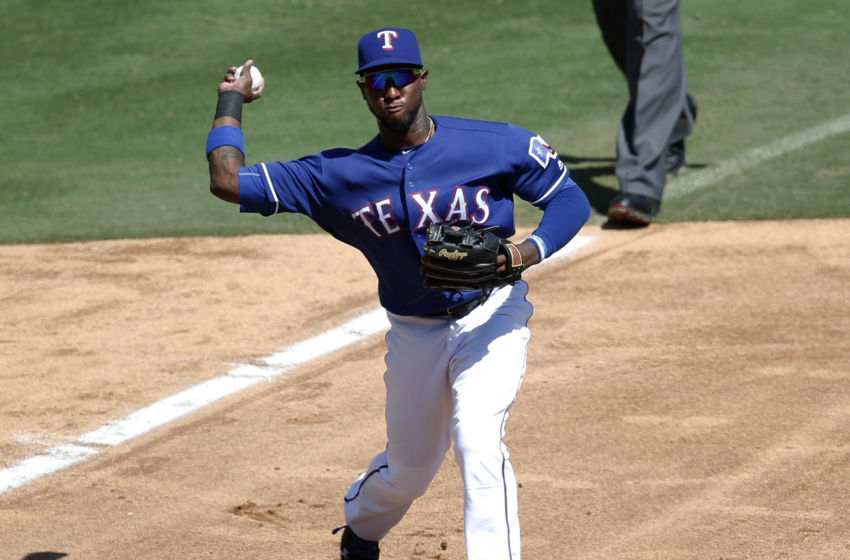 Jurickson Profar vs. Joey Gallo vs. Ryan Rua vs. James Loney vs. Josh Hamilton (if he makes it through spring training)
The Cardinals have some tough decisions to make regarding multiple positions, however, that doesn't compare to the onslaught of players competing for the Texas Rangers' DH. Texas has a number of candidates: Jurickson Profar, Joey Gallo, Ryan Rua, James Loney , and Josh Hamilton.
We'll go ahead and label Hamilton as the longest shot. Hamilton is now 35-years-old. He's coming off a 50 game season, along with yet another knee surgery. He's already partaken in spring training news after noticing a slight discomfort in his knee earlier this week. The club claims it is nothing to worry about; hopefully it is no act of foreshadow.
Joey Gallo would have to absolutely amaze this spring to even be considered a member of the big league club at the season's start. Not only would he have to crush the ball, but there are significant major league adjustments that need to be addressed on Gallo's behalf. The Rangers will need to see some improvements if Gallo wants a roster spot at any point this season.
James Loney is a nice pickup for Texas. Though he may evolve into a significant role throughout the season, he'll likely need to prove himself in the minor leagues first.
Then there were two. The likely platoon will be Jurickson Profar and Ryan Rua. They are the most versatile and therefore they are the most usable. Profar's greatest weapon is his glove. He will get a lot of reps at DH, but Texas wants him in the field as much as possible. Practically every time a Rangers' starter needs a rest, you will see Profar take that player's place.
Ryan Rua isn't quite as versatile as Profar, but he can play either outfield corner and first base. Rua's bat earned him more playing time last season than expected. The Rangers expectations for Rua are higher than they have ever been entering 2017.
Ultimately, you will likely see a revolving door at DH. Profar and Rua will be the non-position starters in line for the role. However, their aforementioned versatility will force Jeff Bannister's hand and Profar and Rua will earn significant time in the field. The aging Adrian Beltre will see more games at DH in 2017. Likewise, the fragile Shin Soo-Choo will see some time at DH. Mike Napoli will also benefit from some DH time. The Rangers will get creative in filling the DH slot game-to-game.
Same story, different year…Pablo Sandoval has shed weight and is said to be in baseball shape entering camp. Kung Fu Panda is refreshed after missing basically an entire season. He's all smiles now, but how will he fare once the regular season begins? Better yet, how will he fare in the dog days of July?
The Boston Red Sox expect Sandoval to be their starting third baseman. They know what he is capable of and are hoping he can be a productive piece in the lineup like he was with the San Francisco Giants. Sandoval finds himself in an entirely different situation than he was a part of in San Francisco, and even his first two seasons in Boston.
The Red Sox have a young and aspiring offensive core. Mookie Betts and Xander Bogaerts earn most of the attention nowadays, while veterans Hanley Ramirez and Dustin Pedroia still get their fair share. Point being, Sandoval does not have to be a main guy in the Boston lineup. He can blend in towards the bottom of the order and reap the benefits of the opportunities created by the top of the order. An 18 home run season, with a .330 OBP and 70 RBI would satisfy Red Sox nation. Those stats emulate a good season, but can Sandoval actually match those numbers?
If he can't, the Red Sox may have to look for a better option at third base. Brock Holt pleads a good case for the job. Unlike Sandoval, Holt has been very reliable in his time with Boston. Holt does not have the offensive upside of Sandoval; however, he is consistent, and the Red Sox know exactly what they're going to get from Holt when he is in the lineup. Holt has a considerable edge on defense, as he is much more agile and athletic than Sandoval. Entering his fifth year with Boston, Holt has not played in more than 126 games in any season thus far. Yet, the Red Sox always keep him on the roster, regardless of how valuable of a trade chip he could be.
The Red Sox love Holt's versatility maybe a little too much. Manager John Farrell might prefer Holt be used as a super utility player. He has thrived in that role in the past, why change things now? The Red Sox do not have the luxury to move Pablo Sandoval from position to positon. In fact, Sandoval is limited to two positions–thrid base and DH.
All signs lead to Sandoval starting opening day at third base. The Red Sox have invested too much time and money in Sandoval to keep him out of the lineup. Brock Holt is the next man up if an injury strikes Sandoval. Until that happens, I'm sure the Red Sox will be happy with Pablo Sandoval back in the starting lineup and Brock Holt in his continued super utility role.
This article originally appeared on