MLB: Five Players Nearing the End of Their Careers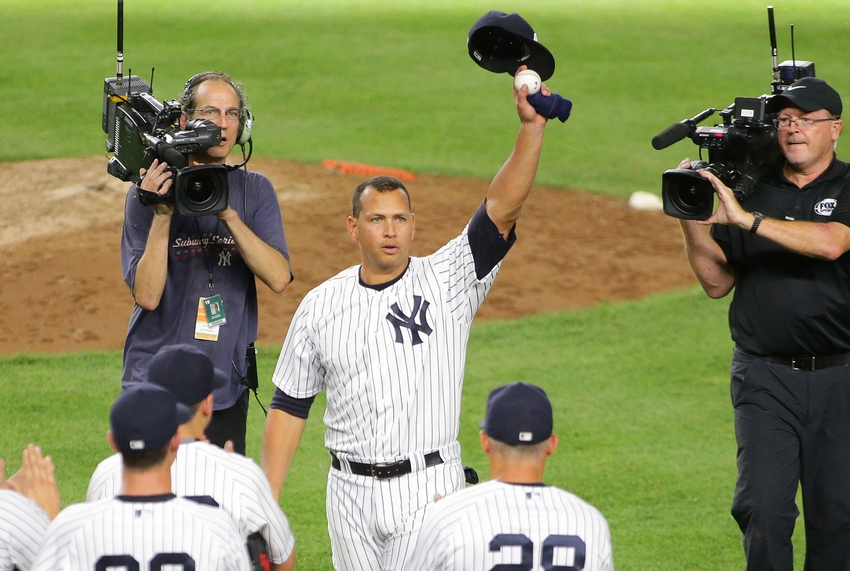 The 2016 MLB season has been full of retirement news. Plenty of notable players have announced their retirements during or at the end of the 2016 season.
Most notably Alex Rodriguez was put into a somewhat forced retirement after struggling for most of the season. He played his last game in a Yankee uniform as the Yankees have moved on to younger and at this point more talented players.
Prince Fielder was forced to retire this season as well due to a neck injury. His retirement may have been the most unexpected. He was still a relatively young player and expected to bounce back to productive numbers he had put up as recently as last year.
Mark Teixeira and Adam LaRoche are also two players who are hanging it up, for two very different reasons. LaRoche's Spring Training dispute with the White Sox front office has been well covered and debated, and regardless of who was right or wrong LaRoche has retired. Teixeira is finishing out the season with the Yankees as he wraps up an impressive career as well.
David Ortiz's retirement has no doubt been the most well-covered retirement this year as he is enjoying a historic season at the age of 40. He has put up awesome numbers as he enjoys his last season with the Boston Red Sox.
With the 2016 season coming to an end, who else might soon be joining these players in retirement? Here are five players whose careers could soon be coming to an end.
A.J. Pierzynski has had a very long and interesting career. He is a player who is hated by a lot of fans because of the attitude that many people have accused him of having throughout his career. Regardless of whether or not the rumors and fan opinions are true, Pierzynski has had an impressive career that is nearing 20 seasons as a major league player.
Being a catcher is rough both on the player and on their body. They are an underrated part of the pitching staff and help younger pitchers who are willing to listen tremendously. A.J. Pierzynski by all reports has done just that the last two seasons in Atlanta. He has given the Braves' young pitchers help and guidance while being a nice stopgap until Atlanta finds a long-term solution at the position.
A.J. Pierzynski has hit the disabled list and will not return before the end of the season. He has played his last inning in Atlanta as well, as the Braves have made it no secret they are ready to move on from the veteran catcher. With the controversy and age that Pierzynski comes with, will any other teams be willing to take a chance on the backstop, or has he played his last inning in a major league uniform?
Bartolo Colon is a fun player to watch. He is probably the most clumsily athletic player that you can watch on a major league field. He has brought a great veteran presence to the Mets and seems to help keep the clubhouse atmosphere what it should be.
He is a free agent at the end of this season as the 43-year-old will be looking for a new team. If he decides to come back another season there is little doubt he will find a short-term job. The problem for Colon will be how much longer before his age inevitably catches up with him?
Colon has had a nice career and could soon decide to call it quits. An interesting question will be how will the current Mets pitcher be remembered? As the ace who got caught using PEDs, or the lovable veteran pitcher he has been with the New York Mets?
Regardless, he has had a nice career and one that will likely soon be coming to a close. Enjoy watching Bartolo Colon while you can, Mets fans, as with the pitching that they are projected to have next year it is doubtful we see Colon return to their rotation.
3. R.A. Dickey
The knuckleballer had a season to remember with the New York Mets in 2012. He had his best year at the perfect time, springing a huge contract. He is now 41 with his best seasons solidly behind him. He has struggled to be productive for the past few seasons and is scheduled to be a free agent this offseason.
Given his low recent production and age, it is fair to wonder how close to retirement Dickey may be. He has been a part of the Jays rotation for quite a while and hasn't looked anything close to the pitcher he was with the New York Mets. Add in the fact that he is over 40 and not many people will be lining up to sign the knuckleballer.
If the Jays decide that he cannot help them better than some of their other options they could decide to part ways early with Dickey. If that happens it is fair to wonder how many teams would be willing to give him a chance. Few teams come to mind and given his age and MLB service time will Dickey decide that he is ready to move on to life after baseball?
2. Ryan Howard
Howard's career has been a very interesting up-and-down one that has seen him go from one of the best hitters in the National League to a guy who can barely reach the Mendoza line. Howard's legs are starting to betray him and his hitting and fielding abilities are both showing the wear that they are having on him.
Ryan Howard is finishing out what should be his last season in a Phillies uniform. The big first baseman has still provided some power this season in a bit of a platoon role. He has not looked anything close to the hitter he once was. His career is spiraling in the wrong direction and he could be playing the last season or two of his career.
Not many people are going to line up to sign a .200-hitting DH who can no longer hit the ball out of the park with the regularity that he once did. Because of that it is doubtful he will find too many jobs in the future once he leaves the Phillies. The problem for Howard may be lack of suitors over him actually wanting to retire. Unless his production takes a huge step forward soon, his career may well be coming to an end.
1. David Wright
David Wright may be a surprising name to put on this list, but bear with the reasoning for a moment. Wright has spent his entire career with the Mets. He has put together seasons that made him the longtime fan favorite and face of the franchise. That has changed in recent seasons.
David Wright has struggled to be on the field for the past two years much less play at the level that he has in his career. He has had myriad injuries that keep knocking him out of a starting position long-term. The Mets have to be beginning to wonder if David Wright will ever be able to stay healthy and be close to the player he once was.
If he cannot stay healthy in the next season or two, the Mets may begin to consider moving on from David Wright. Wright, on the other hand, could decide to call his career as well if the injuries and production continue at the rate they have been for the past two seasons.
A lot will be done to answer these questions if Wright can return in time for a possible Mets postseason berth. If he can make a difference at the end of this season he may buy himself more time to prove he can still be a productive major league player.
This article originally appeared on